Location
CoCoon
3/F, Citicorp Centre, 18 Whitfield Road
Tin Hau
Hong Kong Island
Hong Kong
Description
What is CoCoon Smart Talk?
CoCoon Smart Talk is a monthly event dedicated to broadening people's imagination, creating impact, and making new connections. Inspiring speakers will share their journey and insights in this meetup.
Takeaways
Machine Learning, one of the hot topics last year, is being used by all the tech giants and corporates to enable their business and boost revenues. It is also the technology behind the innovations we come across every day, including the voice assistant on your smartphone and the products/services recommended to you when you are doing online shopping.
We have also invited Google Cloud to share insights on the development and applications of the Google Cloud Platform.
This workshop will...
Provide the fundamentals of cloud-computing and machine learning

Gives insights on how business can be strengthened with AI development.

Show you a demonstration of ready-to-go solutions of facial recognition, image recognition and text recommendation.
機器學習是去年的熱門話題之一,所有科技巨頭和企業都透過機器學習來提升營運效率及提高營收。這同時也是我們日常使用的科技背後的技術,包括智能手機上的語音助理以及在線上購物時向你推薦的產品/服務。這次演講內容包含雲端計算和機器學習的基礎知識,並會討論有關如何通過人工智能發展為業務增值。

我們也邀請到Google Cloud分享有關Google雲端平台開發和應用的見解。
實踐工坊 - 我們將現場展示面部辨識,影像辨識和文本推薦的解決方案。
Run Down
12:00-12:30 Registration
12:30-12:35 Opening
12:35-13:05 Cloud Computing on Google Cloud Platform & Successful Stories (Google Cloud)
13:05-13:35 Machine Learning: Trends of Applications (Cloudmile)
13:35-14:15 User Sharing
14:15-14:20 Closing (CloudMile)
14:20-14:30 Q&A + Networking


Speakers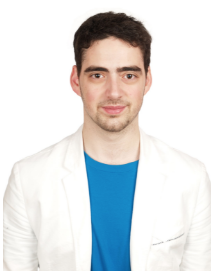 Mr. Jean-Loïc
Customer Engineer
He was born in Toulouse, south of France, and moved to Taiwan after his master degree graduation to work in an Asian culture environment. He has studied Chinese for years and has always been interested in the Asian culture, including traditional martial arts such as Karate and Wing Chun Kung Fu.

He studied embedded software at university and worked part-time as an Aeronautical engineer in Toulouse. His experiences in Taiwan led him to switch to marketing where he started to learn about data science (including data analysis and machine learning).

Jean-Loïc is very passionate about Data and Machine Learning which are according to him the keys for companies to gain efficiently, creativity and innovation.

---
About CloudMile:
CloudMile is a professional cloud and AI service company. We offer cloud solutions by leveraging the power of big data analytics and machine learning. Our recent success with Hermin Textile, has delivered the innovative pattern recognition system to dramatically reduce the time for textile matching by deep learning technology. It proves AI can be applied to diverse sectors.

CloudMile has a competitive technical team with certifications from different cloud vendors, especially we have earned over 19 certifications on Google Cloud. We are also a Google Cloud Premier Partner. We provide a wide range of services including speech & object recognition, recommendation system, data analysis and prediction. We are headquartered in Taipei, Taiwan with offices in Taichung, Kaohsiung, Hong Kong and Singapore.

關於CloudMile:
CloudMile 是一家以人工智慧技術解決企業痛點的科技公司,利用深度學習及大數據系統分析,提供客戶在雲端管理應用的諮詢與解決方案。 CloudMile客戶涵蓋各產業,近來享譽國際的案例為和明紡織,以深度學習技術協助建立圖像辨識系統,大幅降低布料辨識的時間,使其提高效能,成功轉型。

CloudMile擁有堅強的技術團隊,除了專業,機動性高,針對不同雲端系統皆擁有專業證照,其中Google證照就高達21張,同時為Google Cloud官方的Premier Partner。

CloudMile提供的服務包含:語音及人臉辨識、推薦系統、日誌分析、預測分析及遊戲算圖等,據點涵蓋台北、台中及高雄,2017年下半年於香港、新加坡設立海外據點。