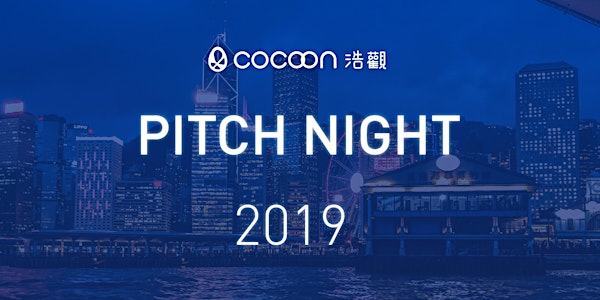 CoCoon Pitch Night Semi-Finals Fall 2019 (26/9) 浩觀創業擂台準決賽 二零一九年秋季
When and where
Location
CoCoon 3/F, Citicorp Centre, 18 Whitfield Road, Tin Hau Hong Kong Hong Kong
Description
Why CoCoon Pitch Night:

#CoCoonPitch Night enables entrepreneurs to present their products or services to seek potential venture and corporate investors, co-founders, engineers, designers, business developers, customers, corporate partners and publicity.
CoCoon Pitch Night is a part of the CoCoon for Founders Program to enable great ideas and teams to build connections, raise capital (seed to Series B) and grow exponentially. If you love entrepreneurs and ideas, join us! If you'd like to participate reach out to us at pitch@hkcocoon.org.
Pitch Night in Numbers:

- 270+ pitch teams have showcased
- 8000 audience members attended
- CoCoon entrepreneurs have raised +HKD5.2B (USD600m) since 2012
See more here: http://www.hkcocoon.org/pitch-night.html


Agenda:
6:30 Registration
7:00 Event start
8:30 Voting
8:45 Networking
** Please note that voting codes will not be distributed after the first pitch has begun.**
Teams:
[Business Matching Platform] WeExpand – Raymond Mak
WeExpand.co is an online platform to match tech companies to gig-workers for sales and business development, and also connecting them to startup financing, M&A and IPO services.
[Education Technology] MagiCube Limited - Leo Yeung
MagiCube develops online collaborative learning platform, Una, to encourage students to discuss and cooperate during problem-solving training in Coding/STEM/AI education.
[Neurofinance by deep learning] OneTOO - Dr Fred Jumelle & Yat Wan Lui
It is a banking ecosystem operated by deep learning technology that provides services, assistance and independent advice to people who understand that technology is here to stay and make us win.
[Connect Real Estate Agents] Jerbit - Adithep Chawla
Jerbit connects Thai and Chinese property agents, providing Chinese buyers access to Thai re-sale condo listings for free.
[Booking Platform for Space by the Hour] Flow – Eric Lai
It is a "Platform for Space" where travellers can book hotels and office space by the hour, enabling flexibility in the duration of stay. Compared with a traditional full-day booking, our users can save up to 75% on a timeslot booking with our hotel and office partners.
[Online boutique for childrenwear] Retykle – Sarah Garner
Retykle is an online boutique for buying and selling designer baby and children's clothes. We take all of the hassle out of resale. It is the most convenient way to clean out your kids closets, earn cashback and buy designer childrenswear at up to 90% off. We carry over 500+ of the best children's brands from across the globe in new with tags to gently used condition from ages 0-10. Our aim is to make buying and selling outgrown kids clothes as convenient and as stylish as buying new.
Judges:
Bert Shi
Head of Electronic and Computer Engineering Department
The Hong Kong University of Science and Technology
Bert is Professor and Head of the Department of Electronic and Computer Engineering at the Hong Kong University of Science and Technology. He has held visiting faculty positions at the Massachusetts Institute of Technology and the University of Pennsylvania. He received the B.S. and M.S. Degrees in Electrical Engineering at Stanford University, and the Ph.D. degree in Electrical Engineering at the University of California at Berkeley in 1994.
His interests lie in the areas of neuromorphic engineering, robotics, human machine interfaces, computational neuroscience, with a particular focus on visual information processing and visually guided control.
Duke Malan
Partner
Africa Works Ventures
Duke's expertise is investment promotion, Sino-Africa relations and strategic communications.
Duke is a partner at Africa Works Ventures an advisory firm with offices in Hong Kong and Johannesburg. High potential, high growth businesses in Africa work with his firm to access strategic partnerships that help fuel their sustained growth.
He was previously Vice President: Corporate Affairs at global communications consultancy FleishmanHillard in Hong Kong. Before exploring the East, he was Head of Reputation Management at Johannesburg listed insurer Discovery Limited – recognized by Fortune magazine as one of the leading Companies Changing the World.
Duke is a sought-after keynote speaker and has delivered talks at TEDx Hong Kong, LinkedIn, Nelson Mandela Bay Leadership Summit and guest lectured at various universities including The Hong Kong University of Science and Technology and The Chinese University of Hong Kong.
He is passionate about youth empowerment, mentors several dynamic young leaders in Africa and Asia, and served as a board member of Young Business South Africa. Duke worked in Washington D.C at a leading youth development organization – Presidential Classroom.
Moses Tse
Managing Director
Accenture Technology Hong Kong
Moses is a Managing Director in Accenture Technology Hong Kong, is responsible for building & developing new businesses. He has more than 25 years of experience working in all aspects of Business & Technology transformation projects. In his role with Accenture he is responsible for developing and growing businesses through the building of solutions ecosystem & businesses ventures. He has wealth of experience in entrepreneurship, business development and complex technology project implementation for public services and governments. Moses graduated from the Australian National University with Bachelor of Science degree.