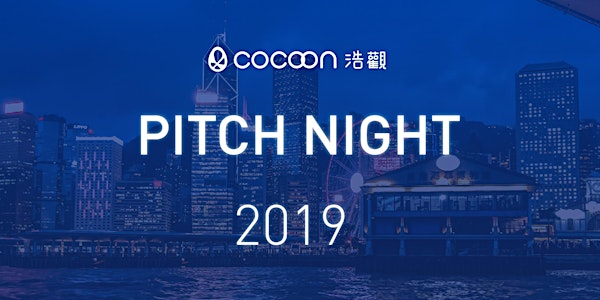 CoCoon Pitch Night Semi-Finals Fall 2019 (17/10) 浩觀創業擂台準決賽 二零一九年秋季
When and where
Location
CoCoon 3/F, Citicorp Centre, 18 Whitfield Road, Tin Hau Hong Kong Hong Kong
Description
Description:
#CoCoonPitch Night enables entrepreneurs to present their products or services to a variety of audience and seek potential investors, co-founders, team members, customers, corporate partners or publicity.
Pitch Night in Numbers:
http://www.hkcocoon.org/pitch-night.html

- 270+ pitch teams have showcased
- CoCoon entrepreneurs have raised HKD3.4+ billion since 2012

Agenda:
6:30 Registration
7:00 Event start
8:30 Voting
8:45 Networking
** Please note that voting codes will not be distributed after the first pitch has begun.**
Teams:
[Shared Experience Marketplace] Altrgo – Elvan Chan
Altrgo is a P2P 'Activity Marketplace' that allows travelers and hosts to join and share local experience directly without agencies distribution.
[High-quality leather sneakers] Lacess – Simon Chow
Lacess crafts high-quality leather sneakers that carries a greater meaning behind a pair of shoes – a pair that takes part in fighting human trafficking in Indonesia. Made with Nappa leather for ultimate comfort, without the luxury mark-up.
[New space to advertise] StreamWear – Sebastian Vandenheste
StreamWear allows brands to bring their products to life with short video content to engage their clients through Augmented reality.
[Community to share and collect valuable opinion] Votap – Paul Ng
Votap is a platform that help you save time from online research by comparing products and collecting users' opinion at the same time. We want to help consumer save time when shopping. 40% of people spend days or weeks on researches while 31% of people seek advices from people online before purchase. Doing research prevents wrong purchase but spending too much time is a waste.
[Trustless crypto-trading protocol] Cosig - Annie Hui
Cosig aims to provide a protocol that makes crypto trade safe and universal no matter with anyone, at any time in anywhere.
Judges:
Anna Kwan
Ventures Partner
CoCoon Ignite Venture
First Honour in Bio-Molecular Chemistry and minor in Environmental Chemistry from Queen's University, Master in Actuarial Sciences and Statistic from University of Western Ontario, Master in Public Administration from Baptist University.
Professional: Valuation actuary, Asia & Pacific, AIG; Pricing Actuary, Regional Asia & Hong Kong, AXA; Asset & Liability Management, ING / FWD. Member of Society of Actuaries, Member of HK Actuarial Society

Member of All-China Youth Federation (ACYF), Committee member of Y.Elite Hong Kong

As an actuary for many years, Anna's expertise is in quantitative finance & investment. Her investment philosophy is to invest in people that are cautiously optimistic about their goals. Anna is also an avid traveller.

Thomas Ho
Executive Director
J.P. Morgan
Thomas Ho is an Executive Director and a senior banker of J.P. Morgan Private Bank. Based in Hong Kong, he is responsible for delivering the firm's investing, wealth transfer, credit and philanthropic services to the ultra-high-net-worth clients in Hong Kong. His clientele in this space includes family offices, endowments, and foundations. Prior to joining J.P. Morgan Private Bank in 2008, Mr. Ho was an Associate Director with UBS Wealth Management serving as Client Advisor. Mr. Ho holds an MBA from the Chinese University of Hong Kong. He also attended the University of Toronto as an undergraduate, majoring in economics and sociology. Currently, Mr. Ho serves as a member of the Vetting Committee Panel for the Hong Kong Council of Social Service Impact Incubator Platform, an overseer of the S.H. Ho College in the Chinese University of Hong Kong, Council Member and Chairman of the Fundraising Committee at Changing Young Lives Foundation, and Venture Partner of CoCoon Ignite Ventures for technology incubation. For 2019, he chaired the Organizing Committee for JP Morgan's Tech Exchange in Shenzhen, a 3-day technology conference catered to the firms top 200 global private banking relationships.