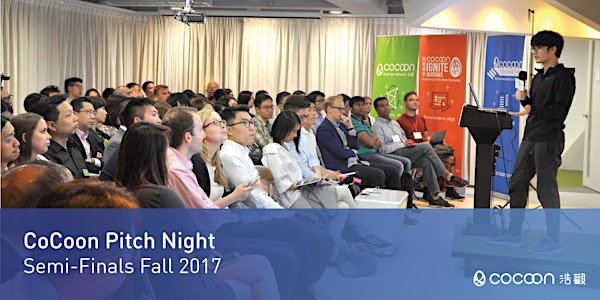 CoCoon Pitch Night Semi-Finals Fall 2017 (26/10) 浩觀創業擂台準決賽_二零一七年冬季
When and where
Location
CoCoon 3/F, Citicorp Centre, 18 Whitfield Road, Tin Hau Hong Kong Hong Kong
Description
Description:
#CoCoonPitch Night enables entrepreneurs to present their products or services to a variety of audience and seek potential investors, co-founders, team members, customers, corporate partners or publicity.
Pitch Night in Numbers:
http://www.hkcocoon.org/pitch-night.html

- 192+ pitch teams have showcased
- CoCoon entrepreneurs have raised HKD552+ million since 2012


Next round pitch open for Application
Thursday, November 16, 2017 - (apply before 20 October 2017)
Teams:
[Curated Mobile Food Ordering System] Yumm Limited - Randy Jap & Stan Lee
We provide a curated mobile food ordering system to QSRs (quick service restaurants) with seamless integration, lead generation, predictive suggestions, and gamification.
Facebook: getyumm
Twitter: getyumm
[Language Learning Platform] Learn it - Ray Yu
We are here to help the language learners all over world in their life-long learning process.
Facebook: 玩住fb學英文
Instagram: play_ig_learn_english
[Online Medical Case Sharing Platform] ShallWeDr - Michael Au Yeung
Case sharing, quick matching and secure medical chat - ShallWeDr provides a platform to help doctors share their cases directly with specialists. Share cases anytime to seek for the best treatment for patients in which they deserve. Facebook/Twitter: ShallWeDr
[Omni Channel Platform] NOVA - Andriy Chiu
An integrated online platform which contained Local activity, fashion brand & flea market.
To establish lifestyle hub and regular events to connecting local brands and customer.
Facebook/Twitter: 小市化大
[Talent Matching Platform] Grwth - Adam Chan
Grwth is a mobile application offering student portfolio and home-school communications. We discover talents through data analysis and provide developmental advice for children.
Facebook: grwth.hk
[Groupon for Travel Experiences] TripGuru - Sebastian Renzacci
A millennial platform where solo travellers connect with each other to book group activities in a fun, friendly, and more affordable way.
Facebook: tripguruauthentictravelexperiences
Twitter: trip_guru
Judge:
Andy Ann
CEO & Founder, NDN Group
Andy Ann is Founder and Group CEO of NDN Group, one of the region's fastest growing group of companies in digital media, and a leading provider of total broad-based digital solutions across multiple markets. Led by his personal mantra of 'Xtreme Entrepreneurship', Andy has been iconic in spearheading a portfolio of over 17 start-ups in regional and global markets, spanning across industry sectors of technology, mobile, media and education. Andy leads NDN Group's strategic client counsel with his deep O2O expertise and advises across businesses on new media, digital marketing, mobile, social media, e-commerce, big-data solutions and strategic content management – to achieve a powerful, unified brand presence through sustainable business solutions that transcend market barriers and competition.
Vincent Ng
Partner, Atlantic Pacific Capital
Vincent Ng joined Atlantic-Pacific Capital in 2007 and is the Partner responsible for the Asia-Pacific region, which includes deal origination and product distribution across markets such as Hong Kong, China, Japan, Korea, India, Southeast Asia, Australia, and New Zealand. Atlantic-Pacific Capital is one of the largest independently owned global placement agent and advisory firm dedicated to raising capital for alternative investments. Vince has worked on more than 50 global fundraisings that have included strategies such as private equity growth and buyouts, infrastructure, energy, and real estate. Vince is a regular speaker at major private equity and industry conferences across the region.