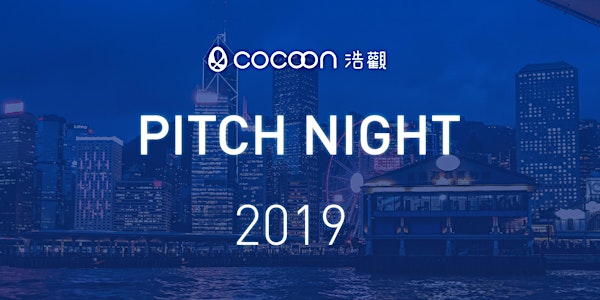 CoCoon Pitch Night Finals Spring 2019 (25/4) 浩觀創業擂台決賽 二零一九年春季
When and where
Location
CoCoon 3/F, Citicorp Centre, 18 Whitfield Road, Tin Hau Hong Kong Hong Kong
Description
Description:
#CoCoonPitch Night enables entrepreneurs to present their products or services to a variety of audience and seek potential investors, co-founders, team members, customers, corporate partners or publicity.
Pitch Night in Numbers:
http://www.hkcocoon.org/pitch-night.html

- 270+ pitch teams have showcased
- CoCoon entrepreneurs have raised HKD3.4+ billion since 2012

Agenda:
6:30 Registration
7:00 Event start
8:30 Voting
8:45 Networking
** Please note that voting codes will not be distributed after the first pitch has begun.**
Teams:
[Continuous Authentication by Gait (ICT)] Lambda Sense Limited – Barry Leung
It is a Machine Learning based Continuous Authentication and Identification by people's Gait Pattern. With this Foundation Technology, many Next Gen Vertical Solutions can be created, e.g. Consrtuction Site Workforce's Duty Management, Security Guard Patrolling Duty Management, Premier VIP User Experience for the Consumer Market, etc.
[Recruiter Marketplace] FindRecruiter – Lawton Lai
FindRecruiter is a recruiter marketplace that enables business to hire simply, anywhere.
[E-commerce and Retail SAAS ecosystem] Boxs - Roman Podkorytov
BOXS is the next generation E-commerce and Retail SAAS ecosystem that allows entrepreneurs and SME to create online stores, IOS / Android app, WeChat mini program as well as manage retail stores with BOXS POS and robust integrating functionality. BOXS "Universal Interface" toolset supports instant cross-channel synchronisation and automation by leveraging advanced data management and machine learning technology that significantly increase efficiency and adds value to the business of our customers and partners.
[Wedding planning platform] Our Big Day - Jerome Tam
Our Big Day launches wedding platform to revolutionise wedding planning for local couples. An online system to help brides and grooms research wedding traditions, connect with wedding experts and share their wedding photos and videos on their own wedding website. As our clients call us, we are the digital auntie for HK weddings.
[Collaboration Production Management Platform] Borecast – Kev Lai
Borecast is a Collaboration Production Management Platform aiming to reduce significantly the downtime of tunnel boring machine projects by enabling the maintenance forecast and coordination between departments.
[A.I. Presentation Coach] Tale – Jaime Lao
Tale is an A.I. presentation coach for users to practice presentation at anytime and anywhere. Designed to improve the presentation skills of our users, Tale assists users to tackle problems encountered when presenting and provide professional guidance, prepare them to deliver an organized presentation with skills and confidence using artificial intelligence.
Judges:
Mr. Andy Yung
Managing Director
Yung's Enterprise Holdings Limited
Andy is currently running his family business' directing investment operations including various early stage investments. The three main areas of focus are: hardware technologies, green technologies, and workflow optimization. To date, such investments have been made in Hong Kong, Shanghai, Beijing and Silicon Valley, with a total investment size of over US$50 million.
Prof. Anthony So
Associate Dean of Student Affairs in Engineering Faculty
CUHK
Anthony Man-Cho So received his BSE degree in Computer Science from Princeton University with minors in Applied and Computational Mathematics, Engineering and Management Systems, and German Language and Culture. He then received his MSc degree in Computer Science and his PhD degree in Computer Science with a PhD minor in Mathematics from Stanford University. Dr. So joined The Chinese University of Hong Kong (CUHK) in 2007. He currently serves as Associate Dean of Student Affairs in the Faculty of Engineering and is Professor in the Department of Systems Engineering and Engineering Management. His recent research focuses on the interplay between optimization theory and various areas of algorithm design, such as computational geometry, machine learning, signal processing, and algorithmic game theory.
Dr. So currently serves on the editorial boards of Journal of Global Optimization, Optimization Methods and Software, and SIAM Journal on Optimization. He has also served on the editorial boards of IEEE Transactions on Signal Processing (2012-2016) and Mathematics of Operations Research (2012-2015). Dr. So has received a number of research and teaching awards, including the 2016-17 CUHK Research Excellence Award, the 2015 IEEE Signal Processing Society Signal Processing Magazine Best Paper Award, the 2014 IEEE Communications Society Asia-Pacific Outstanding Paper Award, the 2010 Institute for Operations Research and the Management Sciences (INFORMS) Optimization Society Optimization Prize for Young Researchers, and the 2010 CUHK Young Researcher Award, as well as the 2013 CUHK Vice-Chancellor's Exemplary Teaching Award, the 2011, 2013, 2015 CUHK Faculty of Engineering Dean's Exemplary Teaching Award, and the 2008 CUHK Faculty of Engineering Exemplary Teaching Award. He also co-authored with his student a paper that receives the Best Student Paper Award at the 19th IEEE International Workshop on Signal Processing Advances in Wireless Communications (SPAWC 2018).
Mr. Henry Lee
Managing Partner
Hendale Capital
Henry is the Managing Partner of Hendale Capital. He has close to 30 years' experience as an investor, fund manager and family office CIO, in global and Asian markets. He has extensive experience in growth investing globally and commits to travelling around the world looking for good potential investments. He founded Hendale in 1995 after six years at the Bass Brothers Investment Office in Fort Worth, Texas and two years at the Mergers and Acquisitions department of First Boston. In the past, Henry has worked as the CIO of the Nan Fung Group, Head of Asia for Sandell, Executive Director at UBS Asset Management in charge for Alternative Funds allocation and Chairman and Board Director of investee companies, Chambers of Commerce and charitable organizations. His investment experience ranges from private companies to secondary stocks. He is a dual citizen of Switzerland and Hong Kong and graduated from Phillips Exeter Academy and the Wharton School of the University of Pennsylvania.