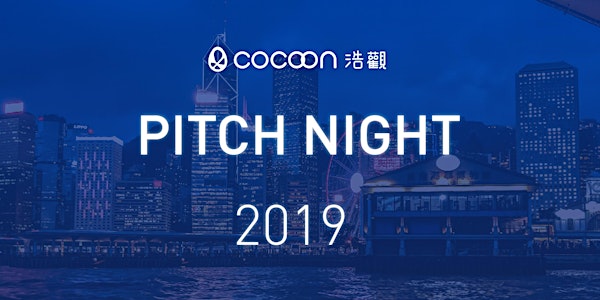 CoCoon Pitch Night Finals Fall 2019 sponsored by Dah Sing Bank (5/12)
When and where
Location
CoCoon 3/F, Citicorp Centre, 18 Whitfield Road, Tin Hau Hong Kong Hong Kong
Description
Description:
#CoCoonPitch Night enables entrepreneurs to present their products or services to a variety of audience and seek potential investors, co-founders, team members, customers, corporate partners or publicity.
Pitch Night in Numbers:
http://www.hkcocoon.org/pitch-night.html

- 270+ pitch teams have showcased
- CoCoon entrepreneurs have raised HKD3.4+ billion since 2012

Agenda:
6:30 Registration
7:00 Event start
8:30 Voting
8:45 Networking
** Please note that voting codes will not be distributed after the first pitch has begun.**
Pitch Team:
[Booking Platform for Space by the Hour] Flow – Eric Lai
Flow is a "Platform for Space" where travellers can book hotels and office space by the hour, enabling flexibility in duration of stay. Compared with a traditional full-day booking, our users can save up to 75% on a timeslot booking with our hotel and office partners.
[Online boutique for childrenwear] Retykle – Sarah Garner
Retykle is an online boutique for buying and selling designer baby and children's clothes. We take all of the hassle out of resale. It is the most convenient way to clean out your kids closets, earn cash back and buy designer childrenswear at up to 90% off. We carry over 500+ of the best children's brands from across the globe in new with tags to gently used condition from ages 0-10. Our aim is to make buying and selling outgrown kids clothes as convenient and as stylish as buying new.
[High-quality leather sneakers] Lacess – Simon Chow
Lacess crafts quality sneakers with an aim to do good for the environment and people. Made from materials like upcycled leather trimmings and recycled plastic, they aim to have minimal impact on the environment. They also partner with an NGO, Compassion First, that fights against human trafficking. For every pair sold, a portion of the proceeds is donated to their work.
[Education Technology] MagiCube Limited - Leo Yeung
MagiCube develops online collaborative learning platform, Una, to encourage students to discuss and cooperate during problem-solving training in Coding/STEM/AI education.

[Boat & water entertainment Booking Network] Holimood - Bill Lau
It is a central system for boat and water entertainment booking that provides booking management software to service providers and distributes their service by connecting international distributors.
[Fitness goal sharing platform] Stryde – Leon Lee & Alex Chung
Stryde is a platform for users to share their workout goals and experiences and successful stories.
Judges:
Mickey Tang
General Manager, Head of Banking Products
Retail Banking Division
Dah Sing Bank, Limited
Mickey Tang is the General Manager and Head of Banking Products for Dah Sing Bank. He is responsible for the development, innovation and management of the Bank's full breadth of retail banking products ranging from secured and unsecured lending, mortgages, deposits as well as credit cards. Additionally, he is also responsible for the Bank's business banking platform which targets in particular local merchant and start-up businesses. Under his leadership, the Bank launched its digitalization roadmap in mid-2018 which has seen the significant upgrade of its e-banking and mobile banking capabilities to continuously improve customer experience.
Mr. Tang joined Dah Sing Bank in 2012 with a wealth of experience in the banking and finance industry, having worked at various leading multinational institutions in Hong Kong and overseas, including Manulife, Citibank, ABN AMRO Bank and CITIC Bank International.

Yves Luk
Principal
Bright Mind Capital
Yves was born and raised in Hong Kong and graduated Magna Cum Laude from Fordham University with a Bachelor of Science degree in Public Accountancy. His work experience includes hedge fund analytics, portfolio analysis and consulting in New York for Novus Partners and modelling, trading, and reporting for Xingtai Capital Management, a hedge fund based in Shanghai. Yves was most recently with Morgan Stanley's Private Wealth Management Asia division in Hong Kong where he conducted business analysis, performed client relationship management, and supported major strategic projects including the application of local banking licenses in Hong Kong and Singapore. Yves is a native speaker of Shanghainese, Mandarin, Cantonese, and English.

Vincent Leung
President
SKECHERS Hong Kong Limited
Vincent Leung started his career as an M&A solicitor in Hong Kong and England before joining his family business Top Secret Fashion Concepts Limited as a director in 2007. In 2008, they formed SKECHERS Hong Kong, and later in 2009, SKECHERS Southeast Asia, with SKECHERS and Luen Thai Enterprises to expand SKECHERS' brand presence in Hong Kong and the Asia Pacific. He holds a number of honorary positions at public institutions, including serving on the board of the Entrepreneurs' Organisation and Chelsea Foundation in Hong Kong.