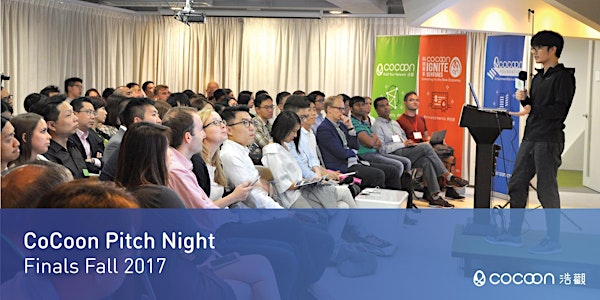 CoCoon Pitch Night Finals Fall 2017 (7/12) 浩觀創業擂台決賽_二零一七年冬季
When and where
Location
CoCoon 3/F, Citicorp Centre, 18 Whitfield Road, Tin Hau Hong Kong Hong Kong
Description
Description:
#CoCoonPitch Night enables entrepreneurs to present their products or services to a variety of audience and seek potential investors, co-founders, team members, customers, corporate partners or publicity.
Pitch Night in Numbers:
http://www.hkcocoon.org/pitch-night.html

- 221+ pitch teams have showcased
- CoCoon entrepreneurs have raised HKD1.7+ billion since 2012


Teams:
[Groupon for Travel Experiences] TripGuru - Sebastian Renzacci
A millennial platform where solo travellers connect with each other to book group activities in a fun, friendly, and more affordable way.
Facebook: tripguruauthentictravelexperiences
[Talent Matching Platform] Grwth - Adam Chan
Grwth is a mobile application offering student portfolio and home-school communications. We discover talents through data analysis and provide developmental advice for children.
Facebook: grwth.hk
[e-Commerce platform] Animall – Brad PFEFFER
Enabling merchants to sell across borders and geographies, with an integrated trading platform to connect merchants with various service providers necessary to their success in online global/cross-border trade
Facebook: https://www.facebook.com/animall
[Telehealth Software for Pets] VetNX – Dicky Lau
VetNX connects veterinarians and pet owners for video consultation with a mobile app. We strive to improve animal healthcare through technology.
Facebook: VetNX
[Home Health Hub] ZiO Health - Rory Ryan
ZIO Health technology senses particular molecules in different body fluids; blood, saliva, breast milk & urine. Optimize your health with molecular testing and personalized health advice from the ZIO Home Health hub, a body fluid analyzer for the home. Introducing MilkSafe, our initial product to analyze and optimize molecular content of breast milk to ensure you are doing the best for your baby.
[Personal Finance Manager] gini - Ray Wyand & Victor Lang
gini is an app helps you manage your personal finances and get rewarded for it! Link all your bank accounts, credit cards and mobile wallets, and see all your transactions in one place. Track your spending across all your accounts with beautifully enriched transactions. Save by getting recommendations on spending, and targeted rewards and offers.
Judges:
Ben Wong
Head of Global Sources Direct at Global Sources
George Zhao
Senior Associate, Peterson Capital
George Zhao currently works as Senior Associate of Peterson Capital with primary focus on private equity and structured finance investments in Asia-Pacific, North America and Europe covering sectors such as real estate, TMT, education and healthcare. Before joining Peterson Capital, Mr. Zhao has worked for VMS Investment Group for private equity investments in the Greater China region and he has also worked for a listed company under the Aviation Industry Corporation of China for direct investments and mergers and acquisitions. Mr. Zhao holds a Master of Law degree from the University of Hong Kong and a Master of Finance degree from the Chinese University of Hong Kong. He graduated from the University of Auckland in New Zealand with a Bachelor of Commerce degree and he is also a FRM charterholder.
Michael Chan
Director of Corporate Development, Emperor Motion Pictures
Michael has helped build companies across industries and across different stages of growth. Michael has held senior positions in different sectors, including media and entertainment companies, a PRC investment management michaelompany, and a pan-Asia reinsurance company. Michael also successfully launched the TV Networks KIX and Thrill, which subsequently merged to form Celestial Tiger Entertainment. Prior to this, Michael started his career in investment banking. Michael graduated from the University of Pennsylvania, and holds a BS from The Wharton School and a BA from the College of Arts and Sciences.