#CoCoonPitch enables entrepreneurs to present their products or services to potential investors, co-founders, teammates & customers.
About this event
This is an online video conference, we will send the video conference link to all register participants.
Pitch Teams for 22 July 2021
1. Edutech | Soqqle- Daniel ShenSoqqle is a social learning mobile app similar to Tiktok but for education. Teachers use it for students to upload videos as homework and peer-to-peer learning.
2. Logistic | iCargo - San, Justin Carvey
iCargo Pacific is a technology platform that integrates various cargo companies and provides the most affordable logistic solution for small and medium businesses.
3. Wellness | Onegodmed - Mukesh KumarIndia's 1st Digital Astrology & Holistic Wellness Platform Using Trusted Indian & Global Practices
4. Social | Spokesperson - Chou Tsz Yeung, Elisa Lai, Vika QiuSpokesperson is a new multimedia platform that integrates S-Commerce and E-Commerce, achieves a low-cost but high-efficiency publicity effect.
Welcome to CoCoon Pitch!
We are excited to share the CoCoon Pitch platform with our global network of investors and entrepreneurs. Coming up, join us via teleconference to meet the teams and judges in 5 min presentations and Q&A sessions. Enjoy meeting fellow entrepreneurs and investors from around the world and hear about the newest ideas around fintech, ed tech, atom+bytes, med tech and much more.
Description:
#CoCoonPitch enables entrepreneurs to present their products or services to potential investors, co-founders, teammates, customers or corporate partners. Over 300 teams have presented since 2012 and they have raised over HKD5.4b or USD600m in venture capital. If you are looking to raise money, invest in startups or collaborate with technology partners, join us at CoCoon Pitch to discover great people and products.
Apply to Pitch:
1) Fill in the application form at www.hkcocoon.com/cocoonpitch
2) Submit your business deck to pitch@hkcocoon.org
Kindly prepare a 5-page slides in powerpoint format with
1. Problem
2. Solution
3. Business Model
4. Target Market
5. What are you looking via #CoCoonpitch
Discover More:
http://www.hkcocoon.org/cocoonpitch
Pitch Teams:
[Online provider of legal solutions] DocPro - Kim Chan
DocPro is the leading online provider of legal solutions to businesses and individuals. DocPro's mission is to make legal solutions affordable and accessible to everyone. Currently, DocPro operates a legal tech platform (DocPro.com) by combining legal documentation services with cutting-edge technology.
[Air Quality Analytics] Meo - Michael Horman
Meo is an indoor environment analytics system that collects and analyses indoor air quality data to identify and provide cost-effective and energy-efficient solutions to improve safety, health, productivity and sustainability.
[Dating App]umego - Lorena Marchelina
Maximize opportunities in the dating scene and gifting industry by combining dating/new friends and experiences into one space.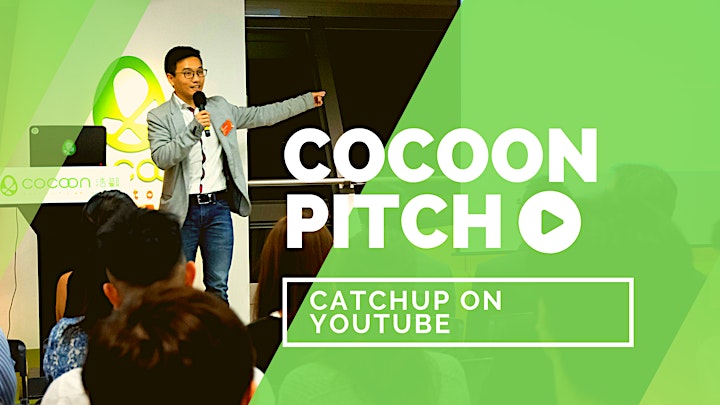 Organiser of CoCoon Pitch: Connecting Founders and Investors
The CoCoon community is filled with entrepreneurs, engineers, designers, investors, media, academia and corporate partners.  We know the core element of entrepreneurship is people. Therefore, we have built a venture investment platform with both events and programs to help you find and engage people to build and grow your business. Join us today and meet the resources you have been looking for.