Description

浩觀創業論壇2013
如何選擇創業概念?小細節如何成就大不同?創業者如何彼此合作?以上種種不過是創業家每天都要面對的挑戰之一。研究顯示,接近95%的新企業,在創業的首五年內均以失敗告終。如何才能夠在創業的路途上達致成功,成為頂尖的5%?為期兩日的浩觀創業論壇2013邀得十四位亞洲傑出創業家擔任講者及嘉賓,包括台灣極具代表性的創投專家林之晨、DHL(敦豪國際)亞太區創辦人鍾普洋、本地著名導演黃真真及郭子健等,透過講座、工作坊及研討會多角度分享建立成功新企業之竅門與香港創意產業生存及發展之道,讓創意轉化為成功企業。
CoCoon CASE Conference 2013 (2-Day)
"How to choose your startup idea?" "How little details can deliver Big results?" and "How Entrepreneurs should work with one another?" These are only some of the common questions that entrepreneurs faces on a daily bases. The CoCoon Annual Startup Exchange (C.A.S.E.) 2013 is a two day conference that features 14 celebrity speakers from around Asia to share with you the answers to those questions and the secrets in becoming the 5% of successful startups.
Speakers and Topics:
In this 2 day (April 19 - 20, 2013) event we have the following speakers and topics:
+ Hacks for Consumer Internet Startups
(Jamie Lin of Appworks)
+ Innovation and Entrepreneurship: Story of Cherrypicks
(Jason Chiu)
+ How to choose your startup idea?
+ Through the Looking Glass: Anecdotes from an Entrepreneur and Investor
(Antares Au of at SSG Capital Management)
+ With so many alternatives, why invest in Startups?
(Dominic Chan of Decisive Consulting, Stuart Kwok of Harbor Pacific Capital, Andrew Teoh of Ameba Capital)
+ Entrepreneurship: Beyond Investments, Exits and Millionaires
(Chandran Nair of Global Institute for Tomorrow)
+ Success in Simplicity: Little Details deliver Big Results
(Girish Jhunjhunwala of Ovolo Hotel Group)
+ Driving Lamborghini Results
+ How to survive in Hong Kong's Creative Industry
(Film Director Barbara Wong, Film Director Derek Kwok)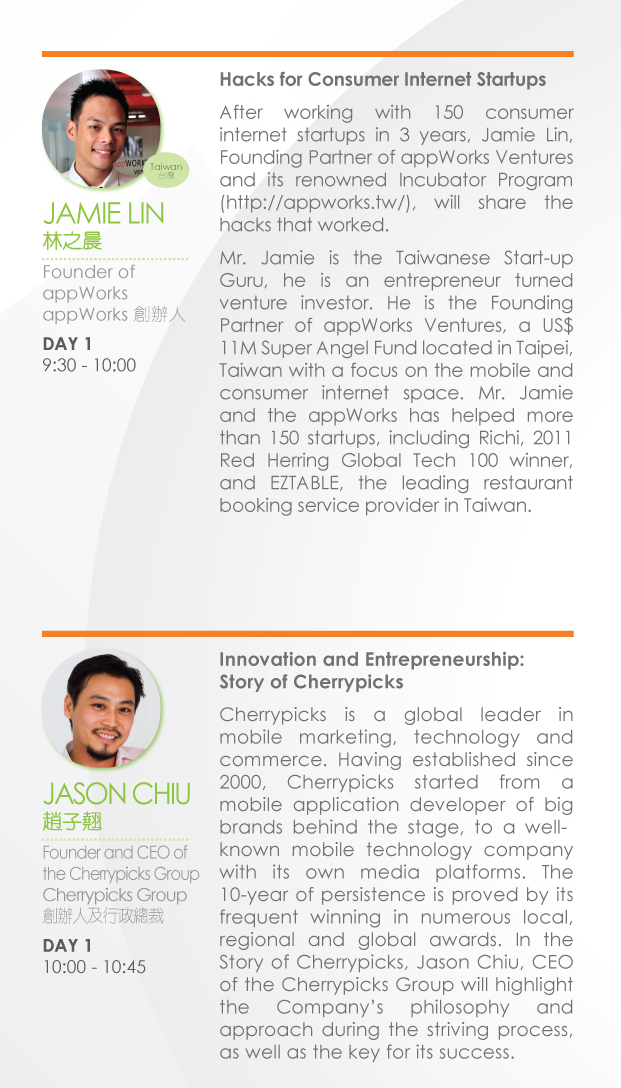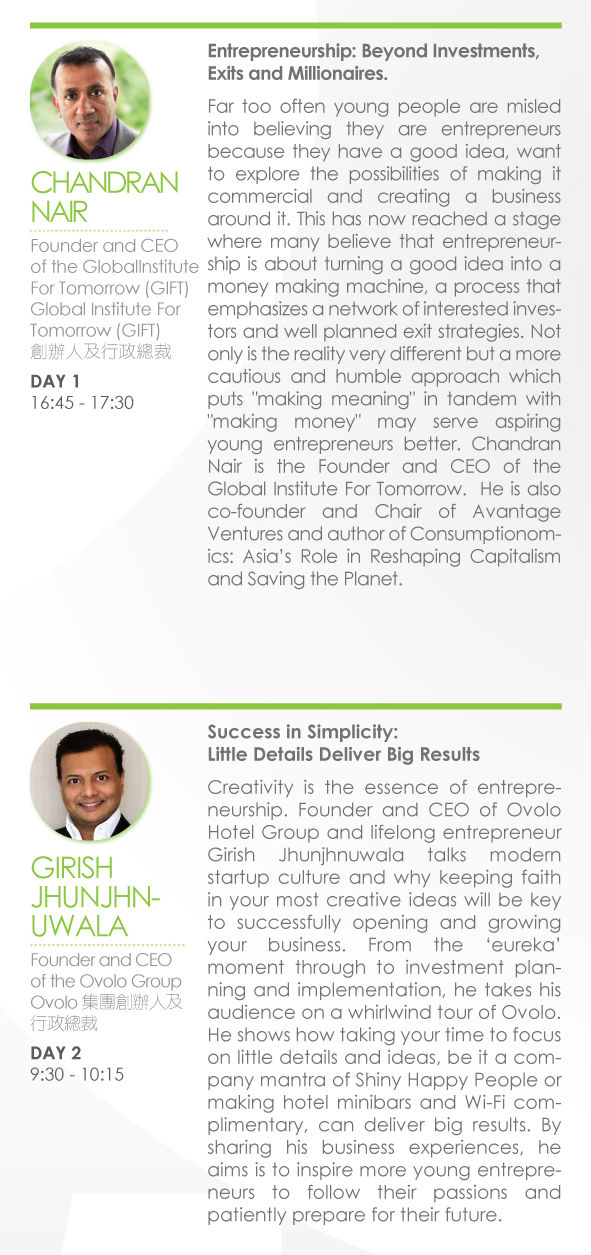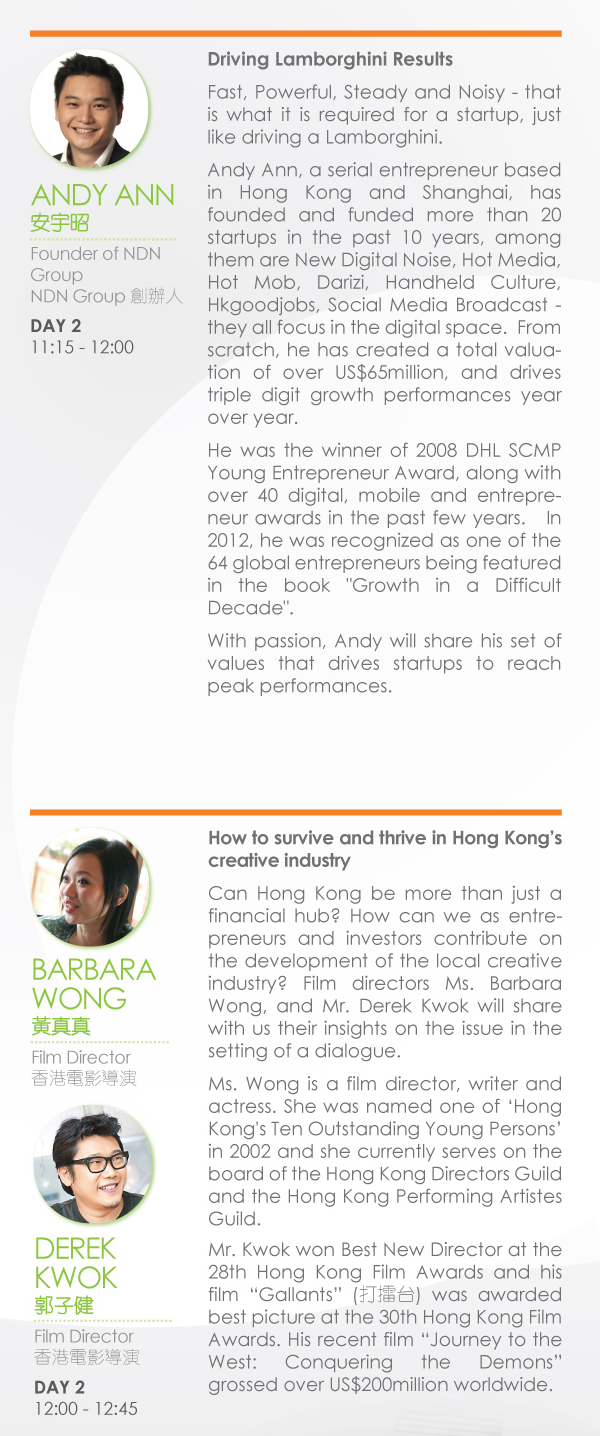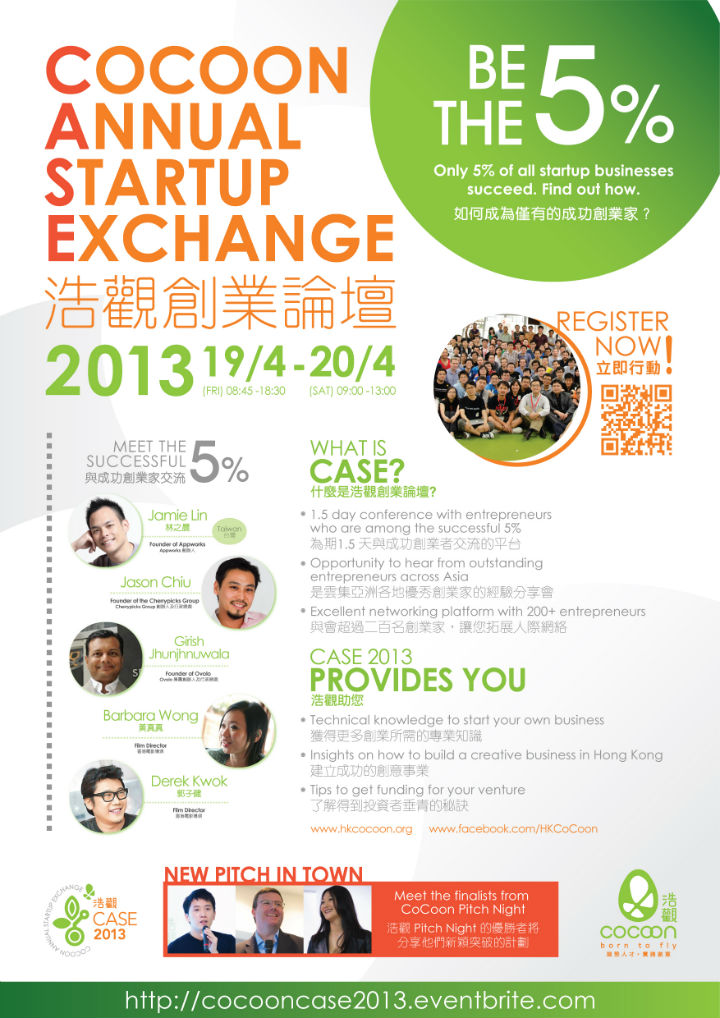 About CoCoon
CoCoon is an entrepreneurship exchange in Hong Kong, a 14,000 sq ft. hub to gather vision, talent, experience and resources, aiming to establish a collaborative community to share the enthusiasm in building start-ups and turning them into successful businesses.
http://www.hkcocoon.org
Who's in CoCoon?
Currently with over 100+ members in software, hardware, social media marketing, design and more, our vision is to help turn ideas into viable businesses which in turn create great jobs and diversify the employment landscape for the benefit of the Hong Kong people. For more stories of our members, check out our Inside CoCoon blog:http://insidecocoon.blogspot.hk.
Organizer of CoCoon CASE Conference 2013 (2-Day)
The CoCoon community is filled with entrepreneurs, engineers, designers, investors, media, academia and corporate partners.  We know the core element of entrepreneurship is people. Therefore, we have built a venture investment platform with both events and programs to help you find and engage people to build and grow your business. Join us today and meet the resources you have been looking for.