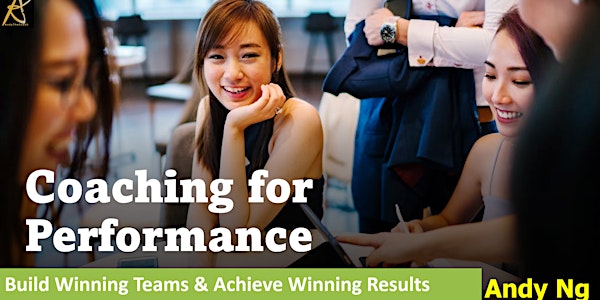 Coaching for Performance
The reason why managers and leaders are not maximizing the potential of their team is not due to the lack of skills but lack of coaching
Refund Policy
Contact the organizer to request a refund.
Eventbrite's fee is nonrefundable.
About this event
Most managers are not really doing coaching; they are merely doing instructing and lecturing.
At this half-day training, Trainer Coach Andy Ng will introduce to you the secrets of successful coaching. Whether you are a new manager or manager with several years of experience, if you want to get more done with your team, this training will give you everything you need to know about how to coach your team to success.
Course Objectives
a. Know the importance and urgency of coaching to performance
b. Understand the elements of successful coaching
c. Carry out coaching steps
d. Know how to apply coaching techniques to different people
e. Evaluate the impact of coaching.
Power-packed contents:
1. Capability vs Thinking Deficiency in Performance
2. What is Coaching and Its Difference from Counseling, Mentoring and Instruction
3. Test on "Are You Coaching or Instructing?"
4. Six Steps to Coaching for Performance
5. 5-Ways to coaching success: from creating Awareness, getting Accountability and getting Commitment
6. The Coach Toolbox
7. Coaching Leaders and 2nd Leaders
8. Giving Feedback and Motivating Under-Performers
9. The power of Energy level and how to have instant energy
10. The Ultimate of Coaching: Upgrade the BEing of the person
11. Self-Coaching Success
12. When to do when Coaching does not work?
Who Should Attend
• Managers, directors and supervisors
• Team leaders and aspiring managers and supervisors
• Executives that want to do coaching for themselves and outside of work.
Training Methods
• Lively presentations using dynamic talk
• Watching of short video clips to drive further the points
There will be not just theories but also lively exchanges with the participants. Instead of the trainer telling them the pointers, the participants will also share what they know and the trainer will value add from there.
Sample Testimonials
"Very inspirational. I enjoyed the movie clips with the right messages driven. Thanks Andy"
- Eileen Quek, Operations Manager, Knight Frank Estate Management Pte Ltd
"The videos summarize many of the teachings and make the training very entertaining and educational. I rate Andy Ng and his team at Asia Trainers 9 points out of 10"
- Ng Geok Khim, Principal Coach, Employment and Employability Institute (e2i)
"This course Coaching for Performance is very relevant for management staff. AndyTheCoach is very lively, enthusiastic and down to earth. It gives us good Manager's Excellence"
- Tan G H, Admin Manager