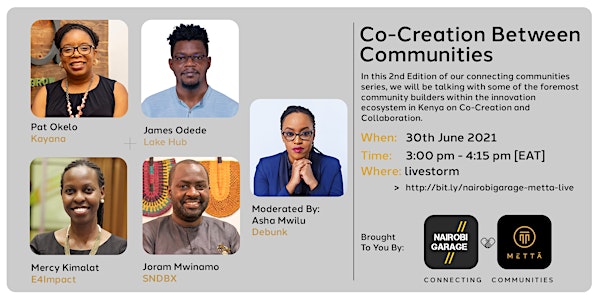 Co-Creation Between Communities
#ConnectingCommunities is Back!
About this event
To attend, kindly Register on Livestorm
In the 2nd edition of our #ConnectingCommunities series, we will be talking with some of the foremost community builders within the Kenyan innovation ecosystem on Co-Creation & Collaboration.
Thoughts that will be on the table for discussion:
How can we build a culture of collaboration and knowledge sharing between communities?
What's the state of the ecosystem? What's missing and how can we fill that gap in partnership with other key stakeholders?
Are startups over-taught and under-funded? What are the current needs of innovators? Are we addressing that? What more could be done to attract necessary capital for innovators?
And the future, that is, what's the next frontier in building and supporting sustainable startups?
Leading the discussion will be a panel made up of:
Pat Okello, Founder of Kayana
James Odede, Founder of Lake Hub
Mercy Kimalat, Partnerships & Communications Manager - E4Impact
Joram Mwinamo, Founder of SNDBX and
Moderated by Asha Mwilu, Founder of Debunk Media.
Happening on Livestorm.co on Wednesday, 30th June 2021 from 3:00 pm to 4:15 pm
#ConnectingCommunities is a joint initiative between Metta and Nairobi Garage to bring together like-minded people in the innovation ecosystem.
To attend, kindly Register on Livestorm