Multiple Dates
共創腦化故仔 Co-Creating Dementia Stories [OK Dementia Showcase @HKDI, TKO]
共創腦化故仔 | CO-CREATING DEMENTIA STORIES
About this event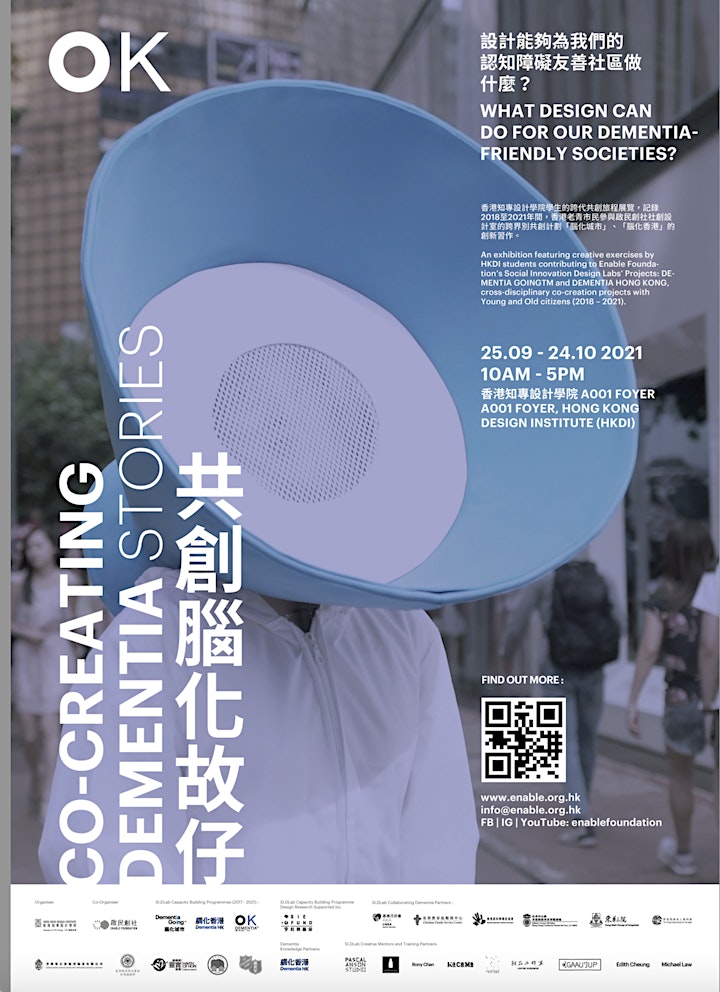 25.09 - 24.10
10AM - 5PM
香港知專設計學院 A001 Foyer (港鐵調景嶺站A2出口)
A001 FOYER, HONG KONG DESIGN INSTITUTE (MTR Tiu Keng Leng Station Exit A2)
Address : 3 King Ling Road, Tiu Keng Leng, Tseung Kwan O
在2018至2021年期間,來自香港知專設計學院HKDI的設計學生每年參與,由非牟利社會設計研究教育團隊,啟民創社舉辦的社創設計室創新老齡項目。在「腦化城市」和「腦化香港」計劃中,透過跨代、跨界別共創的設計學習過程,讓年輕設計學生親身體驗與老年人、市民,一起了解認知障礙症、學習社會創新思維。期間啟民創社收集了逾四百五十多位來自香港年青人對腦退化症/認知障礎症的回應、共創點子和腦化故事。這個展覽精選來自香港知專設計學院學生的學習語錄,透過文字、圖像、物件、影片的形式「講故仔」,以創意和文化角度演繹對未來腦退化症的想像和關注。
Since 2018, Enable Foundation has conducted two projects on Design and Dementia: DEMENTIA GOING ™ and DEMENTIA HONG KONG. The cross-generational and cross-disciplinary methodologies have involved different international and Hong Kong creative agents to co-create a series of design actions with medical and social dementia experts, organisations and carers. Between 2018 - 2021, over 450 students from Hong Kong Design Institute (HKD) went through the design training of social innovation and contribute their creative talents to address this century disease. This design showcase aims to celebrate creativities for dementia and invite people to join us to okay (accept) the stigma of dementia and co-create culture for dementia in order to prepare for our future selves. Exhibits include objects, installations, videos, workshops and more.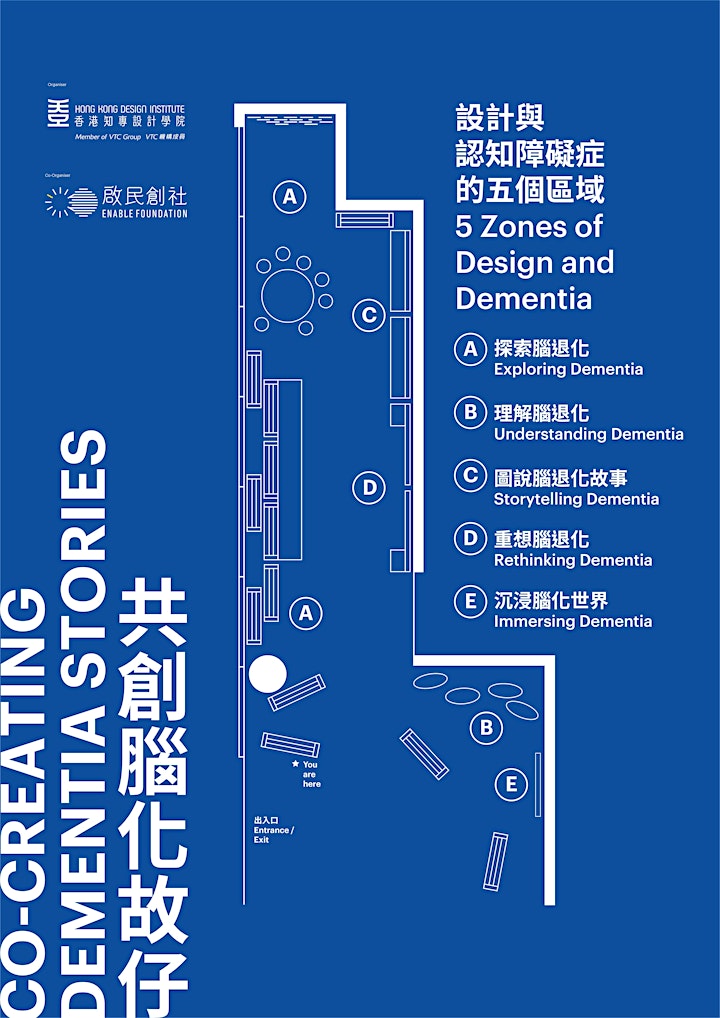 展覽導賞: 星期二、四 (10月14日公眾假期除外)
Exhibition docent is only available on Tuesday and Thursday (except public holiday on 14 Oct)
注意事項:
1/ 是次為免費活動,請預先登記。http://enablefoundation.eventbrite.com
2/ 名額有限,先到先得。
3/ 所有參加者於活動期間必須戴上口罩,多謝合作。
4/ 適合 10 歲或以上人士參加
Remarks:
1/ Free event and need to register online
http://enablefoundation.eventbrite.com
2/ Limited spaces, first come first serve
3/ Please wear face masks for participating the event
4/ Age+ 10 or above
5/ Please fill in the HKDI Health Declaration Form before entering the venue
shorturl.at/yMP78
Organised by HKDI
Co-organised by Enable Foundation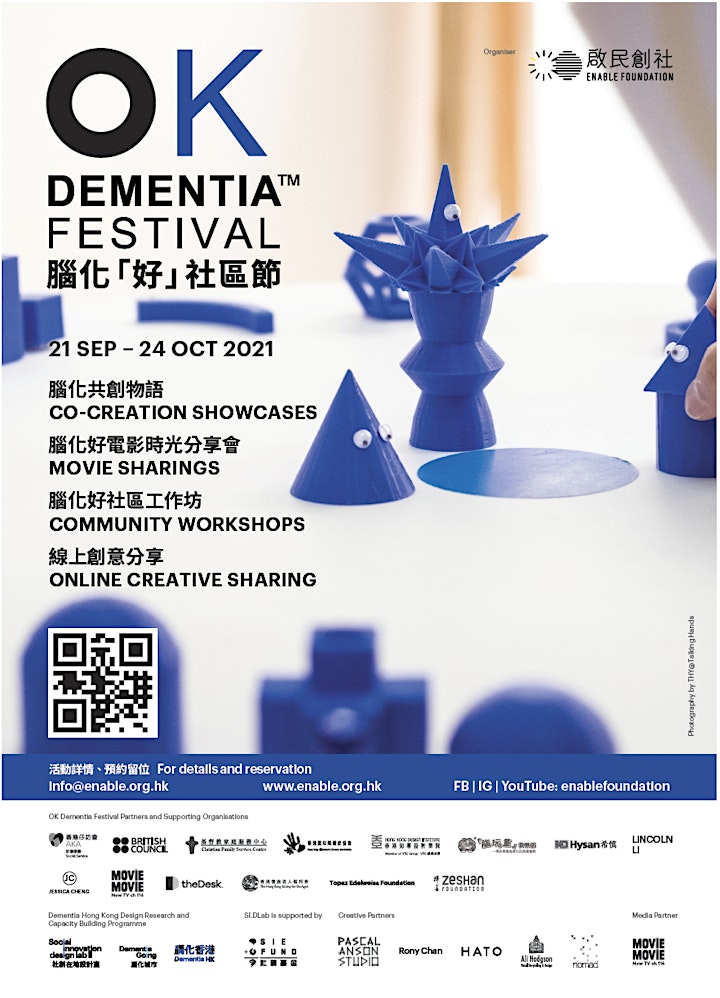 腦化「好」社區節
OK Dementia FESTIVAL 2021
日期 Date
21.9 - 24.10 2021
透過公眾創意活動、工作坊,
齊來認識腦退化症/認知障礙症
共創未來的共融「腦化好社區」
Through creative showcases, screenings, community workshops, and sharings! Let's learn more about Dementia and co-create for an inclusive culture of "OK Dementia™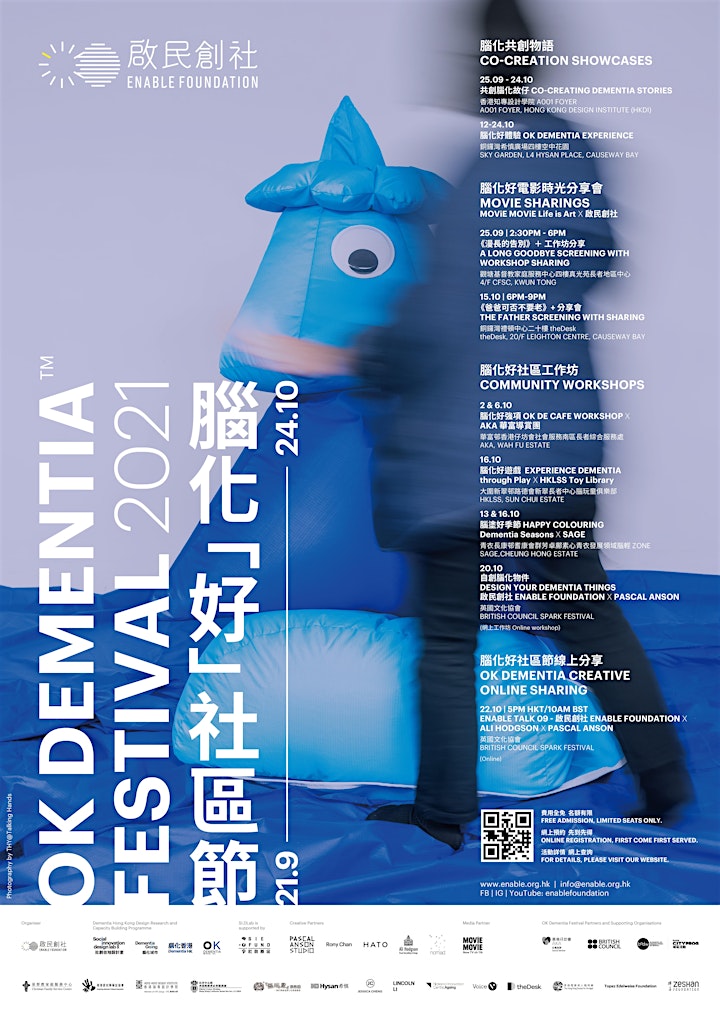 OK Dementia Festival
大家齊來認識「腦退化症」或「認知障礙症」,為未來「腦化好世界」準備!
由啟民創社主理的社創設計室,透過跨代、跨界別共創方法,自2015年起與各界市民、認知障礙症團體、社福專業人士和腦退化社群共創一系列的腦化物件,讓大家從創意和生活角度認識腦退化症、提早準備及共創未來的認知友善社區和城市。
2021年九至十月的世界認知障礙症月期間,我們聯結合作夥伴,推出OK Dementia™ Festival 「腦化好社區節」,透過在香港不同社區線上線下舉行的活動,包括在社區放映認知障礙症主題電影、於商場、屋邨長者地區中心合辦體驗日,分享認知障礙症故事、邀請大家參與、體驗、共創腦化物件。根據世界衞生組織資料,2050年將有1.5億全球人口被認知障礙症影響。透過 OK Dementia™ Festival 「腦化好社區節」,我們希望讓香港市民接納認知障礙症,以一個正面態度協助認知障礙群體(患者、照顧者)。
Let's learn more about dementia and get ready for "Dementia is OK".
Since 2015, the Enable Foundation has been investigating everyday stories of people living with dementia and their caregivers. We have worked to translate these narratives into "dementia things". This important process allows us to engage the public to experience dementia and then co-create a more inclusive society through design. As a non-profit social design collective and education charity, the Enable Foundation advocates intergenerational and interdisciplinary collaboration.
This year, through September and October, the Enable Foundation launches its first OK Dementia™ Festival in response to the annual world Alzheimer's month. Different creative events are happening in different districts of Hong Kong: community screenings on movies of dementia, public showcases to engage the public in dementia stories of Hong Kong citizens, community design workshops to co-create "dementia things". According to the World Health Organisation (WHO), 152 million people will be affected worldwide by 2050. We hope to inspire Hong Kong citizens to prepare for dementia as well as accept it. To know that it is OK, helping those living with dementia (both patients and carers) to relax a bit.
費用全免 名額有限 Free admission, limited seats only.
網上預約 先到先得 Online registration, first come first served.
活動詳情 網上查詢 For details, please visit our website.
www.enable.org.hk
info@enable.org.hk
FB | IG | YouTube: enablefoundation
Acknowledgement :
OK Dementia Festival 2021 is Enable Foundation's first educational community festival. We can make this happen thanks to our supporting partners :
Hong Kong Design Institute, British Council, Hysan Property, Topaz Edelweiss Foundation, Zeshan Foundation, Jessica Cheng, Lincoln Li, AKA, SAGE, HKLSS Toy Library and more
For more information, press and enquiry:
please contact Enable Foundation through email info@enable.org.hk or phone 3468-2138.
All material copyrights @ Enable Foundation 2021
Please contact info@enable.org.hk for images.
Images credit: Images provided by Enable Foundation
Note
Arrangement to COVID-19
To help ensure public safety, special arrangements and precautionary measures in line with the current restrictions under the Prevention and Control of Disease Ordinance are implemented. Our venues are open with capacity restrictions aligned to the current statutory operating requirements.
You are encouraged to check for specific updates on our website and social media before visiting.
Special Precautionary Measures
Visitors are subject to a temperature check before admission. Visitors with fever symptoms will not be admitted.
Visitors will be requested to fill out a Health Declaration Form before admission.
Visitors should apply alcohol hand sanitisers before admission.
Visitors will need to wear their own masks in the venue.
Eating and drinking inside the venue are not allowed.
Please keep a safe social distance.
Organiser of 共創腦化故仔 Co-Creating Dementia Stories [OK Dementia Showcase @HKDI, TKO]
Enable Foundation is a non-profit social design collective with expertise in cross-generational co-creation and design researches for real-world impact. Enable Foundation aims to develop capacity training programmes and projects on design thinking & doing, as well as creativity with individuals, organisations from private and public sectors.
啟民創社是一間從事與社會創新相關的設計的非牟利設計工作室,透過跨代共創和設計研究的專業服務,為全球社會議題提出創新方案。我們的宗旨是運用設計思維及行動,發展針對個人、私營及公營機構的創意力培訓計劃及項目。