Join us on 12 Dec, 5 - 8 pm for the Closing Reception of 'Stains of Time', a group exhibition by Sophie Cheung, Night Fung and Michell Lie
About this Event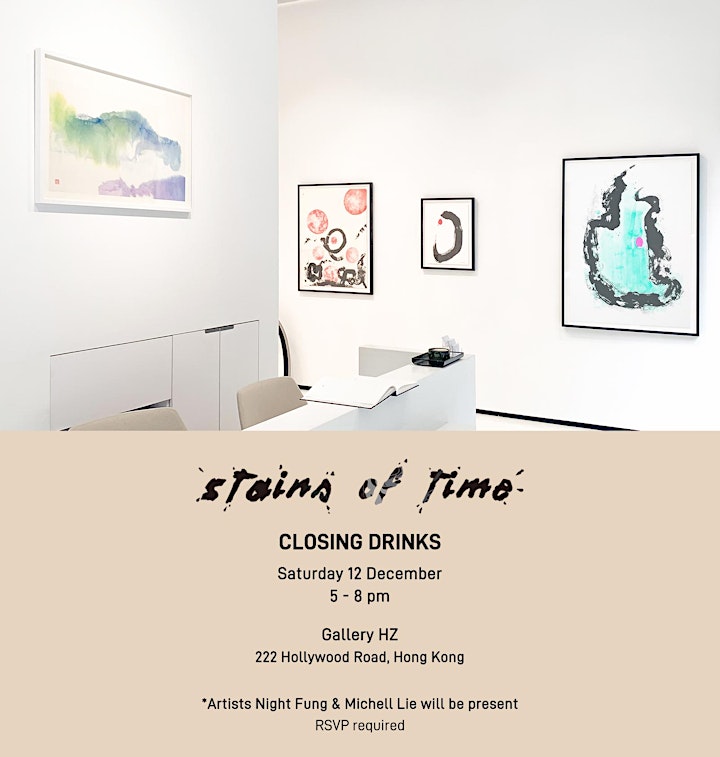 In conjunction with the second edition of Central West Hong Kong (CWHK), Gallery HZ will be hosting the Closing Reception of Group Exhibition 'Stains of Time' on 12 December 2020 (Sat), 5 -8 pm. Artists Night Fung and Michell Lie will be present at the reception.
*In view of the current COVID situation and government regulations, no drinks will be served at the event.
To safeguard the health and safety of our staff and our guests, we will implement the following measures to the event tomorrow:
1. Participants are required to fill in a health declaration form when they enter the gallery.
2. Participants are required to have temperature check when they enter the gallery
3. We will limit the capacity of the gallery to a maximum of 20pax, including staffs and artists.
About the Exhibition
We are delighted to present Stains of Time, a group exhibition by Hong Kong artists Night Fung, Sophie Cheung and Michell Lie. The exhibition opens on October 29, 2020 and runs through 12 December, 2020. From abstraction to conceptual, their creative interpretation of ink as a medium is reflected in their distinctive styles. Through this common medium, the artists contemplate on concepts of time and temporality, creating a non-linear manner through which viewers measure time not by the passing hour, but by transient experience.
As the year 2020 draws to a close, one feels that life has come to an unwelcomed halt, yet the physical and mental remnants of living stand to attest the passage of time, however unpleasant. Stains of Time delves into this abstract dichotomy between time and temporality through the lens of our participating artists, each reminding viewers that time is ultimately quantified in conscious experience and is not limited by linear temporal measures.29 October – 12 December 2020
展覽簡介
Gallery HZ呈獻香港藝術家馮禮慈、張馨儀、Michell Lie的聯展「Stains of Time」。展覽將於2020年10月29日開幕,展期至12月12日。三位香港藝術家的作品各自折射出時間的不同特質,並將之轉化為他們創作的一部分,啟發觀者思考人與時間之間的關係。三人的創作媒介均有「墨」的元素,創作風格較為抽象卻不乏色彩,然而呈現的手法和方式卻截然不同。
2020年彷彿因等待而顯得特別漫長,許多事情看似進入停頓狀態,然而時間卻未曾停止流逝,這不怎麼如人意的一年原來也逐漸步入尾聲。如若我們視生命中發生的一切皆為時間留下的痕跡,時間的流逝必然有跡可循。三位藝術家的作品正揭示了「時間」這個抽象概念的具體印記,更反映出人雖然無法改變時間的長短和起止,但卻可以左右時間留下怎樣的痕跡——或輕或重、或徐或疾。