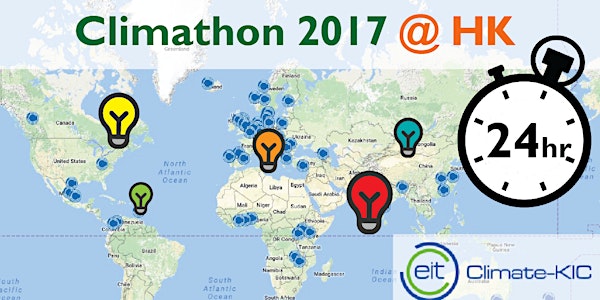 Climathon 2017 Hong Kong: Taking Up the Challenge for a Zero Carbon Hong Kong
When and where
Location
The Education University of Hong Kong (10 Lo Ping Road, Tai Po, New Territories, Hong Kong)
Description
Registration: Please fill in the online registration form here- https://goo.gl/yN69rA

Registration deadline: 22nd October 2017
"Climathon" is a global 24-hour climate change hackathon initiated by Climate-KIC, a climate innovation organization based in Europe. Climathon takes place simultaneously in major cities around the world, during which participants discuss climate challenges facing their home city and come up with solutions through collective wisdom.

You are cordially invited to help tackle four major climate challenges facing Hong Kong, by proposing innovative solutions to help the business sector and the community:
(1)Heat Island Effect: Heat island effect is a problem faced by many commercial cities. Dense population, packed skyscrapers, limited city greening and prolonged use of air conditioning have made Hong Kong hotter, stuffier and its air quality going from bad to worse. The summer of 2017 has seen a record high temperature of 38 degrees. This heat island effect affects our quality of life and threatens our health. Are there any ways to improve the micro-climate of Hong Kong, through the innovative use of space, choice of building materials and city greening?
(2)Energy Mix: Hong Kong relies on imported energy resources as we lack local natural resources. Coal is still the main source of energy, taking up around 57% of the energy mix of Hong Kong. Natural gas comes second, making up 21%. The remaining 22% is nuclear power imported from Mainland China. Only a very small proportion of the energy is powered by the renewables such as solar and wind energy. Apart from waiting for the two power companies to take action, what else can we do to increase the use of renewable energy?

(3) Waste Management: Each year, around 6 million tonnes of municipal waste are generated in Hong Kong and over half of them go to three landfills. If solid waste continues to grow, all existing landfills will be full by mid to late 2010's. In the meantime, only 35% of the municipal solid waste are being recycled. How can we reduce waste at source, and promote waste recycling or upcycling?

(4) Extreme Weather: Hong Kong is facing threats from extreme weather caused by climate change. Last year, the "hot weather warning" was issued on 38 days, the highest annual total in the Hong Kong Observatory record. Unusual precipitation pattern has also been observed. Climate disasters such as typhoons are becoming more frequent and getting more intense. Communities lacking climate resilience, such as low-lying Tai-O, will bear the brunt under such abnormal weather conditions. So how can fragile communities or groups improve their resilience?

Let's be a part of the World's action for a stable climate. Join "Climathon 2017 Hong Kong" NOW!

Notes to Participants:
-Participants must be 18 years old or above

-Participants can join as individuals or teams of 3-6 people. In this 24-hour event, participants will gather together to discuss and suggest solutions for the climate challenge facing Hong Kong.

- Participants will split into discussion groups based on their interest in the climate issues mentioned above. Each group will present its proposed climate solutions on the second day afternoon. Based on these presentations, the judging panel will decide on the winner of the Grand Prize. If the participants have already got initial solutions in mind, they are also welcome to present their ideas at the beginning of the event.

- Free wi-fi is available on site. Please bring along your laptop and other equipment for online research and group presentation.