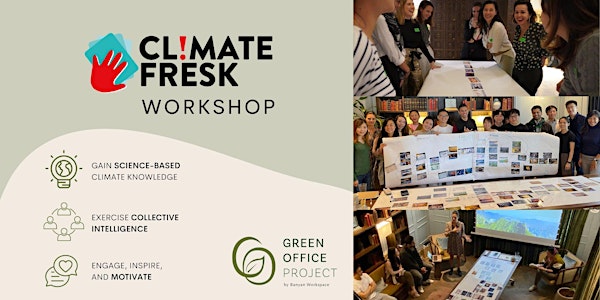 Climate Fresk Workshop | Green Office Project
This engaging and immersive workshop deepens your understanding of climate change through interactive experience and collective intelligence
Date and time
Tue, 25 Apr 2023 18:00 - 21:00 HKT
Location
Banyan Workspace 28號 Hoi Chak Street Unit 1204, Eastern Harbour Centre Quarry Bay, HKI Hong Kong
Refund Policy
Contact the organiser to request a refund.
About this event
We are now at the tipping point between keeping the planets temperature increase below 1.5 degrees or exceeding it exponentially; this means we can still act to reduce the harmful impact our activities can have on the planet and ensure a healthy environment for our future generations!
If you're looking to solidify your team's understanding of climate change with science-backed facts and work collectively to identify tangible actions you can take individually and together in your business, this Climate Fresk Workshop hosted by Green Office Project is for you.
In this workshop you will...
Collaboratively discuss the science behind climate change
Analyse the connections between a multitude of contributing factors and identify positive feedback loops
Reach a more thorough understanding of how climate change works
Compare and contrast ideas on what types of changes can be implemented on individual and collective levels in group brainstorm sessions afterward
What is Climate Fresk?
Climate Fresk is an NGO working on climate urgency awareness and education, as well as an international volunteer movement. They have curated a participatory and creative workshop to serve as a trigger for transformation among individuals and teams.
$50 from each ticket fee is donated to the Climate Fresk organisation.
What does a workshop entail?
The interactive workshop will walk participants through a 42-card collaborative game based on data from IPCC reports. The team will be challenged to work out the cause-effect relationships between different components of climate change, inspiring a fresh understanding of what needs to be done and giving them the knowledge and confidence to drive change within their own circle or organisation.
Who will facilitate the workshop?
The Climate Fresk Workshop will be facilitated by Charlotte, an experienced facilitator who has led many corporate workshops, and the Green Office Project team!
About Green Office Project
Green Office Project is a sustainable initiative by Banyan Workspace. Our goal is to accelerate sustainable practices amongst businesses in Hong Kong by connecting them with our network of sustainable solution partners and inspiring them to adopt more consistent and mindful habits.
About the organiser
Banyan Workspace is a boutique office and events venue on the Quarry Bay waterfront with sweeping views over the beautiful outer harbour.