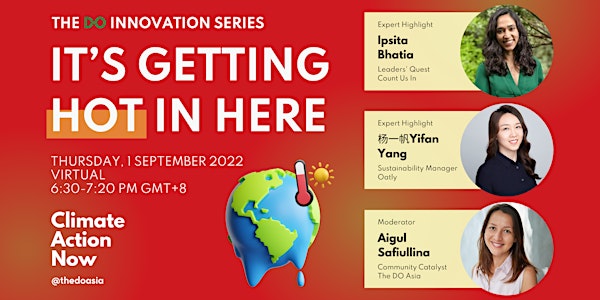 Climate Action Now: It's Getting Hot in Here | The DO Innovation Series
What can we do in the face of climate change?
About this event
You have probably seen so much about the recent heat waves happening around the world. Not only are heat waves raging, but also forests are burning, ice sheets are crumbling, and coral reefs are bleaching. Although we are now in a climate emergency, we still see bandaid solutions like "recycling" and "bring-your-own-bag" being pushed as ways to save the planet. Making matters worse, corporations often hail themselves as climate saviours by "greenwashing". For example, some companies spend more money on branding how green they are than actual investments in environmental efforts.
This year, Earth Overshoot Day fell on July 28, one of the earliest days since 1971. In other words, humanity is using the resources of 1.8 Earths. We hear that this is the hottest summer of our lives. But what if it is also the coolest we will ever have? Will the next Earth Overshoot Day fall even earlier? Will we just sit and watch as if nothing is happening?
We know it is overwhelming to think about the outcomes of ecological and climate destruction. But we believe we still have a chance to change things by using proven and innovative solutions; for example, using smart city frameworks and building ecosystems with different sustainability players.
In this webinar, we will explore:
How companies engage in "greenwashing" and how to stop it
Effects of climate change in different parts of the world by hearing first-hand accounts
Why we should not treat 2030 as the "deadline" to achieve sustainable development, and why we should already have started yesterday
What the point of no return is and what we can still do to make our planet as habitable as possible
How innovation and smart-cities solutions can help with the survival of our species
What climate actions and pledges companies, governments, and citizens are doing
Join us to take action to protect our planet and species. We need your help to preserve our lovely home. Together, we can DO it.
About The DO Innovation Series
At the DO, we believe in the power of innovation to solve the world's challenges like climate change, gender inequality, and food insecurity.
We are accelerating a new economy that is sustainable, innovative, and equitable. To achieve this, we activate entrepreneurs and intrapreneurs to disrupt the status quo through our unique transformation model.
We want to amplify our social impact through The DO Innovation Series. We bring together world-class speakers and industry experts to build an innovation and impact ecosystem with purpose.