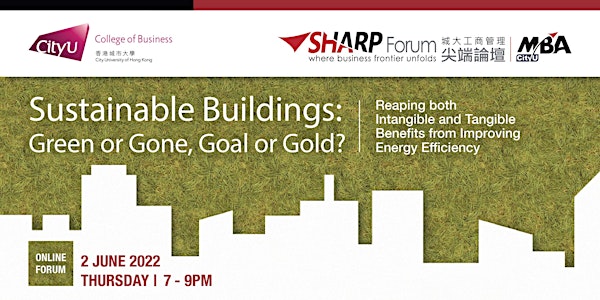 CityU MBA SHARP Forum: Sustainable Buildings: Green or Gone, Goal or Gold?
Join us to find out the best way to mitigate the carbon emission and figure out the relevant economic benefits via Green Building!
About this event
CityU MBA SHARP Forum
Click the Links to Join Us
Zoom: https://cityu.zoom.us/j/99105574478
Youtube: https://youtu.be/ftwfWXjecvU
Facebook: https://www.facebook.com/cityusharpforum
Sustainable Buildings: Green or Gone, Goal or Gold?
Buildings in Hong Kong—a city that never sleeps—account for thecity's 90% of electricity used and over 60% of carbon emitted. To mitigate the adverse environmental impacts, the Government has issued subsidies for qualified buildings to retrofit energy-efficient systems. However, many buildings are still far from green. What are and how to alleviate the concerns that prevent buildings from turning green? Could green turn gold? How? Explore the answers with experienced engineers and architects.
Date: 2 June 2022 (Thursday)
Format: Live Broadcast (The access link will be emailed to registrants 1 day in advance)
Language: English
Agenda: 
6:30 - 6:50 pm Participants Login
7:00 pm Forum Opening
Ir. Dr. Cary Chan - Economic benefits of green buildings
Ir. Colin Chung - Case(s) sharing on energy saving for existing buildings
Mr. Tony Ip - Future prospects of the green buildings market
8:00 pm Panel Discussion
9:00 pm Q&A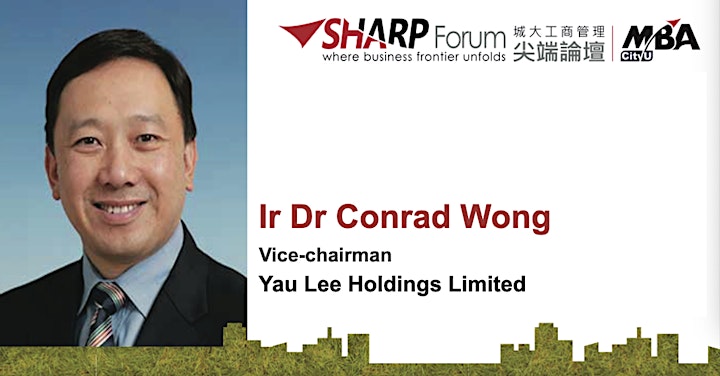 Moderator
Ir Dr Conrad Wong, BBS, JP, Vice-chairman – Yau Lee Holdings Limited
Ir Dr Conrad Wong is a pioneer in the green building industry and has over 30 years of construction project management experience. He is the Chairman of the New Energy Transport Fund Steering Committee, the Deputy Chairman of the Council of the Hong Kong Metropolitan University and a member of the Energy Advisory Committee. In the past, Ir Dr Wong served as the Chairman of the Hong Kong Green Building Council (HKGBC), the President of the Hong Kong Construction Association, the Member of the Advisory Council on the Environment and the Director of the World Green Building Council (WGBC).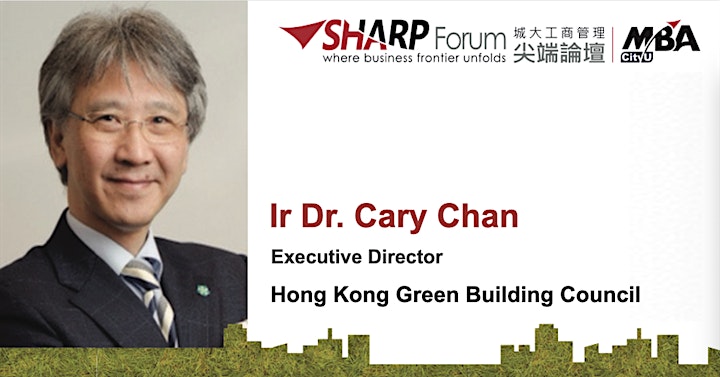 Ir Dr. Cary Chan, Executive Director - Hong Kong Green Building Council
Ir Dr Cary Chan, JP is a professional engineer and is currently the Executive Director of HKGBC with the vision of driving the green building agenda for Hong Kong. Cary is regarded as an expert on building energy efficiency by the industry. Cary has carried out a lot of researches relating to the enhancement of building energy efficiency. Up to now, a number of his work have won international awards.
Over the years, Cary was active member of over 10 advisory councils and committees of Hong Kong government and he was appointed Justice of the Peace (JP) by the government in 2017 with his immense contribution to Hong Kong community. Cary was awarded Honorary Doctorate by University College of Estate Management (UK) in December 2019 due to his outstanding contributions to the industry on sustainability.
Cary has been playing a leadership role in sustainable buildings within Hong Kong and abroad. He played a key role in establishing Hong Kong's Green building assessment tool back in 1995. In 2019, he has put "Advancing Net Zero carbon emission" as one of HKGBC's main focuses. His strategy is well recognised and welcome by the local industry and WGBC. He's been nominated as WGBC APN Chair on 1 July 2021.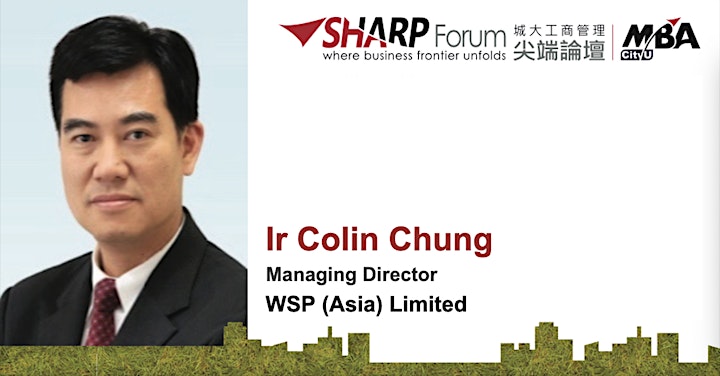 Ir Colin Chung, Managing Director - WSP (Asia) Limited
Ir Colin Chung is a Registered Energy Assessor with over 30 years of engineering experience in the planning, design, and management of environmental, industrial, property and building, transport, and infrastructure related projects. He is the director of Hong Kong Association of Energy Engineer (HKAEE), the Vice-President of the Association of Energy Engineers—HK Chapter and the Hon Secretary of BEAM Society Limited. He is a fellow member of the HKAEE, the Hong Kong Institution of Engineers, and many other local and international professional institutions.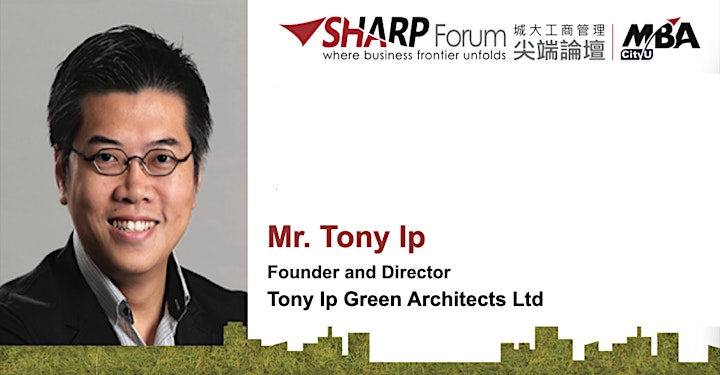 Mr. Tony Ip, Founder and Director - Tony Ip Green Architects Ltd
Mr. Tony Ip's passion and contribution to green architecture and the creative industry were highly recognized by receiving the HKIA Young Architect Award in 2010, the EcoStar Award in 2014, the Ten Outstanding Young Persons Award in 2016, and the Australia China Alumni Award for Arts & Creative Industry in 2018. He is a community-centric, sustainable design architect and urban designer based in Hong Kong. He is now the Chairman of the Hong Kong Architecture Centre, the Director of HKGBC, Chairman of the Expert Panel of Material Aspects of BEAM Society Limited and the Director of Zero Carbon Park.
*********************************************************************
FAQs
Am I eligible to register for the forum?
All the eligible participants should register prior to the online conference. There is no pre-recorded talks, only live performances.
Don't miss your chance to immerse yourself into innovative ideas. Learn the best sustainable finance practices and get invaluable sharing from our speakers.
How can I contact the organiser if I want to have more information about the forum?
You may send your enquiries to the organiser through email at  cityumba.sharpforum@gmail.com

Maxa Financial Group
Maxa Financial Group strives to maximize the efficiency and return on the use of capital for our clients – both corporations and investors. We believe timing is the key to success in capital market so we tailor made the best corporate finance solutions and strategies for enterprises according to their development stage. We connect corporations with investors and strategic partners aiming to match their financing and investment needs respectively. Maxa Financial Group is a management owned financial institution. Innovation, Craftmanship and Professional Ethics are the core values of Maxa team. We believe only experts with vision can take on the challenge in the rapidly changing financial market and stay as the pioneer in the new era.
Website: www.maxafg.com
Fulbright Financial Group Holdings Limited
Founded in 1999 by a group of high caliber professionals, Fulbright Financial Group Holdings Limited is not only rooted in Hong Kong but also dedicated to developing business in Hong Kong. Over 20 years, Fulbright becomes a large-scale integrated financial enterprise nowadays. The Group's current wholly owned subsidiaries include Fulbright Securities Ltd, Fulbright Futures Ltd and Fulbright Asset Management Ltd, that offer strategic investment solutions to the institutional and individual investors. Fulbright provides clients with the most convenient and professional full-range financial services including local securities, global securities, Shanghai-Hong Kong Stock Connect and Shenzhen-Hong Kong Stock Connect, financial products include Local Bonds and Funds. With the mobile trading app, Fulbright enhances the professional trading services as well as the variety of global futures products.
Website: www.ffg.com.hk