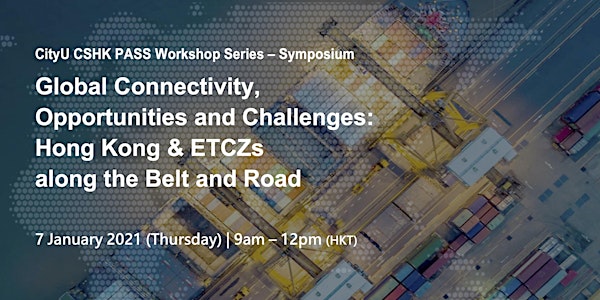 CityU CSHK PASS Symposium: Hong Kong & ETCZs along the Belt and Road
The industry with major overseas projects, the business and professional bodies will share their insights in overseas ETCZs and B&R markets
About this event
CityU CSHK PASS WORKSHOP SERIES
Advancing Professional Development on Economic and Trade Cooperation Zones Along Belt and Road
一帶一路境外經貿合作區專業發展提升
Symposium
"Global Connectivity, Opportunities and Challenges: Hong Kong and ETCZs along B&R"
Global supply chain disruption caused by geo-political conflicts and the COVID-19 pandemic has moved businesses, such as manufacturing enterprises and tech giants, to emerging markets in search of new investment and business opportunities. There is a keen demand for Hong Kong professional services, including accounting, legal and business consultancy services, to enhance ETCZ operations in emerging economies along the Belt and Road, while the overseas markets provide the room for growth in light of saturated markets in Hong Kong. At the same time, investing and participating in the overseas ETCZs require strategies in meeting various challenges, such as the ever-changing political environment, potential economic risks and socio-cultural differences.
How may Hong Kong professional services and business develop strong strategies to extend growth in the new and expanding overseas markets? Charting a new pathway requires vision, a capacity to imagine the unthinkable, the patience and resilience to continuously try and err, to create and to repeal, then back to reflect calmly and imagine wildly, and to try and err once again, and so on. It requires both theoretical and technical knowledge, and both the qualities of an artist and those of an engineer. Experiential learning is a must – doing as training, as well as thought experimentation and, yes, traditional broad-range reading.
This program of 6 workshops and 2 symposia bring together important players and minds to facilitate their active interaction and sharing of knowledge and experiences. In the debut symposium, speakers from the industry with major overseas projects, the business and professional bodies will share their insights into the significance, opportunities and challenges of investing and developing businesses in overseas ETCZs and markets, leading to country-specific discussions in subsequent workshops.
| FORMAT |
• Zoom Webinar (event link to be provided by email around one week before event time)
• Conducted mainly in English
• Free admission
• CPD included (Accounting sector only; please contact your respective Association for details)
| PROGRAMME |
09:00-09:15
Registration
09:15-09:30
 Welcome and opening remarks by Mr. Lester Huang (黃嘉純), SBS, JP, Chairman of the Council, City University of Hong Kong
 Keynote address from Dr. Bernard Chan (陳百里), JP, Under Secretary for Commerce and Economic Development, Commerce and Economic Development Bureau
 Ceremony and Photo call
09:30-11:40
Insight Sharing:
 Theme 1: Opportunities and Challenges in Overseas Projects
1. Mr. Anthony Lam (林世豪) (CEO, Golden Resources)
2. Dr. David Wei (魏曉浩) (Division Chief, Overseas Business / International Cooperation, China Merchants Group)
 Theme 2: Explorations and Considerations of Hong Kong Business and Professional Services
3. Mr. Johnson Kong (江智蛟) (Immediate Past President, Hong Kong Institute of Certified Public Accountants)
4. Ms. Melissa Pang (彭韻僖), BBS, MH, JP (President, The Law Society of Hong Kong)
5. Mr. Nicholas Ho (何力治) (Co-Convenor of Belt and Road Working Group, Hong Kong General Chamber of Commerce)
Q&A and Discussion
• Co-chair:
o Prof Phyllis Lai Lan Mo (巫麗蘭) (Associate Director, Research Centre for Sustainable Hong Kong, City University of Hong Kong)
o Dr George Lam (林家禮), BBS (Honorary Chairman - Asia Pacific CMA Australia, Hong Kong Branch)
• Discussant:
o Sr L.C. Yu (余立佐) (Director, China Harbour Engineering Company Limited, Hong Kong Region)
11:40 – 11:50
Concluding Remarks
11:50 - 12:00
Mingling
Organizer:
Research Centre for Sustainable Hong Kong (CSHK), City University of Hong Kong
Collaborating Organizations (names listed in alphabetical order):
Certified Management Accountants, Australia (Hong Kong Branch)
Hong Kong Chinese General Chamber of Commerce (CGCC)
Hong Kong General Chamber of Commerce (HKGCC)
Hong Kong Institute of Certified Public Accountants (HKICPA)
Law Society of Hong Kong
The Society of Chinese Accountants and Auditors (SCAA)
Sponsor:
Golden Resources
CityU Supporting Units (names listed in alphabetical order):
CityU Eminence Society
CityU-TsinghuaU EMBA+MPA Programme
College of Business
College of Engineering
College of Liberal Arts and Social Sciences
College of Science
School of Law
Supporting Organizations (names listed in alphabetical order):
The Association of Women Accountants (AWAHK)
The Financial Services Development Council (FSDC)
The Hong Kong Electronic Industries Association Ltd. (HKEIA)
Hong Kong Trade Development Council (HKTDC)