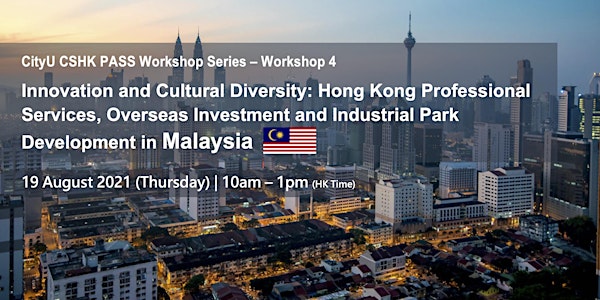 CityU CSHK PASS Professional Training Workshop 4 - Malaysia
This Workshop will explore opportunities and challenges for Hong Kong professional services to develop in Malaysia.
About this event
What are the opportunities and risks of investing or expanding business operation in Malaysia? What are the benefits and concerns for developing Port related businesses and Special Economic Zones (SEZs) there? What unique roles could Hong Kong professional services play to facilitate mutual advancement?
This Workshop aims to present a portrait of business opportunities and challenges in Malaysia from three perspectives: 1) the local Malaysian, 2) the Belt and Road and 3) Hong Kong. Through triangulation of first-hand information, insights and successful experience shared by seasoned entrepreneurs, professional practitioners, SEZs management and local researchers, participants would be able to distil an in-depth understanding of cultural diversity and efficient management of overseas investments, as well as SEZs development in Malaysia. In particular, this Workshop will unpack the challenges and scrutinize the pathways whereby Hong Kong professional services and businesses may perform their distinctive roles in mitigating risks and thus take part for mutual gains and sustainable development in Malaysia.
Date: 19 August 2021 (Thursday)
Time: 10:00am – 1:00pm (HKT)
Format: Zoom Webinar (Zoom link to be shared via email to you twice - 2 days before event and the event day morning)
Audience: Lawyers, accountants, business managers and consultants, investors, government officials, scholars, researchers and students through online registration
Language: Mainly in English
Admission: Free of charge
Programme:
09:45 – 10:00 Registration
10:00 – 10:10 Opening
Welcoming Remark by Mr Yap Wei Sin, Consul-General (Hong Kong & Macao), Consulate-General of Malaysia
10:10 – 12:00 Insight Sharing:
A. Investment Policy and Industrial Park Development
• Mr. Muhammad Sawaddee Islamuddin (Investment Consul, Consulate General of Malaysia (Investment Section); Director, Malaysia Investment Development Authority (MIDA) Guangzhou
• Representatives of park management from Malaysia-China Kuantan Industrial Park (MCKIP) (inviting)
B. Innovation, Professional Services and Investment Opportunities
• Ms Karen Fung (General Manager for InnoPreneur (SME & Startup Growth) and FutureSkills, Hong Kong Productivity Council)
• Dato' Lawrence Liu (Deputy Chairman, Malaysian Chamber of Commerce Hong Kong and Macau MAYCHAM)
• Ms Janice Chew (Principal, JC Legal)
• A representative of a HK investor in Malaysia (inviting)
12:00 – 12:55 Q&A and Discussion
Panel Discussion:
• Co-Chair:
o Prof Linda Chelan Li (Director, CSHK, City University of Hong Kong)
o Dr Wilson Chan (International and Professional Adviser, CSHK, City University of Hong Kong)
• Discussant:
o Ms Ezzwanee Ahmad (Trade Commissioner / Consul, Consulate General of Malaysia - Trade Section, MATRADE Hong Kong)
Join us now!