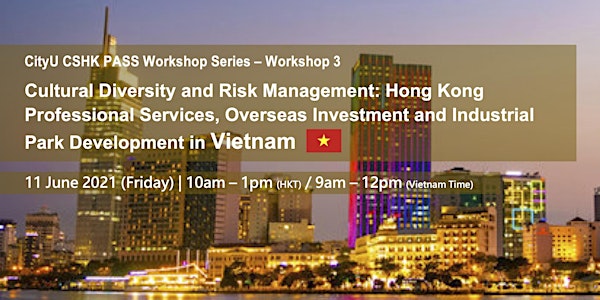 CityU CSHK PASS Professional Training Workshop 3 - Vietnam
This Workshop aims to present a portrait of business opportunities and challenges in Vietnam for HK professional services and businesses.
About this event
What are the opportunities and risks of investing or expanding business operation in Vietnam? What are the benefits and concerns for developing Industrial Park related businesses there? What unique roles could Hong Kong professional services play to facilitate mutual advancement?
This Workshop aims to present a portrait of business opportunities and challenges in Vietnam from three perspectives: 1) the local Vietnamese, 2) the Belt and Road and 3) Hong Kong. Through triangulation of first-hand information, insights and successful experience shared by seasoned entrepreneurs, professional practitioners, Industrial Park management and local researchers, participants would be able to distil an in-depth understanding of cultural diversity and risk management of overseas investments, as well as Industrial Park development in Vietnam. In particular, this Workshop will unpack the challenges and scrutinize the pathways whereby Hong Kong professional services and businesses may perform their distinctive roles in mitigating risks and thus take part for mutual gains and sustainable development in Vietnam.
Programme:
09:45 – 10:00 Registration
10:00 – 10:10 Welcoming
Opening Remark by Mr Le Hai Trieu, Deputy Consul-General of Consulate General of Vietnam in Hong Kong
10:10 – 12:00 Insight Sharing:
A. Investment and Industrial Park Development in Vietnam
• Mr Van Duc Phu (Acting Head, Investment Promotion Division, Investment Promotion Centre - North Vietnam, Foreign Investment Agency, Ministry of Planning and Investment)
• Prof Tao Yitao (Director, The China Center for Special Economic Zone Research, Shenzhen University), and team
• Mr Dalin Chen (Deputy General Manager, China Construction Fourth Engineering Bureau Co., Ltd.)
B. Cultural Diversity and Business Opportunities in Vietnam
• Mr Anthony Lam (CEO, Golden Resources Development International)
• Ms Elizabete Fong (Vice-Chairperson, Hong Kong Business Association Vietnam)
• Mr Simon Chen (Chief Executive, The Shanghai Commercial & Savings Bank, Ltd.-Dong Nai branch)
• Ms Betty Chan (Director of International Relations, Sunwah Group)
12:00 – 12:55 Q&A and Discussion
Chair: Prof Phyllis Mo (Associate Director, Research Centre for Sustainable Hong Kong, City University of Hong Kong)
Discussant: Dr Phi Vinh Tuong (Deputy Director, Institute of World Economics and Politics, Vietnam Academy of Social Sciences)
12:55 – 13:00 Concluding Remarks
Join us now!