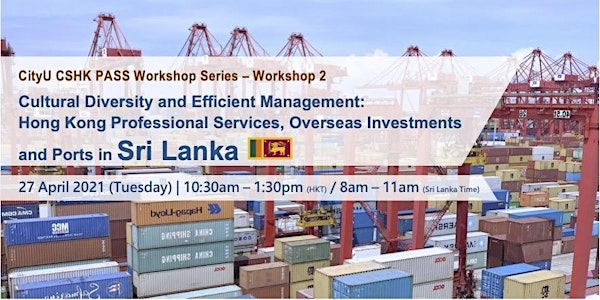 CityU CSHK PASS Professional Training Workshop 2 - Sri Lanka
This Workshop will explore opportunities and challenges for Hong Kong professional services to develop in Sri Lanka.
By Research Centre for Sustainable Hong Kong (CSHK) and Competition Commission (Hong Kong)
Date and time
Mon, 26 Apr 2021 19:30 - 22:30 PDT
About this event
What are the opportunities and risks of investing or expanding business operation in Sri Lanka? What are the benefits and concerns for developing Port related businesses and Special Economic Zones (SEZs) there? What unique roles could Hong Kong professional services play to facilitate mutual advancement?
This Workshop aims to present a portrait of business opportunities and challenges in Sri Lanka from three perspectives: 1) the local Sri Lankan, 2) the Belt and Road and 3) Hong Kong. Through triangulation of first-hand information, insights and successful experience shared by seasoned entrepreneurs, professional practitioners, Port and SEZs management and local researchers, participants would be able to distil an in-depth understanding of cultural diversity and efficient management of overseas investments, as well as port and SEZs development in Sri Lanka. In particular, this Workshop will unpack the challenges and scrutinize the pathways whereby Hong Kong professional services and businesses may perform their distinctive roles in mitigating risks and thus take part for mutual gains and sustainable development in Sri Lanka.
Date: 27 April 2021 (Tuesday)
Time: 10:30am – 1:30pm (HKT)
Format: Zoom Webinar (Zoom link to be shared via email to you twice - 2 days before event and the event day morning)
Audience: Lawyers, accountants, business managers and consultants, investors, government officials, scholars, researchers and students through online registration
Language: Mainly in English
Admission: Free of charge
Registration: https://20210427-pass-workshop-2-srilanka.eventbrite.hk
Confirmed Speakers and Discussants (by presentation order):
1. Ms. Subhashini Abeysinghe, Research Director, Verité Research
2. Mr. Tissa Wickramasinghe, Chief Operating Officer, Hambantota International Port Group
3. Mr. Thirukumar Nadarasa, Chief Executive Officer, Hutchison Telecommunications Lanka Pvt Ltd
4. Ir. Chris W F Lau, Director of Zhen Hua Engineering Co Ltd and Deputy General Manager of Business Development Department, China Harbour Engineering Company Limited
5. Mr. Peter Cheng, Chairman, Hanbo Enterprises Limited
More info on PASS Workshop Series: http://www.cityu.edu.hk/cshk/ongoing-projects.htm?pass