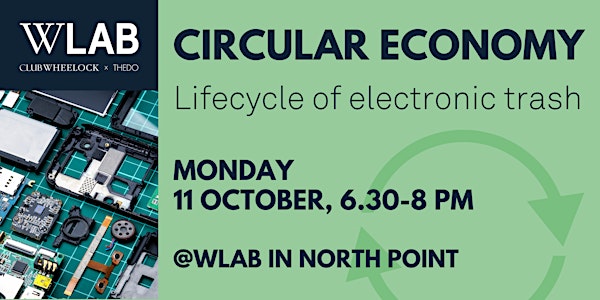 Circular economy: lifecycle of electronic trash
Join us for a 1-hour workshop to follow the lifecycle of electronic devices.
When and where
Location
WLAB Tung Kin Factory Building, Area A, Block A-D, 1/F 196-198 Tsat Tsz Mui Rd Quarry Bay, HKI Hong Kong
About this event
Are you excited about the new iPhone or Samsung Galaxy? How long have you been using your current phone? How many 'supporting' gadgets, like airpods, chargers, and speakers do you own? What are you going to do with them when you replace them for a newer model?
Most people still throw away their old phones and other electronic gadgets. Where does waste go? What happens to all the components and is it even possible to convert them into a resource? What's the true cost of a new model and where does it come from?
Join us for a 1-hour workshop to follow the lifecycle of electronic devices. You will play a game and create the story while learning about the principles and Circular Economy and discovering the ways to close the loop. You will explore the environmental inputs & outputs at different stages of an electronic appliance's lifecycle.
Please RSVP here: https://bit.ly/thedoewaste
About the facilitator:
Aigul Safiullina is a multilingual community builder, trail runner, and breathwork coach. A certified Al Gore climate reality leader, she previously reported on environmental issues for the South American media outlets, she has worked across Hong Kong's startup and zero waste scene as a thought leader and event organizer and now helps to co-create a happier and healthier Hong Kong at The DO Asia.
Please RSVP here: https://bit.ly/thedoewaste