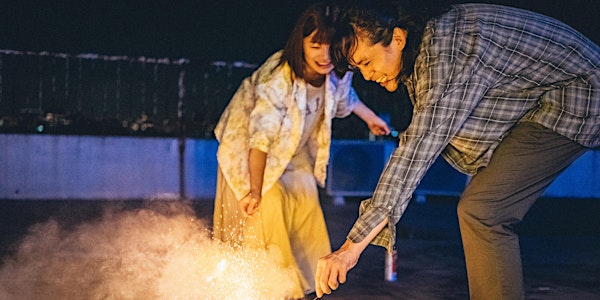 CineClub會員免費優先場《回到戀愛終結時》CineClub Free Preview Screening, JUST REMEMBERING
CineClub 會員免費優先場《回到戀愛終結時》 CineClub Exclusive Free Preview Screening, JUST REMEMBERING
When and where
Location
Golden Scene Cinema 2 Catchick Street Kennedy Town Hong Kong Hong Kong
About this event
CineClub 會員專享放映會5月份第二擊,為你帶來《回到戀愛終結時》,一個在新冠疫情新常態下的揪心愛情故事。榮獲東京國際電影節觀眾票選獎,本片由松居大悟執導,池松壯亮與伊藤沙莉絕襯合演,故事講述因受傷而放棄成為舞蹈員的照生,在生日當晚重遇的士司機前女友阿葉,回憶那些年共同度過的甜蜜歲月。靈感來自占渣木殊執導的《世界呢分鐘》以及樂隊CreepHyp的《Night on the Planet》,愛情若只如初見,卻莫過於一瞬,只能成為追憶。
放映詳情如下。網上報名由5月17日(星期二)早上11:30開始!
《回到戀愛終結時》
日期及時間:5月24日(二) 晚上7時30分
地點:高先電影院
2022 | 115分鐘 | IIA級
Exclusive preview to CineClub subscribers, coming up next is Just Remembering, a Japanese bittersweet love story directed by Matsui Daigo, starring Ikematsu Sosuke and Ito Sairi, and garnered the Audience Award at the Tokyo International Film Festival. Set in times of the pandemic, the story begins when Teruo, whose dancing career was cut short due to an injury, runs into his ex-girlfriend Yo, a taxi-driver, by chance on his birthday. The former couple remembers their most intimate days, that are now gone forever. Inspired by Jim Jarmusch's NIGHT ON EARTH and CreepHyp's rock ballad NIGHT ON THE PLANET, this cleverly structured romance is a rumination on time's irreversible nature, and a reminder that love is nothing more than memories.
See below for screening details. Online registration starts from 11:30am on 17 May (Tue) !
JUST REMEMBERING
Date & Time: 24 May (Tue) 7:30pm
Venue: Golden Scene Cinema
2022 | 115min | Cat IIA
***************************************************************************************
影片簡介:
2021年7月26日,佐伯照生(池松壮亮 飾)迎接34歲生日,起床後慣常地為仙人掌澆水,身體隨着收音機音樂擺動,就算是生日,身為燈光師的他仍如常工作,照亮台上每一位舞者。同一天,的士司機葉(伊藤沙莉 飾)駕駛着的士在疫情下的東京夜路上行駛。途中,葉跟着乘客下車,突然被不知從何處傳來的踏步聲吸引,葉不知不覺走到聲音的源頭,竟看見正在台上起舞的照生。
時間年復一年倒退,電影刻劃照生和葉的愛情起點及相遇一刻,與兩人一起「回到戀愛終結時」。
Synopsis:
July 26th is Teruo Saiki's birthday. This story that begins on July 26th, 2021, portrays the six years of a couple's relationship in reverse, from its end to its beginning, by revisiting the same day of each year of their relationship. Teruo, who gave up his career as a dancer due to injury, and Yo, a taxi driver. Among the birthdays that these two characters spent together, some were special, some were not. Just remembering those sweet days that are now gone forever.
***************************************************************************************
(i) 只限16/5 11:59 pm或之前繳交會費的CineClub會員。每位會員只能領取一張戲票。
Only available to subscribers who have joined CineClub by 11:59 pm, 16 May. Patrons are entitled to one ticket only.
(ii) 根據最新的社交距離措施,放映場地的觀眾入座人數不超過原定可容納人數的8成半。報名程序中,系統會提供當時可供選擇的位置,觀眾亦可自行選擇座位。
According to the latest social distancing measures, The number of audience members in screening venue will be limited to 85% of the original capacity. The computerized registration system will automatically assign a random available seat for the audience, or the audience can choose their preferred seat.
(iii) 請於放映前30分鐘到達放映場地,並出示有效電子門票或列印本,向本會工作人員登記,換領入場門票。
所有於放映前5分鐘仍未完成登記的電子門票或列印本,將作無效。其預留亦會作廢。敬請留意。
Admission tickets redemption will start 30 minutes prior to the screening. Attendees who have made the reservation must present their e-tickets or paper tickets to HKIFFS staff for admission ticket redemption.
The reservation will be voided if E-tickets or paper tickets are not redeemed 5 minutes prior to the screening. Thank you for your attention.
(iv) 如有任何爭議,香港國際電影節協會保留最終決定權。
In the event of a dispute, HKIFFS's decision shall be final.