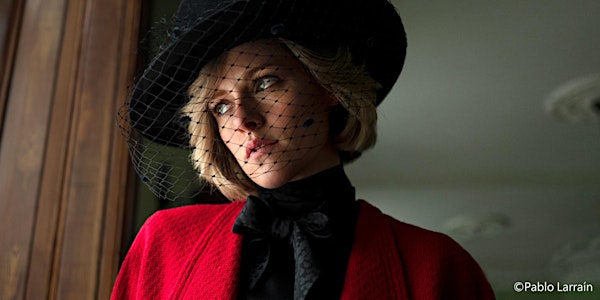 Cine Fan會員免費優先場《史賓沙》Cine Fan Exclusive Free Preview Screening, SPENCER
Cine Fan會員專享免費優先場《史賓沙》 Cine Fan Exclusive Free Preview Screening, SPENCER
About this event
是次會員專享免費優先場為已故王妃戴安娜的傳記電影《史賓沙》。智利導演柏保羅賴尼因繼《第一夫人:積琪蓮甘迺迪》後,決定以戴安娜的本姓史賓沙為其鑄像,還原她忠於自我的真情本性,再創顛覆傳奇。
執意由姬絲汀史釗域擔此重任,兩人美麗外表下的頑強與脆弱竟是何其相似,細緻呈現面對婚姻破裂、婚外情與離婚謠言紛擾下的躁動不安與哀愁悲慟,最後毅然作出改變命運的決定。榮獲威尼斯影展最佳電影金獅獎提名,史釗域的精湛演繹更令人刮目相看。
放映詳情如下。網上報名由12月16日(星期四)早上十時正開始!
《史賓沙》
日期及時間:12月20日(一) 晚上7時15分
地點:高先電影院
2021 | 111分鐘 | IIA 級
The exclusive free preview screening brings to you Spencer, the new biopic by Pablo Larraín, who continues to discover the intimate personalities of women after JACKIE. Beautiful, fragile yet strong as the legendary princess, Kristen Stewart, in a stunning performance, embodies Diana's fears and desires, doubt and determination when facing her broken marriage, rumours of affairs and a divorce abound during her last fateful days. In competition, Venice.
See below for screening details. Online registration starts from 10am on 16 Dec (Thur) !
Spencer
Date & Time: 20 Dec (Mon) 7:15pm
Venue: Golden Scene Cinema
2021 | 111min | Cat IIA
***************************************************************************************
影片簡介:
《史賓沙》故事講述在1991年的冬天,戴安娜王妃(姬絲汀史釗域 飾)與查爾斯王子的婚姻早已陷入冰點,在婚外情與離婚的謠言紛擾下,王室成員依舊按照傳統前往桑德林漢姆莊園渡過聖誕。戴安娜對王室的習俗與傳統最熟悉不過,但表面的和諧平靜與歌舞昇平,已再難掩蓋她內心的躁動不安與悲慟哀愁。戴安娜史賓沙在這年的聖誕節,作出了忠於自己、改變命運的決定……
Synopsis:
The marriage of Princess Diana and Prince Charles has long since grown cold. Though rumours of affairs and a divorce abound, peace is ordained for the Christmas festivities at the Queen's Sandringham Estate. There's eating and drinking, shooting and hunting. Diana knows the game. But this year, things will be a whole lot different. Spencer is an imagining of what might have happened during those few fateful days.
***************************************************************************************
(i) 只限15/12 11:59 pm或之前繳交會費的CineFan及CineClub會員。
Only available for Cine Fans and CineClub subscribers who have joined membership by 11:59 pm, 15 Dec 2021.
(ii) 為符合政府規定,戲院的入座率不會超過8成半。報名程序中,系統會提供當時可供選擇的位置,觀眾亦可自行選擇座位。
Under government regulations, 85% theatrical occupancy will be implemented. The computerized registration system will automatically assign random available seat for audience, or the audience can choose their preferred seats.
(iii) 請於放映前30分鐘到達放映場地,並出示有效電子門票或列印門票,向本會工作人員登記,換領門票。
所有於放映前5分鐘仍未換領的戲票將不設預留,敬請留意。
Ticket redemption will start 30-min prior to the screening. Attendees who have made the reservation are required to present their e-tickets or paper tickets to HKIFF staff for ticket redemption.
Tickets not being redeemed 5 minutes prior to the screening will not be held.
(iv) 如有任何爭議,香港國際電影節協會保留最終決定權。
In case of disputes, HKIFFS reserves the right to make the final decision.
Organiser of Cine Fan會員免費優先場《史賓沙》Cine Fan Exclusive Free Preview Screening, SPENCER