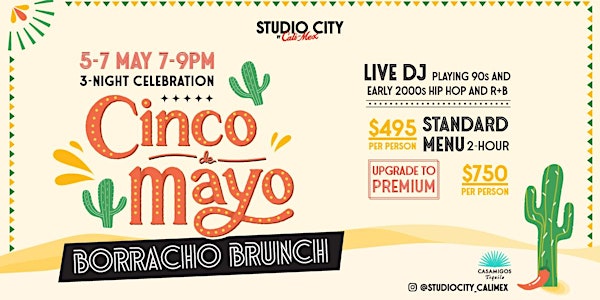 CINCO DE MAYO | BORRACHO BRUNCH
Borracho Brunch offers throwback tunes and free-flow Casamigos Margs
When and where
Location
Studio City by Cali-Mex 50-56 Paterson Street #Shop C, Ground Floor Causeway Bay, HKI Hong Kong
Refund Policy
Contact the organizer to request a refund.
About this event
It's Cinco de Mayo, but the Borracho Brunch way. #IYKYK
The Borracho Brunch is heading into the dark...we're throwing down for THREE NIGHTS this May to celebrate Cinco de Mayo....and well, partying past 6pm.
The Borracho Brunch combines the best hip-hop and pop music from the 90's and early 2000's with free-flow Mexican food, and cocktails.
Borracho [boh-rrah-choh] Mexican or Chicano slang
Adjective: The state of being drunk
Ex. "Steve was borracho at brunch and dancing on the table again."
Noun: A person who is habitually drunk.
Ex. "The squad is a bunch of borrachos, but their drunken karaoke game is on point."
||| Menu Packages |||
*2hrs - STANDARD - HK$495*
FOOD
Chips with Guac, Salsa, & Queso
Mexican Corn
Free-Flow: Tacos + Quesadillas
Churros
DRINKS
Free-Flow: Beer & Wine
*2hrs - PREMIUM - HK$750*
FOOD
Chips with Guac, Salsa, & Queso
Mexican Corn
Ceviche
Pollo Borracho
Free-Flow: Tacos + Quesadillas
Churros
DRINKS
Veuve Clicquot Champagne, Cloudy Bay Wines, Whispering Angel Rosé, Mezcal Bloody Marias, Casamigos Margaritas
Newly opened on Causeway Bay's trendy Food Street at Fashion Walk, Studio City by Cali-Mex exudes a distinctly Southern California vibe boasting an energetic and stylish interior in addition to a pared down menu of upscale Mexican favorites and a wide selection of tequila and mezcal bottles and cocktails. The monthly Borracho Brunch kicks off with starters Mexican Corn on the Cob , Chips + Dips for the table followed by unlimited Mexican street tacos, quesadillas, and freshly made churros for dessert while the crowd gets lubricated with free-flow Beer and Wine (HK$495, HK$750 for an upgraded selection including Veuve Clicquot Champagne, Casamigos Margaritas, Cloudy Bay and Whispering Angel wines) as Dj Gruv live spins throwback hits from the likes of Dr. Dre, TLC, Blackstreet, Jay-Z, Destiny's Child and more.