Christmas Tree workshop with Aria Florist and Perrier & Juice 繽紛乾燥花果聖誕樹工作坊
About this event
Create a unique and colorful Christmas tree this festive season with Aria Florist and Perrier & Juice. An exclusive at 1/F dtby_ BOON.
Let your creativity rein free while enjoying complimentary Perrier & Juice. A new guilt-free beverage made of Perrier sparkling water from France and healthy fruit juices! Three surprising flavors and combinations: Lemon & Guava, Pineapple & Mango and Peach & Cherry.
In this course, you will:
Use and mix different materials such as dried fruits, dried flowers, and spices to decorate your own Christmas tree (approximately 40cm).
Learn about different kinds of flowers, floral techniques, and preservation methods.
Receive a tote-bag with complimentary Perrier & Juice at the end of the workshop (Valued at HKD$100).
Remarks:
Suitable for participants any level of floral arrangement.

Types of flowers and materials area seasonal and are subject to change. Photo for reference only.
Floral tools, materials, and packaging are provided during the workshop.
Participants may bring materials back home to complete and fine tune their Christmas tree.
The Christmas tree can be preserved for about 20 days or it can be dried, depending on the environment and the way of care.
By participating in this event, you agree that all photos or videos that may be taken are for documentation purposes for dtby_.
Photos/videos taken/recorded may be used on social media or for publicity purposes without prior notification to participants. The ownership and intellectual property rights of such photos or videos shall belong to dtby_.
又到了大家都喜愛的聖誕佳節,您想親手做一棵樹裝飾家裡嗎? Perrier & Juice 聯乘Aria Florist 花藝師將在 dtby_BOON 獨家舉辦迷你聖誕樹課程,教您由零開始設計出屬於自己的綠色聖誕樹。
現場亦備有3款新登場的 Perrier & Juice 有汽果汁飲品,參加者在發揮創意的同時,能品嚐Perrier果汁®️來自法國的精湛技藝,清甜天然的果味配搭Perrier獨特的爽口氣泡感,體現了追求極致的法式風格!
課程結束時,每個人都能帶回一棵美麗又獨特的聖誕樹,使今個聖誕節充滿濃濃的節日氣氛。
課程內容:
由花藝導師示範及指導下,使用和搭配不同果乾、乾燥花、香料等材料裝飾聖誕樹,製成一棵具個人風格的聖誕樹 (約40cm)
認識各式花材及保存方法
參加者可獲贈Perrier & Juice套裝 (參考價 HKD$100).
備註
課程適合任何程度的學員參與。
因花市及進口商可能有臨時短缺或品質不佳情形,請同意我們的花藝師準備同等級花材替代。花藝圖片只供參考。
此課程會提供所有花藝材料、工具和包裝
若在課程結束時未能完成作品,參加者可以帶材料回去完成作品。
聖誕樹可存放約 20 天,亦可乾燥,觀賞期較長,會因環境、照顧方式而有差異。
參加者同意主辦方dtby_可能會於活動期間進行拍攝。
參加者同意活動期間所拍攝的照片/視頻有可能用於社交媒體作宣傳,主辦方dtby_無需事先通知參與者。照片或視頻的所有權歸主辦方dtby_所有。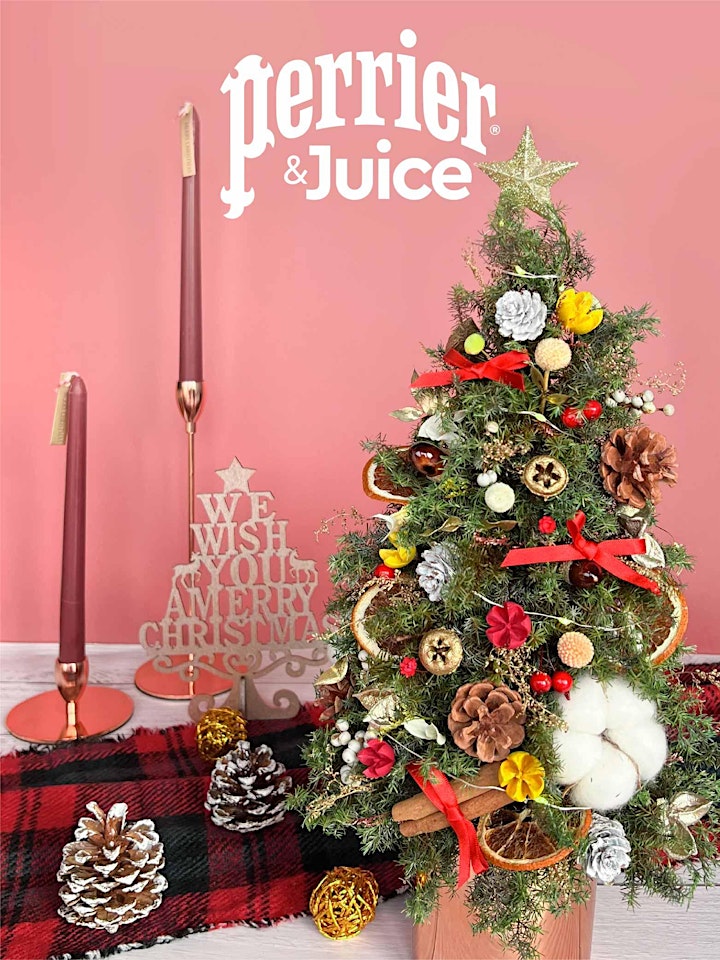 Organizer of Christmas Tree Workshop with Aria Florist and Perrier & Juice 繽紛乾燥花果聖誕樹工作坊