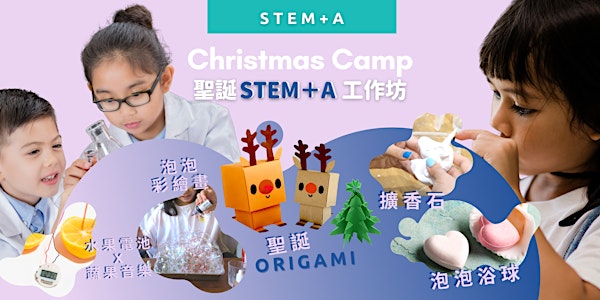 Christmas STEM+A Camp
想讓孩子們過一個特別充實的聖誕節嗎?快來參加我們的聖誕節STEM+A Camp,讓他們在玩樂之中學到各式各類的STEM知識吧!
When and where
Location
屯門 Tuen Mun Tuen Mun, NT Hong Kong
About this event
一連串以聖誕為主題的STEM工作坊,每個工作坊都會向小朋友教導不同的STEM知識,例如生物,化學,數學等。工作坊的每個活動也能訓練他們的創意,邏輯,手眼協調等能力,令他們在平日也能運用STEM知識。
這個一連五日的STEM+A Camp,你可以讓小朋友接觸到大量STEM知識,帶給他們一個別具意義的聖誕節!
Want your kids to have a fulfilling Christmas holiday? Come and join our Christmas STEM+A Camp then!
In this workshop, we will be having a bunch of Christmas-themed STEM workshops, each workshop will be teaching them STEM knowledge from different subjects, like biology, chemistry and mathematics. The workshops will also train their creativity, logical thinking and motor skills, such that they can also apply the knowledge to their daily lives.
Sign up for the 5-day camp now! Join us to let your kids learn a bunch of STEM knowledge and have an extra meaningful Christmas holiday!
Bath Bomb 爆炸泡泡浴球
泡泡浴球同時加入視覺(美觀及色彩豐富)及聽覺(在水中分解時如鈣片般發出滋滋聲)元素,以及有護膚、清潔、放鬆肌肉的作用,令人感覺療瘉,使浸浴變得更有樂趣。
當中的科學原理並不深奧,只涉及簡單的酸鹼反應,製作過程也簡易。製成品可作為禮物送給朋友或家長,所以除了學習,還有額外意義和用途。
Christmas Origami 聖誕摺紙立體模型創作
摺紙是一項將平面變成立體的益智活動,孩子需要運用對三度空間的想像和理解,同時具備邏輯、空間、對稱、先後順序等概念,配合很精密的肌肉動作、手眼協調能力,一邊摺一邊想像紙張摺疊後的變化。孩子們能從中了解更多有關點、線、面的概念,在之後的數學課堂中利用,在作畫過程中也能發揮自己的想像力,孩子們別樹一格的設計作為最後點綴。
活動將會帶領和協助孩子一步一步進行摺疊,希望孩子們親手製作的成品能增添聖誕氣氛。
難摺程度︰★★★☆☆
Bubble Drawing 泡泡彩繪畫
學習形成泡泡的原理,再利用不同的環保物料製作吹泡泡工具,例如用鐵絲繞成圈狀;剪開飲管、水樽都可以成為工具。而原來加了布網的水樽,吹出來的泡泡又細又密,更加可以拉出長長的泡泡。
製作泡泡後加上不同顏色便可以用來做畫作,隨心吹印出七彩繽紛的泡泡彩繪在畫紙上,發揮創意畫出特別的圖案。
Fruit Battery x Music 水果電池 x 蔬果音樂
水果也能發出聲音?
因為人體及水果內富含水份,因此還是具有一定的導電性。使用兒童編碼程式內置的音樂積木,搭配程式碼編寫,實作一個簡單的水果音樂鋼琴程式,發出鋼琴的聲音,再連接上真實的水果,就能以水果發出聲音彈奏音樂。
Scent Diffuser DIY 環保擴香石 feat. Lin Heung House
擴香石上有不同大小的微孔,可以因應環境濕度吸收、排出水氣,而在擴香石上滴上香薰油,就可以在釋出水氣時,同步將香氣擴散開去。
而用法非常簡單,只需要在石表面噴上清水,然後滴上自己喜歡的香薰油,香氣就會隨之揮發出來。
5 - Day Camp 1 Dec 19 - 23 @ 屯門 Tuen Mun
5 - Day Camp 2 Dec 26 - 30 @ 觀塘 Kwun Tong
時間 Time :10:30 - 12:30
費用 Fee : $1650
名額 Quota:10 ( 8-14 歲)
Feel Free to WhatsApp 852 9091 2805 for details!
_________________
By registering for our events on Eventbrite, you agree to our privacy policy (https://icehongkong.com/privacy), and that your personal information will go to our newsletter system, Mailerlite, from which you will receive our newsletters from now on. Should you wish to have your information removed from Mailerlite, please make a direct request to ice@icehongkong.com.
_________________
Organisation Introduction:
We are Inter Cultural Education (ICE), a social enterprise aiming to educate people to appreciate and be able to accept the cultural diversity of the world. ICE has helped more than 30,000 people in Hong Kong to connect and understand the world better through cross-cultural dialogues.
In the past 10 years, ICE has worked with people from more than 85 countries from all walks of life to promote the solidarity of a local community with the international community. Due to the situation under COVID-19, we are offering a special online programme called Explorers' Month, to bring the world to the public without leaving the city through a series of events. Follow our social media to learn more about world cultures:
Instagram 1. icehongkong 2. Explorer