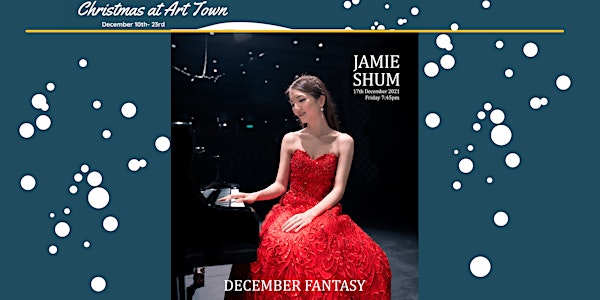 Christmas at Art Town: December Fantasy- piano recital.
Piano recital by Jamie Shum.
When and where
Location
ART TOWN HALL 1F, Kam Tak Building, 20-24 Mercer St Sheung Wan, HKI Hong Kong
Refund Policy
Refunds up to 30 days before event
About this event
Cold and dark December nights invite us to dream and fantasize.
Enjoy this very special selection of piano works presented by pianist Jamie Shum.
__________________________________________________
Tchaikovsky, December-Christmas.
Mozart, Fantasy and Sonata in C minor.
Liszt, Sonetto 104 del Petrarca.
Schubert, Wanderer Fantasy.
__________________________________________________
Born and raised in Hong Kong, pianist Jamie Shum obtained her Bachelor of Arts in Music degree from the Hong Kong Baptist University, under the guidance of Amy Sze. She went on to pursue her Master of Music degree in Piano Performance and Literature at the Indiana University Jacobs School of Music, where she studied with Norman Krieger.
 Shum was a winner of the Jan and Beattie Wood Concerto Competition at the Brevard Music Festival in 2017. She has appeared as a soloist with many orchestras, such as the Brevard Music Centre Orchestra, Indiana University Students Orchestra and HKBU Symphony Orchestra. She has also collaborated with distinguished conductors including Ken Lam and Johnny Poon.
 Throughout her music studies, Shum was an active accompanist and chamber musician. She has stayed active in performing and was selected as one of the performers of the "Our Music Talents" Series organised by the LCSD in 2020.
鋼琴家沈蔚斯在香港土生土長,於香港浸會大學隨施敏倫習琴,取得音樂文學士學位。隨後她在美國印弟安納大學積可師音樂學院獲頒鋼琴演奏音樂碩士學位,師隨克里格爾。
 沈氏於2017年榮獲布里瓦德音樂節協奏曲比賽的冠軍,她曾以獨奏身分與多個樂團演出,包括布里瓦德音樂中心交響樂團、印弟安納大學學生交響樂團及香港浸會大學交響樂團等演出,並與知名指揮家合作,包括林敬基及潘明倫。
 在大學修讀音樂期間,沈氏活躍於伴奏及室樂表演,畢業後積極參與音樂表演並於2020年獲選成為由康文署舉辦的「音樂顯才華」系列的表演者。