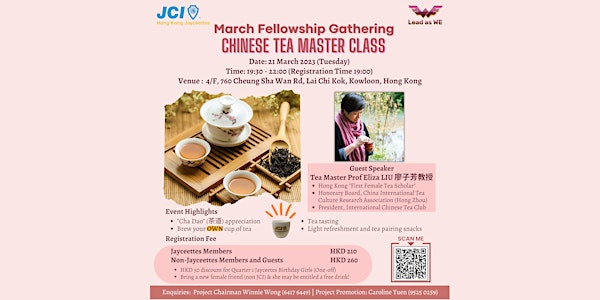 Chinese Tea Master Class (Bring a new Female friend to entitle a free
Tea brewing and tasting experience under guidiance of Hong Kong "First Female Tea Scholar" & networking with different people.
By JCI Hong Kong Jayceettes
Date and time
Tue, 21 Mar 2023 19:00 - 22:00 HKT
Location
Dream Impact 夢創成真 4/F, 760 Cheung Sha Wan Road #Unit C Hong Kong, KOW Hong Kong
About this event
Come and Replenish your Mind, Body & Spirit!
It is a senses-opening tea journey! You can learn the story of tea and understand different types of tea using 5 senses to appreciate aroma, taste, and aftertaste guided by a Tea Master.
You can also experience to brew your OWN cup of tea
Join us and receive a special Jayceettes tea cup. Don't Miss It!
Event Details
Date: 21 March 2023 (Tuesday)
Time: 7:30PM – 10:00PM (Registration: 7PM)
Venue: 4/F, 760 Cheung Sha Wan Rd, Lai Chi Kok, Kowloon, Hong Kong
Fees
• Jayceettes Members*: $210
• Non-Jayceettes Members & Guests#: $260
* For Q1 Jayceettes Birthday Stars can be entitled for HKD50 discount, only apply to those who has not redeemed
# Bring a new female friend (non JCI) & she may be entitled a free drink in the upcoming Coffee x Whisky 100 event!
REGISTER NOW
For Enquiries, please contact:
Project Chairman: Winnie Wong (6417 6449)
Project Promotion: Caroline Yuen (9525 0259)
------------------------------
Connect with us on
Facebook | JCI Hong Kong Jayceettes
Instagram | instagram.com/jci.hkjayceettes
Youtube | shorturl.at/bjV89
Website | www.hkjtt.org
Membership is open to females aged 18-40 based in Hong Kong.
Sign up today if you are interested to grow and expand your network as an individual while creating positive impact to the society.
Join Us | shorturl.at/eGKMT
-------------------------------
About the organiser
In 2023, JCI Hong Kong Jayceettes (香港女青年商會)'s slogan is "Lead as WE" as we firmly believe to lead others, you must first lead yourself. This Higher WE embraces us all working together with understanding, respect, and persistence for the benefit of each other, ourselves and the community. WE also stands for Woman Empowerment and we will continuous to inspire more young female leaders to create positive change.
To realise our vision, the chapter, riding on the success of past years, will continue to empower young females by enriching the Business on Stilettos: Junior Female Elites Programme 2023, also as to further encourage personal development and conduct realistic sharing by featured industry experts. We also aim to address social situations with an emphasis on global hot topic on carbon reduction, Care & Dare 2023: Upcycling Competition –Reborn will be introduced. The running of Jayceettes Academy will also be continued so that opportunities of leadership development to members are ensured. The first ever "Asia and the Pacific Lady LOM Conference 2023" will be launched in the upcoming ASPAC Jakarta, Indonesia in May 2023.