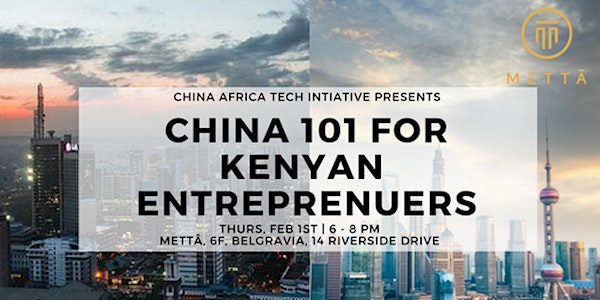 China 101 for Kenyan Entrepreneurs
When and where
Location
Mettā Nairobi 14 Riverside Drive Belgravia Building, 6F Nairobi, Nairobi County Kenya
Description
Chinese investments and commitments to Kenya under the current government have reached $6.5 billion (around Sh663 billion), not counting the new railway to Mombasa. Historically China-Kenyan collaboration has been very one-sided, but we must solve the information asymmetry if we want to create more bilateral exchange.
Our guest speaker will be fintech entrepreneur Angela Nzioki, who was chosen as part of Alibaba's Inaugural eFounders initiative for a two week incubator in China. Stephany Zoo, Chinese entrepreneur and consultant, and founder of China Africa Tech Initiative will then be running a workshop on:
Overview of main Chinese Business Interests in Kenyan
The Chinese Tech and Entrepreneurship Landscape
Introduction to Business Culture in China: Rules of Engagement
How do you start the relationship? Investors, Production, and Networks
About China-Africa Tech Initiative (CAT-I)
CAT-I is playing a pivotal role to facilitate not only high-level mutual understanding between China and Africa, but playing an equally important role in creating ties with Africa's future— the tech community. CAT-I is a platform for contextualized convening, collaboration-based peer mentoring, market entry advisory, and results-driven matching of tools and products.

About Stephany Zoo
Having lived on three continents, Stephany strives to create stories that knit together diverse backgrounds and is currently fostering China-Africa tech ecosystems. Entrepreneurial at heart, Stephany founded ecommerce site BUNDSHOP.com, and League X, a boutique tech branding firm. She helped launch SAP's flagship SME product in China, as well as consulted for a number of Chinese SOE's, including Ping'An and China Telecom, and South African behemoth Discovery. Her passion project is Phoenix Risen, a nonprofit to bring men and women together to combat sexual violation, active in New York, Nairobi, and Shanghai.

About Angela Nzioki
Angela is currently the Co-founder and Country Manager of Pluspeople Kenya Limited, the company behind Uhasibu & Payroll.co.ke, an IT company that has been recognized and awarded for its focus onempowering SMEs in East Africa by ofering them IT solutions to manage their businesses more professionally. Angela is also a Founding Partner of Tonee Ndungu Consulting, a company that focuses on digital and innovative strategies for Financial Institutions, Corporate Companies and Government Institutions.
She is passionate about technology, young people, entrepreneurship, small businesses in East Africa and the start-up scene in Sub- Saharan Africa. She is a champion for women in technology and mentors young people on Baobab, a MasterCard Foundation and Arizona State University Scholars Community Platform.