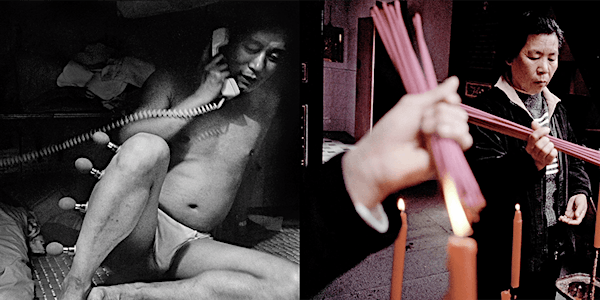 張乾琦專場暨與李哲昕對談 Chien-Chi Chang Session (with Dialogue with Jill Li)
Chien-Chi Chang Session (with post-screening dialogue with Jill Li)
When and where
Location
賽馬會創意藝術中心黑盒劇場 JCCAC Blackbox Theatre 石硤尾白田街30號 石硤尾, KOW Hong Kong
Refund Policy
Contact the organiser to request a refund.
About this event
馬格蘭圖片社首位華裔攝影師張乾琦,遊歷地球一路走來,敘說非比尋常的人間世的故事:如紐約唐人街的非法居留、朝鮮「脫北者」、被長期用鍊綁在一起的台灣精神病患、坦桑尼亞愛滋、緬甸「The Promise Betrayed」、敘利亞人顛沛流離 「AZMA」⋯⋯大都是關乎所謂「弱勢社群」或「無權者」的存活景/境況。
第57屆金馬獎最佳紀錄片得主李哲昕,用八年時間追蹤記錄中國廣東省陸豐市烏坎村事件,作品《迷航》除審視當下中國農村土地問題和政治腐敗現狀,更描述了在社會大環境底下,個人的面對暴虐與不公的迷茫和徬徨。
在2021年的此際,兩位最關心的「議題」,會是什麼?
The first ethnic Chinese photographer to be elected to join Magnum Photos, Chien-Chi Chang has roamed the continents for decades, revealing exceptional stories of human experience. Chang has created acutely layered portrayals of the lives of illegal immigrants in New York City's Chinatown, "defectors" from North Korea, Syrian refugees, mentally ill patients chained together in Taiwan, the HIV/AIDS epidemic in Tanzania, the democracy crisis in Myanmar … and many other stories about so-called "marginalised communities" or the "powerless".
For eight years, Jill LI, Best Documentary winner of the 57th Golden Horse Awards, traced and recorded the Wukan protests in Lufeng, Guangdong. Lost Course does more than investigate land issues in rural China and the political corruption that enables it: the film reflects the gloom and anxiety of the individual in the face of such tyranny and injustice, showing us the airtight pressure of in society.
At this point in time in 2021, what topics do these two image makers care most about?
A discussion will be held after the screenings of China Town, Side Chain and AZMA.
Venue 地點|JCCAC Blackbox Theatre 賽馬會創意藝術中心黑盒劇場
Time 時間 |8:00-9:30pm 24.11.2021
Language 語言|多種語言,設英中文字幕;映後談主要以華語進行 Screenings in multiple languages with English and Chinese subtitles; dialogue primarily conducted in Mandarin.
張乾琦
1961年生於台灣台中,現居奧地利格拉茨。1984年於東吳大學畢業,1990年於美國印第安納大學獲藝術碩士。1991年開始新聞攝影報導生涯。1995年成為馬格蘭圖片社攝影師。長期以來,作品皆關注於探索人與人之間的疏離與抽象連結,近年也在創作中深入討論關於人的遷徙、家庭,甚至無法直接由肉眼觀見、外在政治經濟環境對人生命狀態的無形囚錮。
Chien-Chi CHANG
Chien-Chi CHANG (b. 1961, Taichung, Taiwan) earned his BA from Soochow University in 1984 and an MA from Indiana University in 1990. He was a photojournalist for the Seattle Times and later the Baltimore Sun between 1991–1994. In 1995, Chang was elected to join Magnum Photos. His work has been published by leading international publications including New Yorker, National Geographic, TIME, Newsweek, The New York Times Magazine and GEO (France and Germany).
Chang manifests the abstract concepts of alienation and connection in his work. Chang's investigation of the ties that bind one person to another was drawn on his own deeply divided immigrant experience first in the United States and later in Austria.
李哲昕
香港紀錄片導演,長期關注社會變⾰中個體的處境及抉擇。其執導的首部紀錄長⽚《迷航》,歷經八年拍攝製作,奪得第五十七屆金⾺獎「最佳紀錄片」等多項大獎,並入選阿姆斯特丹國際紀錄⽚節、溫哥華影展等多個電影節。
Jill Li
Hong Kong documentary filmmaker, Jill LI is interested in how people's decisions and life paths are shaped by shifts in society. After eight years of recording and production, her first feature-length documentary, Lost Course, won the Best Documentary in the 57th Golden Horse Award, among other awards, and has been selected for various film festivals, such as the International Documentary Film Festival Amsterdam and Vancouver International Film Festival.
為秉持攝影節的獨立自主,專注社會、非營利的精神,以及守持表達及知識的自由傳達,活動的開放自由參加,誠邀您成為我們的支持者:請即前往網址 stall.hkipf.org.hk,或致電或電郵與我們聯絡有關捐款安排。
香港國際攝影節由香港攝影文化協會主辦,協會為根據《稅務條例》獲確認豁免繳稅資格之慈善團體,凡捐款港幣一百元以上可獲扣稅。
創始於2010年,每屆攝影節以不同主題之展覽,將攝影世界具獨特性、創造性的名字,以及值得關注的視覺文化思潮引入香港。同時,透過不同公眾活動,搭建香港與世界攝影文化的溝通平台,借影像呈現不同文化歷史議題,審視不同社會人文狀況,促進跨越地區與領域的對話。
在攝影節邁向十一週年之際,請與我們一起前進,成為我們迎向下個十年的重要後盾。
Support freedom of expression and help facilitate the growth of the arts by making a donation to the Hong Kong International Photo Festival. You may visit our website stall.hkipf.org.hk or reach us at our contact number or email. Your contribution will go towards our operation, future programmes and keeping our events accessible.
The Festival is organised by the Hong Kong Photographic Culture Association, which is a tax-exempt charity under section 88 of the Inland Revenue Ordinance. Donations above HKD 100 are tax deductible.
The Festival was launched in 2010. In each edition, the Festival focuses on a different theme, introducing noteworthy photographers, trends, and movements, discussing manifold issues and perspectives. Through a wide range of public programmes, the Festival bridges Hong Kong and international visual practitioners, creating conversations between people and place, past and present, with oneself and the world.
With your support, we hope to make ever greater progress in the coming decade.
Image from China Town © Chien-Chi-Chang / Magnum Photos