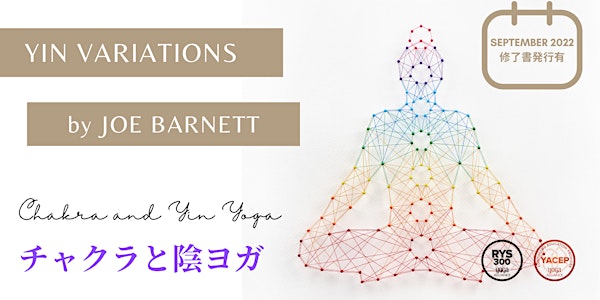 CHAKRA & YIN YOGA
This four-day intensive will invite yogis to explore the possibilities of Yin by learning the depth of ancient wisdom and yin yoga.
About this event
The spirituality of Yin Yoga is based on three Eastern philosophies: Sankhya philosophy, Tantric wisdom, and Taoism. This course will mainly focus on Tantra as represented by chakra theory, but we also hope to introduce the Taoist scroll, Nei Jing Tu (Taoist's Inner Landscape).
In addition to quiet Yin practices, you will be introduced to different techniques of Tantra such as bandha, mudra, bija sounds, chakra meditation, and yoga nidra so you can experience and compare their rebounds.
You will not only gain a deeper, more multi-dimensional understanding of Yin Yoga, but you will also gain tips that will bring depth to your practice and teaching. Above all, you will be inspired to turn the wheel of life and take a joyful journey through life.
Topics include,
• Introduction to Chakra Theory
• Chakra Flower and Root Locations
• Bija, the Seed Sounds of the Chakras
• Bhandas and Mudras
• Introduction to a Chakra Practice in the Ancient Taoist Scroll: Nei Jing Tu
• How to Release Emotional and Mental Blockages within the Chakras
• Chakra Meditation, Yoga Nidra
・How to Integrate Chakra Theory into Yin Practice
Each day includes:
Two 45-minute and one 60-minute practice of Yin Yoga each day.
Introduction lectures to the philosophy of Tantra and Taoism
Discussion of the blend of Tantric Chakra Theory & Yin Yoga practice
About the instructor:
Joe Barnett offers teacher trainings, workshops, and an intensive lecture series with a slide shows, chalk board schematics and most importantly interactive, hands-on analyses.
Joe's other ongoing teachers include Gil Hedley and other cadaver dissection masters who reveal the physical continuity (fascia) of the subtle energy patterns (meridians) felt in a Yoga practice…and Takeshima-Sensei from the Institute for Human Sciences established in Tokyo and California by his and Grilley's teacher, Dr. Hiroshi Motoyama.
=====
Please note:
This ONLINE course is open to aspiring teachers and students of yin yoga. You will receive Yoga Alliance accredited 25-hr certification (YACEP) upon completion of the course. This course will be bilingual English - Japanese, open to international students.
Recording of each session (a total of 12 sessions ) will be available by the end of September, 2022.
Should you have any questions, please contact the organizer. hello@calmiia.com