Description
CFA Course Launch Preview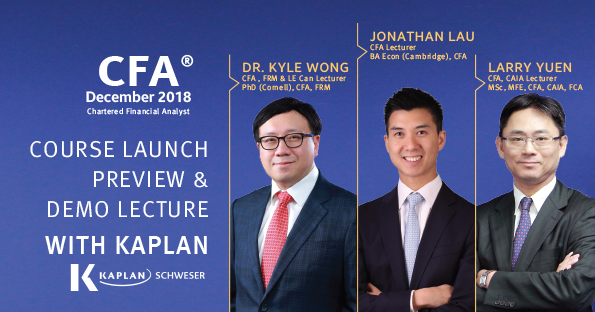 Introduction
The CFA® Program consists of a series of three examinations (Levels I, II, and III) that must be taken in succession. The exams are offered only once annually in June, with the exception of Level I candidates, who also have the option of sitting for the exam in December.
Level I
Candidates concentrate on the tools and concepts related to investment valuation and portfolio management, as well as an overview of how these processes fit within the guidelines of the CFA Institute Code of Ethics and Standards of Professional Conduct.
Level II
Candidates are expected to demonstrate a greater depth of understanding of the tools and techniques that were introduced in the Level I curriculum, in addition to applications in asset valuation within the context of the Code of Ethics and Standards of Professional Conduct
Level III
Candidates are required to demonstrate a higher level of understanding of the materials tested at Levels I and II, as well as display effective knowledge of the entire portfolio management process.
Seminar Details
Date:
4(Fixed Income),13(Alt. Investment),20(Economics) June 2018
4(Fixed Income),17(Economics),31(Alt. Investment) July 2018
Time: 19:15 - 20:15
Address: E-Tech Centre, Nos 402-406 Hennessy Road, Wanchai
Speaker: Dr. Kyle Wong, Jonathan Lau, Larry Yuen
For more details, please visit bit.ly/2jYM8qg.