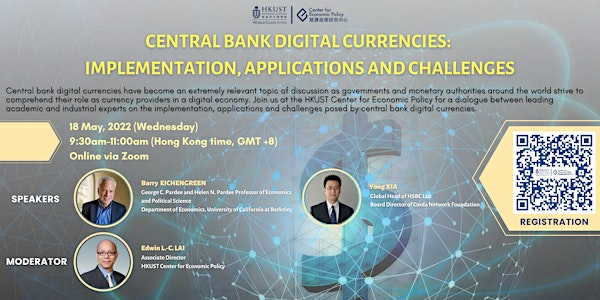 Central Bank Digital Currencies: Implementation, Applications and Challenge
Panel discussion on Central Bank Digital Currencies: Implementation, Applications and Challenges
About this event
Central bank digital currencies have become an extremely relevant topic of discussion as governments and monetary authorities around the world strive to comprehend their role as currency providers in a digital economy. Join us at the HKUST Center for Economic Policy for a dialogue between leading academic and industrial experts on the implementation, applications and challenges posed by central bank digital currencies.
Speakers:
Barry EICHENGREEN
George C. Pardee and Helen N. Pardee Professor of Economics and Political Science
Department of Economics, University of California at Berkeley
Yong XIA
Global Head of HSBC Lab
Board Director of Corda Network Foundation
Moderator:
Edwin L.-C. LAI
Associate Director
HKUST Center for Economic Policy
Registration:
Required via Eventbrite; you will receive the URL for the webinar in advance.