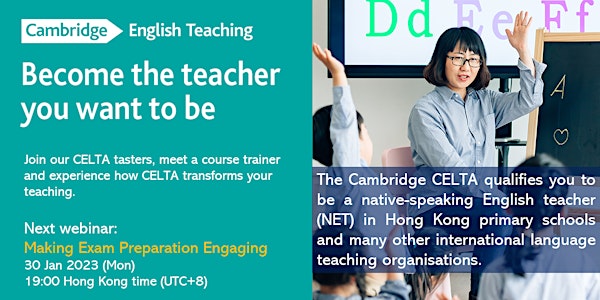 CELTA Taster: Making Exam Preparation Engaging
Join this free webinar delivered by Cambridge CELTA trainers and experience how to make your exam classes more fun. Certificate included!
About this event
It can be challenging to keep our lessons engaging and motivating while preparing students for English proficiency tests (e.g. IELTS / Cambridge Exams).How much time should we spend on developing exam awareness and strategies? How can we still develop students' language skills in an exam class?
In this workshop we'll be looking at practical ways not only to help students prepare for English language proficiency exams but also to help them improve their language skills for real life use. Hands-on activities will be provided and questions about teaching exam classes will be discussed in a fun session to help you become more confident in applying these skills in your own exam preparation classes.
All attendees will get a certificate of attendance. If you sign up for our Cambridge CELTA course after the webinar, you can also enjoy a HK$4000 discount plus a free workshop about teaching young learners!
The Trainer
Ophelia is one of the trainers on the Cambridge Certificate in Teaching English to Speakers of Other Language (CELTA) course at GPEX Malaysia and Hong Kong. She obtained her CELTA in 2010 and has been teaching English in a range of contexts since. After completing her Cambridge DELTA and MA in English Teacher Education, she started training teachers from all around world.
If you would like to know more about our online Cambridge CELTA course, check out our website gpexcentral.org/celta :)