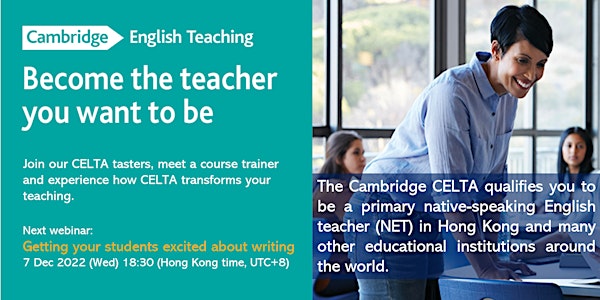 CELTA Taster: Getting your students excited about writing
Join this free webinar delivered by Cambridge CELTA trainers and experience how to make your students enjoy writing lessons.
About this event
With limited lesson time, helping students develop their writing skills can be difficult and exhausting at times.
Do your students dislike writing? Have you ever wondered how to get your students excited about writing? In this workshop you'll learn how to turn your students from reluctant to eager writers with hands-on experience of a student-centred writing lesson. Ample examples and practical stages will be provided and discussed in a fun session to help you become more confident in teaching writing in your classroom.
After the webinar, you will get a certificate of attendance with the title and number of hours of the webinar. What's more, if you sign up for our online CELTA course within 1 week after the workshop, you will get a HK$5000 discount and a 1-day online workshop on teaching English to young learners!
The Trainer
Ophelia is one of the trainers on the Cambridge Certificate in Teaching English to Speakers of Other Language (CELTA) course at GPEX Malaysia and Hong Kong. She obtained her CELTA in 2010 and has been teaching English in a range of contexts since. After completing her Cambridge DELTA and MA in English Teacher Education, she started training teachers from all around world.