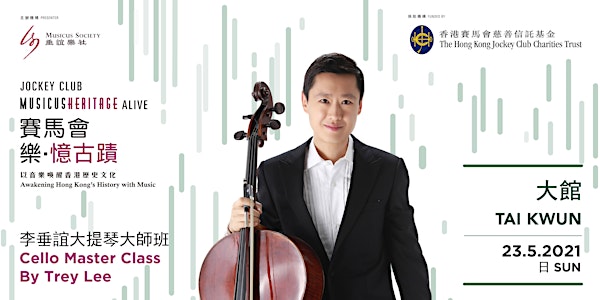 李垂誼大提琴大師班 Cello Master Class By Trey Lee
藝術總監李垂誼將主持一場免費大師班,觀眾可近距離觀摩大師親授演奏技巧。名額有限,先到先得。
When and where
Location
JC Cube, Tai Kwun 10 Hollywood Road Central, HKI Hong Kong
About this event
場地: 大館賽馬會立方
日期: 2021年5月23日(星期日)
時間: 下午3時30分
Venue: JC Cube, Tai Kwun
Date: 23.05.2021 (Sun)
Time: 3:30pm
大提琴家李垂誼是垂誼樂社的創辦人之一兼藝術總監,他於2013年創立開創先河的「樂.誼國際音樂節」。
作為首位獲得國際楊尼格洛大提琴比賽冠軍的亞洲人,李氏曾與世界各地德高望重的指揮家、作曲家和樂團合作,如馬捷爾、阿殊堅納西、史拉健、法朗克、斯拉特金、梅納、巴舒密特、林圖、盛宗亮、法國電台愛樂樂團、底特律交響樂團、莫斯科獨奏家樂團、倫敦愛樂管弦樂團、英國廣播公司愛樂管弦樂團、荷蘭愛樂管弦樂團、波恩貝多芬樂團、塔皮奧拉小交響樂團、北部小交響樂團、慕尼黑室樂團及羅馬尼亞電台室樂團等。
Cellist Trey Lee is the co-founder and Artistic Director of Musicus Society, and he established the groundbreaking Musicus Fest in 2013.
As the first Asian winner of the prestigious International Antonio Janigro Cello Competition, Lee works with esteemed conductors, composers and orchestras worldwide, such as Lorin Maazel, Vladimir Ashkenazy, Leonard Slatkin, Mikko Franck, Vassily Sinaisky, Juanjo Mena, Yuri Bashmet, Hannu Lintu, Bright Sheng, Philharmonic Orchestra Radio France, Detroit Symphony Orchestra, Moscow Soloists, Philharmonia Orchestra, BBC Philharmonic, Netherlands Philharmonic, Beethoven Orchester Bonn, Tapiola Sinfonietta, Northern Sinfonia, the Munich and Romanian Radio chamber orchestras, among others
免費入場,不設劃位,請預先登記。
大師班全長約1小時30分鐘,不設中場休息。
Free admission and free seating. Please register in advance.
Duration of the masterclass is approximately 1 hour 30 minutes, with no intermission.
備註: 
活動只招待六歲或以上人士。
此活動免費入場,不設劃位。
活動名額有限,先到先得。
一人一票,憑票入場。請於音樂會開始前15分鐘到場登記,並出示門票 (電子或列印均可)。
遲到者須待節目適當時間方可進場。
表演場地內嚴禁攝影、錄影及飲食。
主辦機構有權使用活動期間所拍攝的照片、錄影及錄音作任何用途。
如遇特殊情況,主辦機構保留更改節目及表演者的權利。
主辦機構對門票預留及活動內容作最終決定權,申請人不得異議。
因應2019冠狀病毒病的最新情況,活動可能有所更改,請留意主辦機構網站的最新公佈及場地職員的指示。
Remarks:
For ages 6 and above.
Free admission and free seating.
Limited seats are available on a first-come-first-served basis.
Each ticket admits one person only. Please arrive at the venue 15 minutes before the concert commence with the printed / digital ticket for registration.
Admission time for latecomers are subject to the decision by The Presenter.
Unauthorized photography, audio and/or video recording, food and beverages are not permitted in the performance venue.
The Presenter shall have the right to use any photos, videos and sound recordings taken during the event participated by the Applicants.
The Presenter reserves the rights to change any program and substitute artists should unavoidable circumstances make it necessary.
Decisions by The Presenter on registration and program details are final. Applicants have no right of appeal.
In light of the latest COVID-19 situation, the events are subject to change. Please stay tuned for the latest updates on the present's website; and follow the instructions of on-site operation staff.