Location
1 Nito Tower
Archbishop Reyes Avenue
Cebu City, Central Visayas 6000
Philippines
Join our upcoming Cebu Startup Ecosystem Mapping on May 20 (Friday) 4PM at 1 Nito Tower, Archbishop Avenue, Cebu City
About this event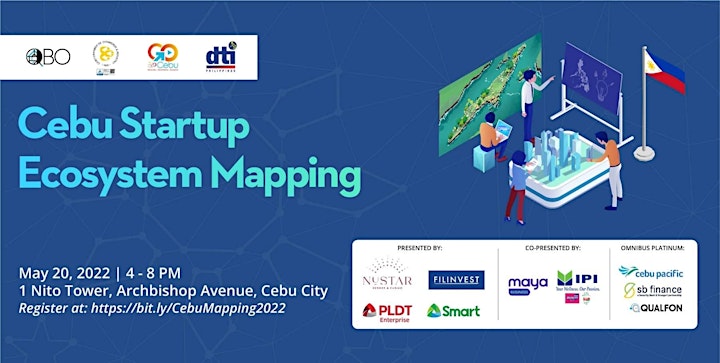 *Cebu Startup Ecosystem Mapping - An interactive networking and meeting for local enablers and founder*
Calling startup enablers and founders in Cebu!
The Cebu Chamber of Commerce and Industry (CCCI), DTI Region 7 and QBO Innovation Hub is on a mission to map out the Cebu Startup Ecosystem, and we're gathering community leaders and founders to be involved!
Our goal is to create and present an up-to-date status of the Cebu Startup Community through the ff: 1.) A local Ecosystem Canvas which identifies and maps the existing resources and support available to startups in Cebu, 2.) determining the Cebu Startup Community maturity through a globally-used framework and 3.) mapping active Startup companies, founders and support facilities - by location and stage of development*.
Who are we looking for to join? We're inviting individuals and organizations dedicated to developing local tech startups in Cebu. This includes active startup enablers, incubators, accelerators, co-working spaces, investors, mentors, and startup founders and teams.
If you are an ACTIVE startup enabler and/ or founder in Cebu and are willing to get involved in the growth of the startup community, sign up and join us on May 20 to see how we can move the Cebu Community forward together.
For Registrants and Attendees: We aim to maximize this community gathering and the inputs from each attendee so we are encouraging Active Enablers (within the last 3 years) and/ or Founder (at least 1 year) in the Cebu Startup community - organizations and individuals who conduct and /or attend initiatives directed towards Tech Startups and has some insights and engagement with the stakeholders of the startup community to join us for the session
For more details - Briefer: CLICK HERE
Agenda:
4:00 - 4:20 Welcome Remarks / Messages
4:20 - 4:45 Icebreaker - Context and expectation setting
4:45 - 4:55 Introduction to the Startup Ecosystem Mapping Model
4:55 - 5:40 Activity: Startup Ecosystem Mapping (Resources)
5:40 - 5:50 Introduction to the Startup Community Maturity Model framework
5:50 - 6:30 Activity: Startup Community Maturity - assessment
6:30 - 6:40 Short Break
6:40 - 7:10 Activity: Cebu Community Mapping (Entities: Location and Stage)
7:10 - 7:50 Open Discussion : Challenges and Concerns
7:50 - 8:00 Synthesis, Next Steps and Closing