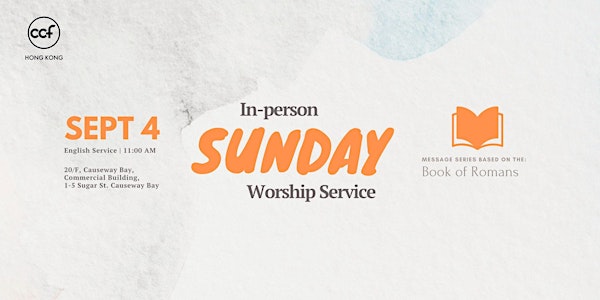 CCF Hong Kong Sunday Worship Service
Happy 38th CCF! Looking forward to worship, celebrate and be blessed hearing God's message along with you.
When and where
Location
Christ's Commission Fellowship Hong Kong (CCF Hong Kong) 1-5 Sugar Street #20/F Causeway Bay, HKI Hong Kong
About this event
"By clicking register, you are acknowledging that an inherent risk of exposure to COVID-19 exists in any public place where people are present. By attending the service, you and any guests voluntarily assume all risks related to exposure to COVID-19 and agree not to hold Christ's Commission Fellowship- Hong Kong, Limited; or any of their affiliates, directors, officers, employees, agents, contractors, or volunteers liable for any illness or injury."
As we are called to obey the rule of the land, we are to adhere to the government's guidelines on social distancing.
Under the "Relaxation Arrangement for Group Gathering Restrictions under the "Vaccine Bubble", government has announced that religious gatherings are allowed up to 50% capacity of its venue and having 4pax per group.
To adhere to this, we are requiring those who will be worshipping with us to register in this link.
All attendees should download and update their vaccination records in your LeaveHome Safe App.
This will be on a first come first serve basis and only those who have successfully registered would be allowed entry.
IMPORTANT REMINDERS :
1. Volunteers are required to scan the LeaveHome Safe application onsite.
2. After Scanning LeaveHome Safe app, scan your LeaveHome Safe QR code to the QR Code Verification Scanner.
3. Vaccination proof will be required before entry, hard copy or LeaveHome Safe app record will be accepted. Only those who are medically exempted from taking the COVID-19 vaccination with medical certificate will be allowed entry. Those aged 16 and above who prefers not to take the COVID-19 vaccination are discouraged to attend the worship service at this time.
4. Should you wish to bring your child/children please also register them and accompany your child/children at all times.
5. 1 person per ticket per registration ONLY, should you wish to register more than one person, please create another registration. A registration confirmation along with a QR code will be sent via the registered email. The registration will be your ticket to enter the venue. Thus, is non-transferrable.
For everyone's safety, a "NO TICKET, NO ENTRY" will be strictly observed.
CANCELLATION OF TICKETS:
1. Cancellation of tickets for volunteers should be done 1 day before the event (on or before 03-Sep Saturday).
2. Refer to the confirmation link sent and click "View and Manage log in" to "Cancel Order".
HEALTH AND SAFETY REMINDERS:
Your health and safety is our top concern and we would deeply appreciate if EVERYONE adheres to the below;
1. There will be mandatory temperature check on all persons before entry.
2. Mask must be worn at all times.
3. If unwell, please stay at home. If any member of the family is in quarantine, please stay at home.
4. If you have been previously tested from Covid19 and is pending result, we encourage you to stay at home.
5. If you have been sharing a household with someone under serving a mandatory quarantine, we encourage you to stay at home.
6. If you have travelled outside Hong Kong within the past 14 days, we encourage you to stay at home.
7. If someone from your household recently travelled outside Hong Kong within 14 days, we encourage you to stay at home.
8. If you have been in direct contact or in the immediate vicinity of any person you knew and or now know to be carrying CoVid-19, we encourage not to attend the Service.
9. Observe the proper guidelines on social distancing, wear mask at all times and avoid physical contact.
10. No eating at the venue.