CBXChats #1: Kesan Pengambilan Produk Sampah Terhadap Buah Pinggang Anda!
CBXChats kicks off a discussion led by well-known nephrologist Dr Rafidah Abdullah on the dangers of pseudoscience
About this event
CodeBlue memulakan siri perbincangan CBX Chats pada bulan Februari 2020 dengan sesi bersama pakar nefrologi Dr. Rafidah Abdullah!
Beliau akan membincangkan kesan buruk akibat "produk sampah" terhadap buah pinggang kita.
Dr. Rafidah, adalah pakar runding dalam bidang perubatan dalaman dan nefrologi di Hospital Sultan Haji Ahmad Shah, Temerloh, Pahang. Beliau merupakan aktivis yang tidak gentar menolak arus pseudoscience atau sains tahyul yang semakin menular di Malaysia.
Sering lantang bersuara dan mengemukakan pendapat dalam arena kesihatan Malaysia, beliau mempunyai lebih daripda 79,000 pengikut Twitter dan 78,000 pengikut Facebook.
Ambil peluang ini untuk bertanyakan soalan perubatan anda!
Jangan gentar dan hapuskan sebarang kesangsian anda.
Tujuan CBX Chats adalah untuk membanteras tahyul perubatan, menentang pengetahuan yang salah dan mempromosikan pengetahuan saintifik dan fakta mengenai kesihatan dan rawatan.
English/Bahasa Melayu
------
CodeBlue is starting our inaugural quarterly series, CBX Chats, in February 2020 with a session by nephrologist Dr Rafidah Abdullah, who will share the effects of rubbish products on your kidneys.
Dr Rafidah, a consultant in internal medicine and nephrology at Hospital Sultan Haji Ahmad Shah in Temerloh, Pahang, is a fearless advocate pushing against the tide of pseudoscience in Malaysia.
An often vocal and visible online presence in the Malaysian health scene , she has more than 79,000 followers on Twitter and 78,000 followers on Facebook.
Hear her speak truth to power.
Pepper her with questions. No holds barred.
The aim of CBX Chats is to smash medical myths, counter misinformation, and promote scientific knowledge and facts about health and treatments – in cosy, casual, and non-judgmental sessions.
English/Bahasa Melayu
------
Harga tiket adalah RM50 seorang. Anda boleh membayar melalui akaun bank atau pada hari tersebut. Pembayaran atas talian tidak boleh dilakukan buat masa ini.
Tickets are at RM50 per person. You may pay through bank transfer or at the door on the day ONLY. Online payment is temporarily deactivated.
Make payments to: SOCIAL HEALTH ANALYTICS SDN. BHD - (AMBANK (M) BERHAD. A/C No. 8881 0210 48697). Email payment slips to vinodh@galencentre.org for confirmation, or bring it with you on the day itself.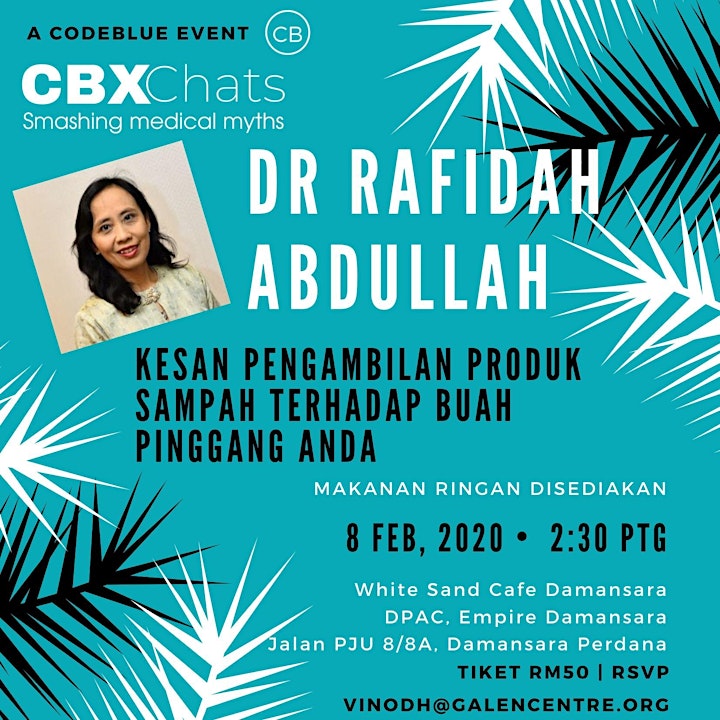 Organiser of CBXChats #1: Kesan Pengambilan Produk Sampah Terhadap Buah Pinggang Anda!
The Galen Centre for Health & Social Policy is an independent public policy research organisation based in Malaysia which promotes and advocates public debate and education on ideas and proposals which support individual freedom, choice, and innovation in the health and social sectors. The Galen Centre works to improve health and social conditions through research, advocacy, networking and relationship-building with stakeholders.