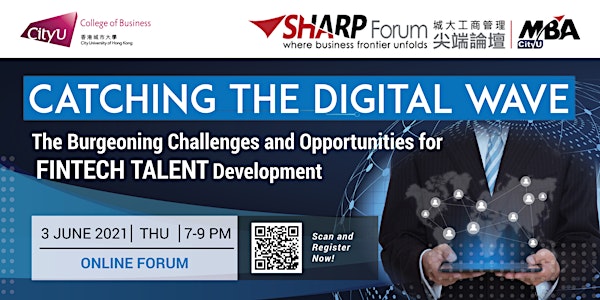 CATCHING THE DIGITAL WAVE
CityU MBA SHARP Forum
About this event
CATCHING THE DIGITAL WAVE:
The Burgeoning Challenges and Opportunities for FINTECH TALENT Development
Abstract:
As a global hotbed for FinTech startups and scaleups, Hong Kong has seen a talent gap wherein supply for a myriad of skills required for digital transformation is not meeting demand. To prevent talent shortage, what are essential strategic imperatives for corporates? How should individual talents develop relevant core competencies to align with the resulting opportunities for advancement? Leading experts are invited to address these questions.
Looking forward to seeing you in our online SHARP Forum.  For further inquiries please contact: cityumba.sharpforum@gmail.com
Forum Details
Topic: CATCHING THE DIGITAL WAVE: The Burgeoning Challenges and Opportunities for FinTech Talent Development
Date:  3 June 2021 (Thu)
Format: Live Broadcast (The access link will be emailed to registrants 1 day in advance)
Language: English
Agenda: 
19:00 Forum Opening
19:05 Presentation
Lucas Hui
Jeff Tang
Fred Ngan
Philip Tam
20:20 Panel Discussion and Q&A
21:00 End of Forum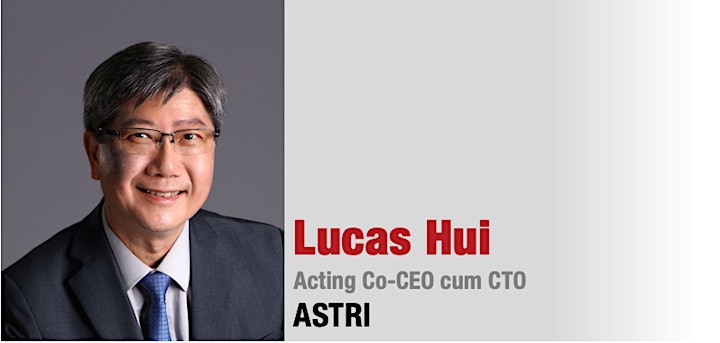 Lucas Hui Chi Kwong
Acting Co-CEO and Chief Technology Officer | ASTRI, Hong Kong Applied Science and Technology Research Institute
Dr Hui was appointed the Chief Technology Officer in October 2019, bringing with him over 30 years of outstanding research, consulting and teaching experience and a passion in "enabling people and processes to fully leverage the power of technology." Dr Hui is an internationally renowned expert in applied research in cybersecurity, data sciences and trust management, with vast leadership experience in collaborative projects in complex, multi- stakeholder situations across technological, organizational and geographical boundaries.
Dr Hui is a pioneer in Information Security research in Hong Kong, with extensive connections in Greater China as well as internationally.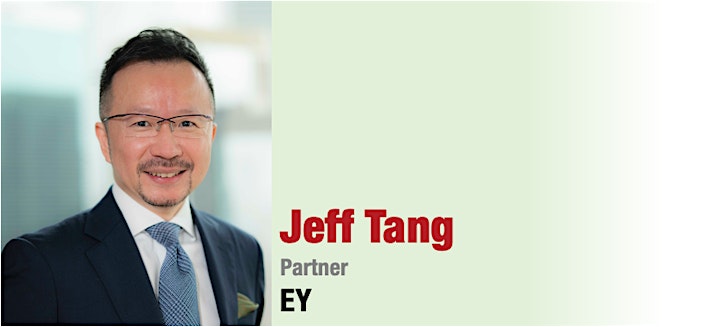 Jeff Tang
Partner, People Advisory Services | Hong Kong Ernst & Young
Jeff is a Partner of People Advisory Services at EY with focus in helping clients to align their people and organization strategy. His core expertise includes advising clients in financial sectors on areas related to executive remuneration, as well as managing complex board and regulatory relations and matters. With more than 20 years of corporate and consulting experience, Jeff has worked with a diverse clientele including statutory bodies, universities, regulatory bodies, sovereign wealth funds, financial institutions, large Asian corporates and multinationals across Asia Pacific, Europe and the US.
His expertise spans across managing complex people and organizational transformations, HR digitalization, executive remuneration, organizational design and competency frameworks. He has advised regulators and bank CEOs across the region on topics such as digital readiness and Bank Culture Reform.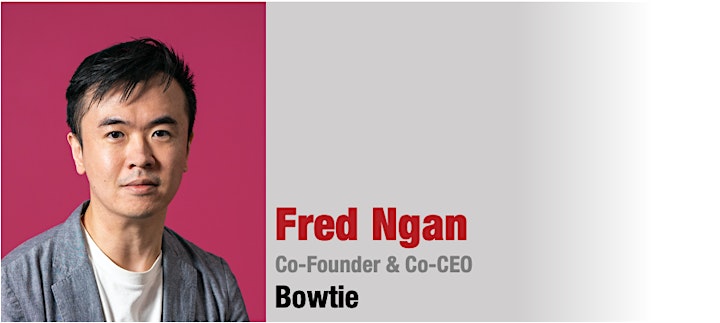 Fred Ngan
Co-Founder and Co-CEO | Bowtie Life Insurance Company
Fred is the co-Founder & co-CEO of Bowtie Life Insurance Company, a mission-driven life and health insurer in Hong Kong. Fred believes insurance is fundamentally a force for good and that healthcare protection should be accessible for everyone. With a mission to close the health protection gap in Hong Kong, he co-founded Bowtie, Hong Kong's first virtual life insurer, to challenge the traditional insurance model and provide simple and affordable insurance to everyone through modern technology.
Fred is a Council Member and Chairman of Insurtech at Institute of Financial Technologists of Asia (IFTA). He is a Fellow of the Society of Actuaries (FSA), Honorary Fellow of the Financial Technologists (FFT), a Member of Insurance Authority's Future Task Force and a Member of Market Development Committee of the Financial Services Development Council (FSDC).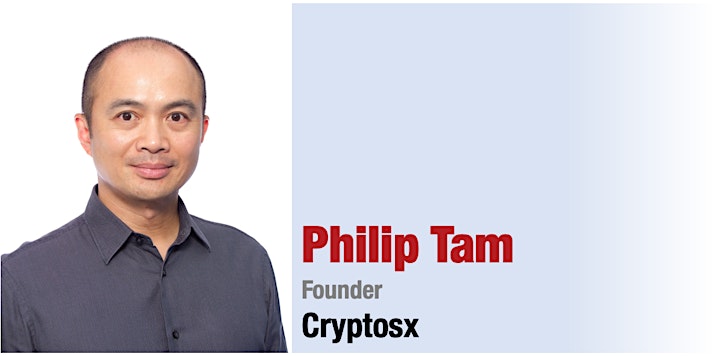 Philip Tam
Cofounder | Cryptosx
Mr. Tam is the Cofounder of First Bullion Holdings Inc. a fully Licensed and Regulated financial platform from CEZA (Cagayan Economic Zone Authority in the Philippines) that provide primary issuance and secondary trading of Asset Backed Security Tokens, crypto wealth management and digital financial services using Blockchain-based asset digitization technology. Cryptosx has listed 4Security Tokens involving single malt cask whisky fund in Scotland, biotechnology in Cambodia, copper mine in Peru and single malt cask whisky investment in Scotland.
He has over 30 years of senior financial, business development and management positions with leading multinationals and organizations like Hong Kong Jockey Club, General Electric, HSBC Group and PwC.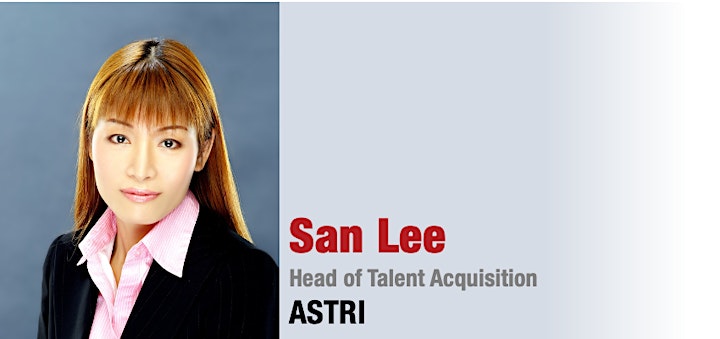 San Lee
Head of Talent Acquisition | ASTRI, Hong Kong Applied Science and Technology Research Institute
San has 25 years of practice in talent acquisition, talent management, and recruitment services of senior executives across industries. She built professional search teams and exploited new markets in China and North Asia. Organizations served include Hudson, TMP Worldwide, Morgan & Banks, MRI China, and Wisdom Global Search. Before moving into talent business, San began her career in media and commercial fields with PCCW (Hong Kong Telecom), Hong Kong Broadcasting (Commercial Radio English), and South China Morning Post (SCMP).
Early Bird Gift
The first 40 participants who register and attend the event (onsite or online) are eligible to receive a FREE coffee at Preface Coffee & Wine Central.
*The forum organiser reserves the right to amend the terms and conditions of the above offers and vary or terminate the arrangement. In the event of a dispute, the decision of the organiser should be final and binding.
FAQs
Am I eligible to register for the forum?
All the eligible participants should register prior to the online conference. There is no pre-recorded talks, only live performances.
Don't miss your chance to immerse yourself. Learn the best digital innovation practices and get invaluable sharing from our honorable speakers.
How can I contact the organiser if I want to have more information about the forum?
You may send your enquiries to the organiser through email at  cityumba.sharpforum@gmail.com

PREFACE CODING
Being the first in Asia to take home the EdTechXGlobal Award, PREFACE is a design and technology driven education company that provides education solutions to programming and spoken language. We are not only here to provide a matching platform for our learner and teachers, but use A.I. and machine learning to enhance the quality and personalisation of learning materials and experience for our students.
Website: preface.ai
VPON BIG DATA GROUP
Vpon Big Data Group, a leading big data company focused on data analytics built with cutting-edge technologies to provide clients with the broadest set of mobile data across Asia in delivering effective mobile data-driven marketing solutions. Supported by the accumulation of massive data from 900 million mobile devices and strategic partnership with premium media resources across APAC, Vpon provides clients with customized data-centric marketing solutions, including data analytics services, brand awareness, performance-driven and cross border marketing solutions.
Website: www.vpon.com