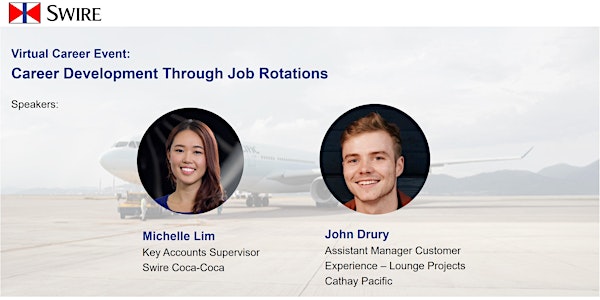 Career Development Through Job Rotations
Interested in a job rotational programme but don't know how it works? Hear from our SMP Executives and learn more about their experience!
About this event
Event date: 21 October 2022
Event time: 13:00-14:00 HKT
Swire Management Programme Executive Speakers:
Michelle Lim, Key Accounts Supervisor, Swire Coca-Coca
John Drury, Assistant Manager Customer Experience – Lounge Projects, Cathay Pacific
HR Representative:
Sharon Lam, Manager Recruitment, John Swire & Sons (H.K.) Ltd
Register now to attend our career event on Career Development Through Job Rotations.
Hear from our Swire Management Programme Executives on their career journey with Swire and how the programme has provided them with opportunities to explore different industries, functions, countries and cultures. Our HR representative will also be present to answer queries around the programme and application process.
Got some questions in mind? Submit your question during the live event to be answered by the Swire team!
Swire Management Programme 2023 is now open for application! Learn more on careers.swire.com and apply before 31 October 2022!