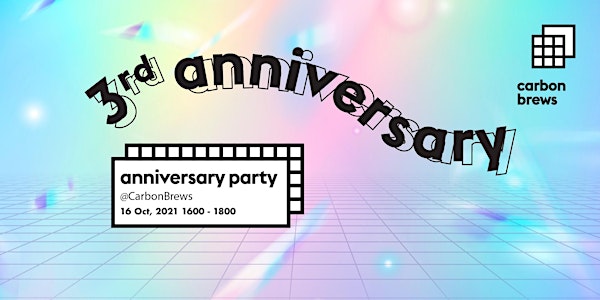 Carbon Brews 3rd Anniversary party 1600-1800
We are turning three next month and we'd love to celebrate with you all.
When and where
Location
Carbon Brews 38-40 Au Pui Wan Street Fo Tan, NT Hong Kong
About this event
To start off our birthday week, we will be hosting a party at our new brewery on Oct 16th (Sat) 2-4pm. We will also be releasing our anniversary beer "Young Wild & 3" that day with limited quantities of bottles for purchase on site. There are only 100 seats at the party, so register with the link below now!
Event Details:
FREE ENTRY
Event Date: 16 Oct 2021
Event Time: 1600-1800
Venue: Carbon Brews
Address: G/F, Wah Wai Industrial Centre, Workshop 1A & 1B, 38 - 40 Au Pui Wan St, Fo Tan, N.T.
Event Activity:
1. Free flow draft beer on 4 taps (while stock lasts)!
2. Cornhole!
3. First pour of our 3rd anniversary beer - Young Wild & 3
4. Bottled "Young. Wild & 3" or purchase (limited quantity).
5. New "Baby Rich Lupulins" and "Crazy Rich Lupulins" t-shirt release.
RSVP by clicking the link below:
https://www.eventbrite.hk/e/carbon-brews-3rd-anniversary-party-1600-1800-tickets-174106867327
【🎊Carbon Brews 3周年派對 🎊🎊】
踏入十月,Carbon Brews 三歲啦!十月十六日會喺酒廠舉行派對作為Carbon Brews嘅生日週嘅頭炮活動!到時候三歲嘅我哋將會帶埋隻三周年酸啤 Young Wild & 3 喺酒廠同大家慶祝一翻~ 又點少得你嘅參與先~ 快啲登記參加,到時見!
活動日期:2021 年 10 月 16 日
活動時間:16:00-18:00
地點:Carbon Brews, 火炭坳背灣街38-40號華衛工貿中心 Workshop 1A & 1B
活動內容:
1. 指定啤酒免費任飲 (貨量有限,派完即止)
2. 布袋球!
3. 三周年啤 Young Wild & 3 首次亮相
4. 支裝 Young Wild & 3 限量發售
5. 全新登場的 Baby rich Lupulins, Crazy Rich Lupulins T恤