Cantonese : Material Talk Series- "Today's waste, Tomorrow's eco-material
The first session of the 2021.Polyudesignshow.com | Material Talk Series- "Today's waste, Tomorrow's eco-material " 物料講座系列:「今日的廢物.明天的環保物料」
About this event
2021.Polyudesignshow.com | Material Talk Series: "Today's waste, Tomorrow's eco-material "OOObject X Material Resource Centre
物料講座系列:「今日的廢物.明天的環保物料」(OOObject X物料資源中心)
The first session of the 2021.Polyudesignshow.com | Material Talk Series- "Today's waste, Tomorrow's eco-material " by OOObject X Material Resource Centre.
We need to reclaim overconsumed resources and understand waste streams. We can find a new function for them, identify appropriate processes to recycle them, and most importantly, change our connection with waste. To achieve this, we need a new way, a new vocabulary, a new aesthetic that represents waste sources as something desirable.

𝐑𝐄𝐆𝐈𝐒𝐓𝐄𝐑 | 登記 
QR code or Link
𝐂𝐨𝐧𝐭𝐞𝐧𝐭 | 內容
* The introduction of OOObject
* What are the sustainable material
* How to use the waste to be new material
* The green project case study
𝐃𝐀𝐓𝐄 | 日期
24 JUN 2021 (THU )
 𝐓𝐈𝐌𝐄 | 時間
18:00-19:00 (HKT)
 𝐕𝐄𝐍𝐔𝐄 | 場地
ONLINE VIA ZOOM
The Zoom details will send out by email two days in advance.

𝐋𝐀𝐍𝐆𝐔𝐀𝐆𝐄 | 語言
Cantonese | 廣東話
𝐏𝐑𝐄𝐒𝐄𝐍𝐓𝐄𝐃 & 𝐎𝐑𝐆𝐀𝐍𝐈𝐒𝐄𝐃 | 主辦
Material Resource Centre, OOObject
𝐒𝐏𝐄𝐀𝐊𝐄𝐑|講者
MR. LAM | Director of OOObject

C.L. Lam has been exploring solutions to breathe new life and technology into daily waste. Lam has been posting on the growing consciousness of environmental issues by discovering opportunities in the green houseware market. He is now a leading advocate for waste reduction and upcycling in Hong Kong. His innovative and eco-friendly design brand OOOBJECT aims at promoting a sustainable lifestyle by creative recycling, regeneration, and redistribution.
 #hkpolyumrc #sdmrc #polyudesign #polyudesignshow #material #sustainable #ooobject #ecomaterial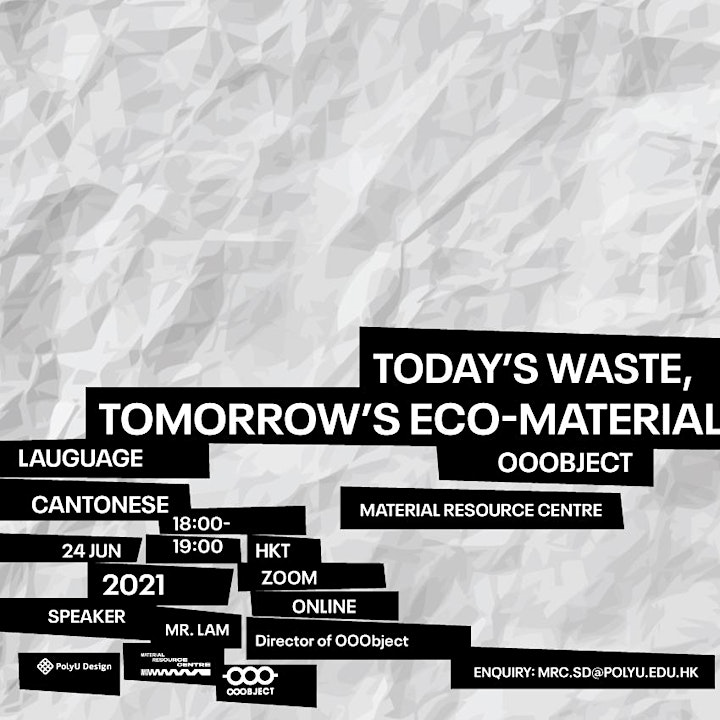 Organiser of Cantonese : Material Talk Series- "Today's waste, Tomorrow's eco-material