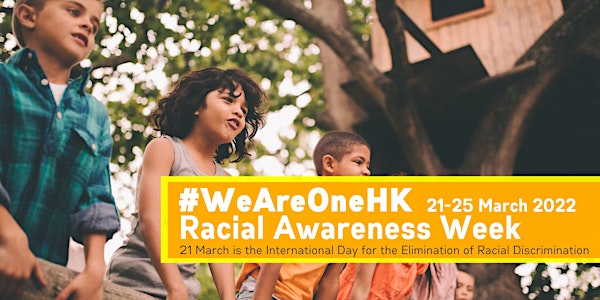 Calling Out Racism: How Racism Affects Children and Schools
21 March is the International Day for the Elimination of Racial Discrimination (IDERD).
About this event
Eventbrite registrations are now closed. Please visit the below link to register.
REGISTER HERE: https://scmp.events/zubinmarch21
#WeAreOneHK | 21 - 25 March 2022 | Racial Awareness Week
To mark this day, The Zubin Foundation supported by SCMP Events is seeking to raise the awareness of everyday racism in Hong Kong among students. Schools can pledge their commitment to racial equality and be part of the Hong Kong campaign #WeAreOneHK.
Students (14-18yr)/parents/teachers/staff are invited to join our free webinar to hear about what racism may look like in Hong Kong and how to manage it. Our diverse panel includes students, parents with a moderator, sharing their experiences with you. Please pre-register to reserve your spot. Registration closes on Monday, 20 March,2022.
Panel
Theresa Cunanan, Senior Lecturer, College of International Education, Hong Kong Baptist University.  (moderator)
Angela Kaur Baura, Parent of students who faced ignorance and bullying for their faith and skin colour
Bushra Khaliq, Parent of a young student who goes to a local Chinese speaking school
Eric Wang, Head Prefect at King George V School
Madhu Mirpuri, Parent of a young student who doesn't want to be Indian so he can "fit in" 
Visit www.zubinfoundation.org/iderd-schools. Email: vibha@zubinfoundation.org.
About Us
The Zubin Mahtani Gidumal Foundation, also known as The Zubin Foundation (TZF) is a charity committed to improving the lives of Hong Kong's marginalised ethnic minorities by reducing suffering and providing opportunities. We do this by implementing projects, influencing public policy and changing mindsets.
The Zubin Foundation relies on donations from individuals, corporations and foundations to fund its work. For information, please visit: www.zubinfoundation.org .