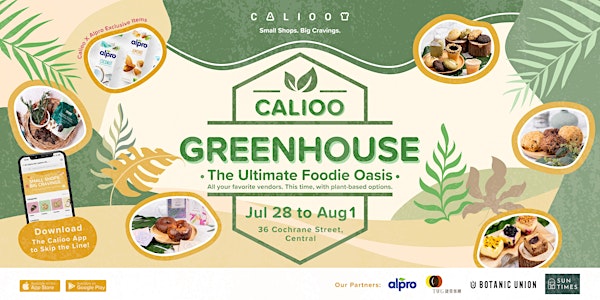 Calioo Greenhouse Food Market
Pop-up food market supporting Hong Kong's local and small businesses
When and where
Date and time
July 28, 2021 · 11am - August 1, 2021 · 9pm HKT
Location
36 Cochrane St 36 Cochrane Street Central, HKI Hong Kong
About this event
THE CALIOO GREENHOUSE
Join us for Calioo Greenhouse, the ultimate foodie oasis in the heart of the city.
It's official, Calioo is popping up again in Central! From Jul 28 to Aug 1, all of your favorite small business vendors will be back, and with more flavor offerings! In addition to the freshly made baked goods and sweet treats we all love, we'll also have plenty of Calioo exclusive plant-based 🌱 options this time, so you can satisfy all of the cravings, with none of the guilt.
Get ready for endless amounts of:
Baked Goods
Cookies
Cakes
Breads and Pastries
Craft Beer and Cocktails
Healthy Snacks
Kombucha
CBD Goods
Savory Sauces
Spreads and Dips
Plant-based and Keto Friendly Food
& More!
Additionally, we are delighted to be partnering with Alpro, whose plant-based milks will be incorporated into several of the vendors' flavor offerings, exclusive to this Calioo market only!
DETAILS
36 Cochrane Street, Central
Wednesday, 28 July | 5:00pm - 9:00pm (VIP night)
Thursday, 29 July | 11:00am - 9:00pm
Friday, 30 July | 11:00am - 9:00pm
Saturday, 31 July | 11:00am - 9:00pm
Sunday, 1 August | 11:00am - 6:00pm (closing early!)
SKIP THE LINE & GET A FREE GIFT
To skip the line, all you have to do is:
1) Register on Eventbrite
2) Download the Calioo App (see links below)
3) Add your personal profile details (phone number, name, email)
4) Add your payment method under Payment Management
5) Show us at the door!
The first 150 attendees each day will receive their choice of a FREE GIFT at the door!
ABOUT CALIOO
At Calioo, we believe that when we lift small businesses, we can lift entire communities. Small businesses are leading creativity and innovation in the food industry, and these are talents we believe should be empowered. It is with this mission in mind that we created Calioo, a platform enabling independent chefs to transform their creative passions into opportunities. Since its founding in late 2020, Calioo has introduced 500+ merchants to Hong Kong's food scene.
On the Calioo mobile app, customers can easily discover and shop from small and local vendors, with a choice of pick-up or delivery. Our fresh baked goods offering delights the dessert lovers, while our savoury treats keep foodies coming back.
Join our community and discover the next food trend on Calioo!
DOWNLOAD THE CALIOO APP
The Calioo mobile app is Hong Kong's first online platform for customers to discover specialty handcrafted foods made by small shops and local vendors.
Download app:
Follow us on social media: