Pop-up food market supporting Hong Kong's local and small businesses
About this event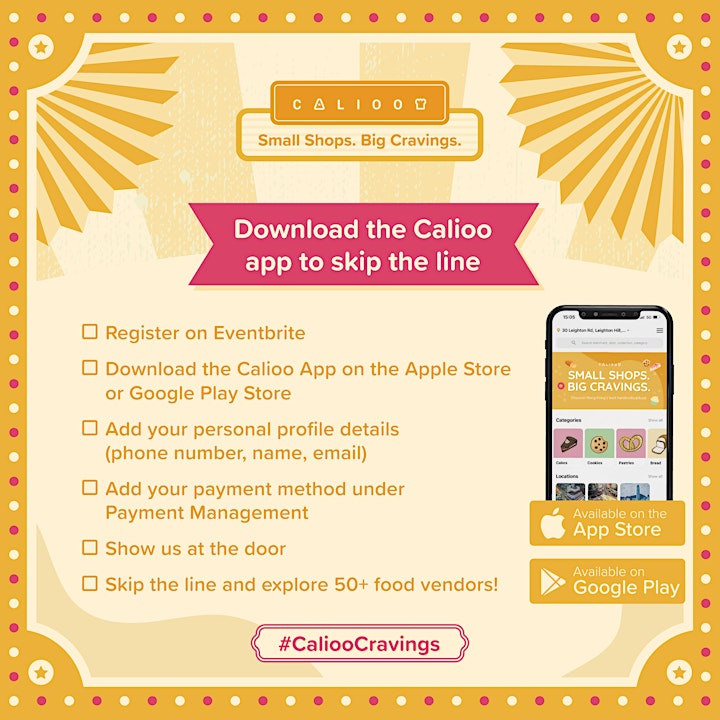 THE CALIOO CARNIVAL
Calioo's food market is back, and it's bigger and better than ever before. Double the food vendors, double the size, double the fun!
This time, we're popping up in the heart of Hong Kong's shopping district, Causeway Bay, from Thursday 27 May to Sunday 30 May, 2021. We'll have 50+ of Hong Kong's favourite small businesses and local vendors selling their tasty culinary creations, as well as carnival game booths and a refreshments bar for you to enjoy!
At the food market, you'll discover the newest and trendiest flavours, with an even more expansive range including:
Cookies
Bagels
Churros
Pastries and scones
CBD goods
Craft beer and beverages
Local Chinese festive delicacies and street food
Ethnic foods (e.g., Nepalese momos, Filipino bread)
Healthy snacks
Vegetarian food
Cakes and cheesecakes
Specialty sauces and spreads
Teas
...and even snacks for your furbabies!
Entry is FREE to all patrons
Eventbrite registrants and the first 150 attendees each day will also have an option to purchase our $10 HKD limited edition carnival-themed tote bag at the door. The bag will be filled with game tokens that you can use to play the carnival games and / or redeem FREE popcorn, FREE cotton candy, and FREE tea. Note this $10 HKD tote bag package is available only on a first-come, first-serve basis for non-registrants.
Visit us during your coffee run or weekend adventure
Thursday, 27 May | 5:00pm - 9:00pm
Friday, 28 May | 11:00am - 9:00pm
Saturday, 29 May | 11:00am - 9:00pm
Sunday, 30 May | 11:00am - 6:00pm
108-120 Percival Street, Causeway Bay (across the street from Lee Theatre)
ABOUT CALIOO
At Calioo, we believe that when we lift small businesses, we can lift entire communities. Small businesses are leading creativity and innovation in the food industry, and these are talents we believe should be empowered. It is with this mission in mind that we created Calioo, a platform enabling independent chefs and food entrepreneurs to transform their creative passions into opportunities.
On the Calioo mobile app, we connect sellers and customers seamlessly, with your choice of pick-up or delivery. Our expansive product offering delights both the savoury seekers and sweet tooths, with inclusions such as freshly baked chia sourdough bread, sesame walnut mochi shortcake, blueberry basque burnt cheesecake, handmade pork and chive dumplings, and much more.
Join our community and discover the next food trend on Calioo!
DOWNLOAD THE CALIOO APP
The Calioo mobile app is Hong Kong's first online platform for customers to discover specialty handcrafted foods made by small shops and local vendors.
Download app:
Follow us on social media: