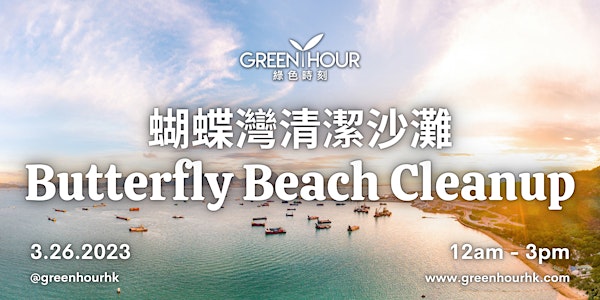 蝴蝶灣沙灘清潔活動|Butterfly Beach Cleanup
Join Green Hour at our next cleanup in Tuen Mun this March!
Date and time
Sun, 26 Mar 2023 12:00 - 15:00 HKT
Location
Butterfly Beach Butterfly Beach 45 Lung Mun Road Tuen Mun, NT Hong Kong
About this event
Green Hour welcomes you to join us for our next cleanup at Butterfly Beach in Tuen Mun. We look forward to seeing everyone there!
Event breakdown:
Date: March 26th, 2023
Time: 12:00pm - 3:00pm
Cleanup Location: Butterfly Beach, Tuen Mun
Whatsapp Group: https://chat.whatsapp.com/GFdxjoQVsuQ9OY7Mff3Z0H
Here are the buses that stop off at the meetup point -Melody Garden Light Rail Stop
On arrival participants will be handed bags and gloves and work in smalll teams throughout the event.
A more sustainable world starts with all of us. Every one of us has the ability to make a difference, but that can only happen when we all work together to #InvestInOurPlanet.
Follow @greenhourhk on Instagram so you will never miss an update! 🌱
一個可持續發展的世界由我們大家開始。我們每一個人都有能力去改變這個世界,但只有我們同心合力才可以令其發生。
記得追蹤Instagram @greenhourhk,你將不會錯過最新的資訊!🌱
About the organiser
綠色時刻是一個本地組織,致力於通過多項舉措促進可持續發展。

通過我們的'Bun跑'計劃,我們致力於在減少食物浪費的同時,回饋有需要的社區中的人們。通過全港的清潔活動,我們旨在提高認識,我們還舉辦了不僅有益而且有益的研討會!

Green Hour is a local organisation dedicated to promoting sustainability through several initiatives.

With our 'Bun Run' programmes, we work to fight food waste whilst giving back to those in our community in need, through cleanup events across Hong Kong we aim to raise awareness and we also run workshops that are not only informative, but also fun!