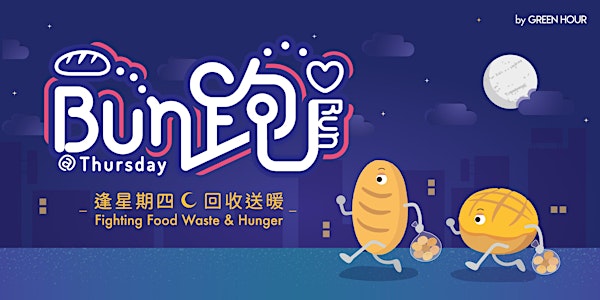 Multiple dates
綠色時刻的BUN跑 | Green Hour's Bun Run
通過參與綠色時刻的"Bun跑"活動一起來消除食物浪費和飢餓吧! Join us to fight food waste & hunger through Green Hour's Bun Run!
Date and time
Starts on Thursday, January 19 · 8pm HKT
Location
Jordan MTR Exit A Hong Kong, KOW Hong Kong
Refund Policy
Contact the organizer to request a refund.
About this event
為幫助減少香港的食物浪費問題,綠色時刻舉辦 「Bun 跑」活動,每星期到合作的麵包店及餐廳收集多餘的食物,並轉發給深水埗及油尖旺區一眾長者、露宿者及低收入家庭。我們歡迎各界人士參與「Bun 跑」,逢星期四回收送暖,為社區注入正能量。
Green Hour has teamed up with restaurants & bakeries to help reduce food waste across the city. We welcome people from all backgrounds to join us every week for our 'Bun Run'.
Every week volunteers register to collect surplus food items from bakeries at closing time and bring them to our centre. The food items are then distributed amongst those in need across the city, helping to fight food waste and have a positive impact on the community at the same time.
為什麼「BUN跑」WHY DO WE ORGANISE BUN RUNS?
香港現時每日棄置到堆填區的廚餘量多達3,600噸!作為推動可持續發展的組織,綠色時刻難以無視香港的食物浪費問題。因此,繼「垃圾跑」取得成功後,我們決定每星期進行「Bun 跑」。
Green Hour being an organisation that works to alleviate the ever growing amount of rubbish in our landfills, would be crazy to ignore the 3,600 tonnes of food waste entering landfills EVERY DAY in Hong Kong alone.
Due to the success of our plogging events, we decided to organise 'Bun Runs' across multiple evenings every week.
收集剩餘食物並不是什麼新鮮事,但「Bun 跑」連繫志同道合的義工,讓大家為社會出一分力的同時,結識新朋友。這也能成為有趣的團隊建設活動!
Surplus food collection isn't anything new, but when we work together in a group, it's a great way to meet new people and do something meaningful together. It's a fun team building activity as well, if there weren't already enough reasons to join!
提醒:
我們建議你準備乾淨並可重複使用的手提包,以免製造不必要的塑膠垃圾。請小心地將剩食放置到你的手提包中。另外,我們亦建議你穿上舒適的服裝。(請保留收據並將其與食品一起帶到我們的中心,以方便記錄收集到的食物數量。)
REMINDER:
We encourage you to bring your own clean reusable carrier bags to avoid unnecessary plastic bags. Please also pack the food items CAREFULLY into your carrier bags.
Please keep the receipt and bring it with the food items to our centre. We need to keep record of the amount of food collected.
具體如何進行?
只需選擇一個您能夠去的的麵包店或餐館,並登記您的資料。在收集當晚,您需要:
提供您的電話號碼,以確認您將會來收集多餘的食物
在營業時間結束前(或您與餐廳/麵包店之間確認的時間段)到達該餐廳/麵包店
收集多餘的食物,並將其直接帶到我們在荃灣的中心。
HOW DOES IT WORK?
Simply choose a date you can join and register your details. On the evening of the collection, you will need to:
contact the number provided to confirm that you will be coming to collect the surplus food
arrive at the restaurant/bakery just before closing time (or the time confirmed between you and the restaurant/bakery
collect the surplus food and distribute it directly to those in need.
如果第8號風暴信號(或以上),紅色暴雨警告信號或黑色暴雨警告信號懸掛或生效,則活動將會取消,否則它仍有可能繼續進行。
The Bun Run will be CANCELLED if No.8 Storm Signal (or above), Red Rainstorm Warning Signal or Black Rainstorm Warning Signal is hoisted or in force. Otherwise, it should still go ahead.*
如果您有任何問題/建議,請隨時與我們聯繫!Feel free to get in touch if you have any questions/suggestions!
info@greenhourhk.com|www.greenhourhk.com
About the organizer
綠色時刻是一個本地組織,致力於通過多項舉措促進可持續發展。

通過我們的'Bun跑'計劃,我們致力於在減少食物浪費的同時,回饋有需要的社區中的人們。通過全港的清潔活動,我們旨在提高認識,我們還舉辦了不僅有益而且有益的研討會!

Green Hour is a local organisation dedicated to promoting sustainability through several initiatives.

With our 'Bun Run' programmes, we work to fight food waste whilst giving back to those in our community in need, through cleanup events across Hong Kong we aim to raise awareness and we also run workshops that are not only informative, but also fun!