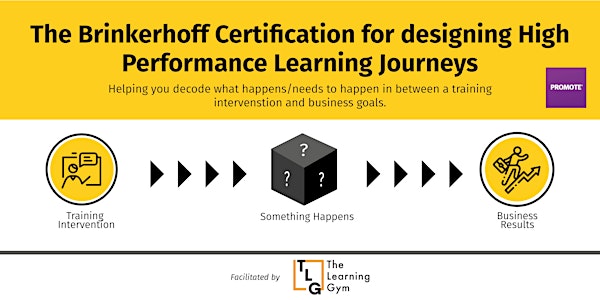 Brinkerhoff Certification for HPLJ - Champion level
Using learning journeys to move from Learning to Performance.
Refund Policy
Contact the organiser to request a refund.
About this event
Certification schedule:
This is a blended learning journey where you will be working on a online platform asynchronously and come together for synchronous virtual sessions. The journey starts on November 1st and ends on 28th December but you can pace your learning assingments according to your schedule. The only two definites are the virtual sessions -
Session 1: November 17th 2021
Session 2: November 30th 2021
Timing (for both sessions): 3:30 p.m. to 6:30 p.m. IST / 6:00 p.m. to 9:00 p.m. HKT/ 11:00 a.m. to 2:00 p.m. CET
What is the High Performance Learning Journey (HPLJ)?
The High Performance Learning Journey equips you with the tools to significantly improve your design and deliver impact on a learning investment. Based on the research of one of the leading impact evaluation experts, Professor Robert Brinkerhoff, it reveals the difference between a successful and unsuccessful training program. This certification builds from his research on training impact, integrating findings from recent research on what makes a learning journey approach achieve performance faster and more consistently.
Why is the HPLJ relevant?
The HPLJ approach has been proven to dramatically increase the impact of training — by a factor up to 4 — on workplace performance (Impact evaluation studies courtesy of Brinkerhoff Institute 2017). If you've ever struggled to demystify what needs to happen in a training intervention for it to lead to performance and therefore business results, then this certification is for you.
Who should attend this certification?
Program content designers, instructional designers, trainers, facilitators, e-learning designers and teachers.
How will attending this certification benefit you?
The certification will enable you to go back with a deep understanding of-
• why learning journey designs are the inevitable future for learning and development
• how to make the business case for learning journeys
• how measurement is integrated into learning journeys to accelerate strategy execution
Certification format and commitment
This is the Champion level of the Certification.
We walk the talk in this certification. So not only does this contain practical solutions to assess, improve and build training programs to create performance change, it also contains ample opportunities for you to apply these practical tools in your existing training program design(s).
What's more? You get to experience an end to end HPLJ through this certification. We begin with a series of assignments and social learning on the Promote platform before we begin Session 1. This is followed by more assignments and social learning on Promote which leads us to Session 2.
During the two sessions, we discuss and apply key concepts to actual training programs.
In order to get certified, you will need to attend both sessions and complete the assignments on Promote.
Who's organizing it?
The Learning Gym
We thought long hard about what to name our company and finally hit upon a name which brought together two things we are passionate about – learning and fitness.
Our focus is upskilling learning professionals – it's that simple. Learning professionals are often busy focusing on the needs of their learners, and their challenge is finding the time and the right tools for their own learning. This was the primary reason for the creation of The Learning Gym.
Meet Your Facilitator: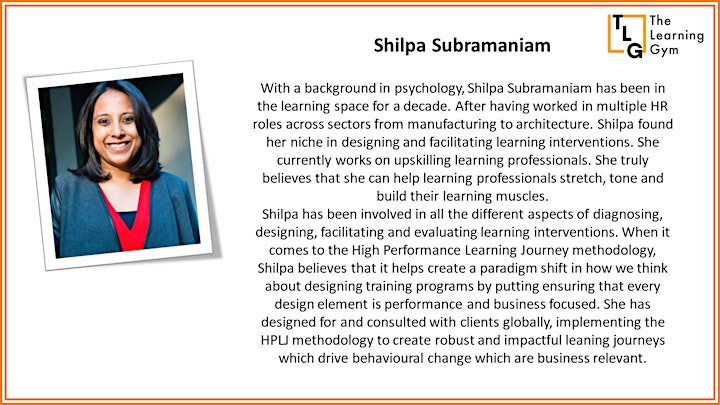 To make learning fun, experiential and learner-driven, book your tickets now!
For more information, write to info@thelearninggym.co